Dirs. Bob Hercules, Rita Coburn Whack. US, 2016. 112 mins.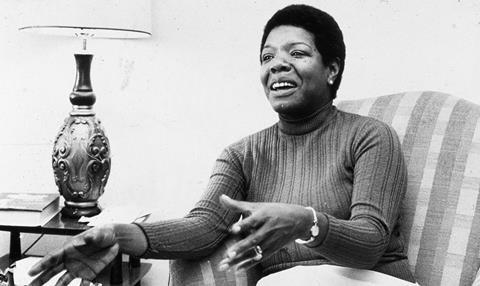 Maya Angelou (1928-2014) was a poet, singer, author and civil rights activist, and the closest thing that American has to a cultural saint. This new documentary canonizes her in cinema.
Since so much of that life was filmed and photographed, this bio-doc can't help but have a visual flair.
Maya Angelou And Still I Rise by Bob Hercules and Rita Coburn Whack puts Angelou in the familiar template of the American Masters series on PBS in the US. The doc breaks no new cinematic ground, but falls in line with the kind of tribute to the legacy of an African-American cultural figure that has become an annual event at the Sundance Film Festival.
The broad audience for Angelou's work guarantees the doc a sizable public on television after it plays at festivals. Her first bestselling memoir (out of seven), I Know Why the Caged Bird Sings (1969), is taught in schools throughout the US and abroad, and the film will tap into that huge educational market. Made with the support of Angelou's estate, it is likely to become the film of record on its subject. Interest will be mostly in the US.
Angelou had a formidable voice and a forceful personality, which made for a dramatic life. Since so much of that life was filmed and photographed, this bio-doc can't help but have a visual flair.
Her rise from poverty makes the Angelou biography an African-American success story, but also the kind of mythic American triumph-over-adversity story that politicians across the spectrum tend to celebrate. We watch the rare occasion of a poet upstaging a politician when Angelou reads a poem at Bill Clinton's inauguration in 1993.
Born in St. Louis, Missouri, Angelou was sent with her older brother to Stamps, Arkansas, where she endured the segregation of the American South. Standing out for her height (six feet) and her talent, she worked in all sorts of jobs before performing in musical theater, and then in pivotal productions in black drama, like the US premiere of The Blacks by Jean Genet (1961) and the television series Roots (1977).
Yet it was Angelou's storytelling that reached her widest public. She began her first memoir on a dare from an editor, and her honesty about her past burns through the film, which is strongest when Angelou allows those stories to breath once again. She is raped at seven, and gives up speaking for years. She works as a prostitute and a pimp. Her only son is almost killed in a road accident in Ghana. She befriends Malcolm X and Martin Luther King, both of whom are assassinated. Marriage never worked well for her.
Those stories are in Angelou's memoirs. The images in the doc, edited by David E Simpson and Lillian E Benson, make the film a whirlwind trip through black America in the twentieth century.
Angelou was orotund, even stentorian, as a speaker. Close friends interviewed by the filmmakers, like the actress Cicely Tyson, help bring intimacy, even some laughs, to an often-solemn narrative. Tyson recalls that Angelou fell in love with a South African activist in exile in the 1960s, and notes laughingly that the man was fat. Angelou, looking back with a smile, agrees.
In moments like that one, Bob Hercules and Rita Coburn Whack get inside the monument that Angelou had become in her later years, while never losing sight of their subject's moral stature.
One section of the doc that could connect with the younger audience is Angelou's condemnation of the use of "nigger," referred to as the n-word, by young blacks, and especially by hip-hop artists. Anyone who sees her face off against the rapper Common – an admirer of Angelou who uses the word in his rhymes – might not use that word lightly again.
For its length, the doc is refreshingly lean, although we do hear a bit much from Hillary Clinton in a campaign year. Yet it's Angelou's voice that matters here, and the doc captures it.
Production companies: The People Poet, LLC, THIRTEEN's American Masters for WNET, ITVS, Artemis Rising
International sales: PBS Distribution pbsd@pbs.org
Producers: Rita Coburn Whack, Bob Hercules, Jay Alix, Una Jackman, Raymond Lambert
Executive Producers: Reuben Cannon, Marquetta Glass, Steve Sarowitz, Michael Kantor, Regina Scully, Chris Gardner, Raymond Lambert, Susan Lacy, Sally Jo Fifer
Cinematography: Keith Walker
Editors: David E Simpson, Lillian E Benson
Composer: Stephen James Taylor