Feisty feminists, militant weirdness as director Karen Cinorre makes her debut with Grace von Patten and Mia Goth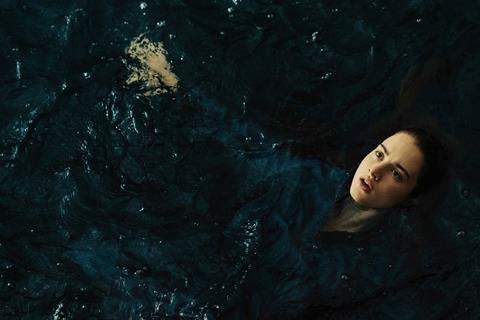 Dir/scr: Karen Cinorre. US. 2021. 100 mins
When waitress Ana (Grace Van Patten) sticks her head into the catering oven, she is looking for some form of escape from the grinding sadness of her life. What she finds, in this springily inventive blend of fantasy and action, is a community of warrior girls waging a battle against the soldiers who stumble into their territory, a rocky stretch of coastline. Ana soon discovers that she has a talent for combat – her sniper skills are unparalleled. But she begins to question whether she has the inclination for it, and whether she should be part of this war after all. While the plot is not always entirely coherent, Mayday is strikingly styled and suffused with a punchy, militarised feminism.
Heady with symbolism and vengeful female energy
The feature debut from Karen Cinorre (who cut her teeth in the art department of Isabella Rossellini's Green Porno series), Mayday is heady with symbolism and vengeful female energy. With its vividly realised world, its exploration of gender roles and its fever-dream oddness, the picture finds its closest parallels in the works of Lucile Hadzihalilovic or Agnieszka Smoczynska. A slight wooliness in the picture's internal logic might hamper the film's cross-over commercial potential, but Mayday should prove attractive to further festivals and arthouse distributors and streaming platforms.
There's an intriguing slipperiness to the film, which refuses to be pinned down, in either time or geography. There's also a retro sensibility, which flirts with WWII as a backdrop, but the car in which Ana has been sleeping is from a more recent time period, as is the camera of the photographer at the wedding where Ana is working. The film shot in Croatia, and makes striking use of the expanses of wooded coastline, but characters display an eclectic array of accents, from Van Patten and Juliette Lewis's American to Mia Goth's English to several Eastern European supporting characters. This makes more sense in the world that Ana finds herself after the oven incident, a world which is not fully explained but seems to be a cross between a holding area for lost souls and an elaborate trap, baited by Goth's character, Marsha, and her team of sirens.
From their home in the hull of a wrecked submarine, Marsha, Bea (Havana Rose Liu) and Gert (Soko) send out breathily come-hither distress calls intended to lure sailors to their deaths, with ocean storms and bullets their favoured method of execution. Like everyone else who meets her, Ana is initially beguiled by the magnetic and dangerous Marsha (Goth is terrific, a seductive sociopath who stomps around in fatigues). But when she encounters some of the girls' enemies close up – in an unexpected and slightly jarring dance sequence – she recognises that many of them are hapless boys rather than hardened soldiers. And unlike the other girls in Marsha's gang, Ana can't seem to forget the world she came from. To admit she doesn't belong there, however, is to make an enemy of Marsha.
It's possible that the film requires a second viewing to pick up on the clues which are seeded throughout; it's equally possible that the story would never entirely click together. Still, it's an enjoyable oddity, which benefits from handsome production design, an exceptionally photogenic cast and its tone of feisty, militant weirdness.
Production company: Complementary Colors, Queen's Army, Secret Engine
International Sales: Mayday Pictures, LLC
Producers: Jonah Disend, Lucas Joaquin, Karen Cinorre, Sam Levy
Editing: Nicholas Ramirez
Cinematography: Sam Levy
Production design: Ivan Veljaca
Music: Ruy Garcia
Main cast: Grace Van Patten, Mia Goth, Havana Rose Liu, Soko, Théodore Pellerin, Juliette Lewis