The largest prison escape in the UK is detailed in Stephen Burke's period drama starring Tom Vaughan-Lawlor and Barry Ward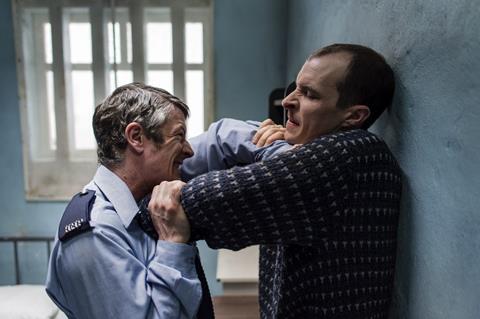 Dir/scr. Stephen Burke. Ireland. 2017. 93 mins
Two men circle each other around the bars of the maximum security Maze prison in Northern Ireland in 1983. The canny republican Larry Marley (Tom Vaughan-Lawlor) is behind them, while warder Gordon Close (Barry Ward) has the keys – for now. Stephen Burke's low-key, well-acted thriller is scrupulously even-handed while making the stakes clear as a weakened IRA seeks the publicity coup of the UK's largest ever mass escape.
Time is a healer, and this film educates as well as entertains
Enough years have passed since the 'dirty protest' and Maze prison hunger strikes of 1981 to make the Long Kesh escape a sufficient prospect for cinema entertainment that two separate films have been developed about it. One, a Jim Sheridan project announced prior to Cannes, may have fallen away but MAZE, Burke's gritty drama, premiered at Galway's Film Fleadh, and, repped by Visit Films, will now look to a potential future festival career. It's set for release in Ireland through Lionsgate this September, where it will prompt debate and play best. Vaughan-Lawlor's (Love/Hate) rumoured casting in the next Avengers film may help promote interest.
Certainly, nothing to date has sought to make entertainment of such a tinderbox subject (Steve McQueen's Hunger was a serious-minded film, and last year's Bobby Sands: 66 Days documentary added historical context and the benefit of hindsight). More Cell 211 than Goodbye Bafana, MAZE is a publicly-funded project - by Republic of Ireland agencies – which arrives nearly 20 years after the Good Friday agreement brought peace to the North.
MAZE eschews flashy casting but delivers enough narrative to drop the viewer right back in to this troubled time. With some great escape editing by John O'Connor (Handsome Devil) and the help of real prison sets in Cork, MAZE gets the tone right, down to the depressing 1980s casual clothes the IRA prisoners won the right to wear.
In fact, so accurately does the film replicate the brown-ness of Northern Ireland during that time, it initially seems to fall far short of excitement. But that's without factoring in Vaughan-Lawlor's performance. With concentration and pure conviction, the actor portrays the almost-monastic single-mindedness of an IRA man who is utterly devoted to his cause. We constantly see the danger as his gaoler begins to let down his guard in front of Larry's false charm – and with one assassination attempt already made on his life, living in a house with bars, Gordon is not a free man either.
It's worth noting that while many actors tend to struggle with the Northern Irish accent, Vaughan-Lalor does a good service to his real-life character, and Ward is believable as the human, flawed face of the regime. Martin McCann, the only Belfast actor among the the three leads, is persuasive as Larry's IRA commanding officer in jail.
The facts of the case are well-known: 10 men died on hunger strike in the Maze's 'H' Block over the course of 1981. And 38 men escaped in 1983. Watching writer-director Burke (Happy Ever Afters) deliver the drama of those events through composite characters and the slight factual nudge makes for illuminating viewing. Time is a healer, and this film educates as well as entertains.
Production company: Mammoth Films
International sales: Visit Films, info@visitfilms.com
Producers: Jane Doolan, Brendan J. Byrne
Cinematography: David Grennan
Production design: Owen Power
Editor: John O'Connor
Music: Stephen Rennicks
Main cast: Tom Vaughan-Lawlor, Barry Ward, Martin McCann