Abdellatif Kechiche follows up 2013's Blue is The Warmest Colour with a South of France-set summer romance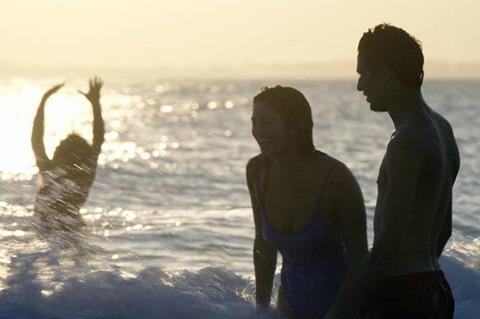 Dir: Abdellatif Kechiche. France, Italy, Tunisia. 2017. 180mins
A three-hour long dance of deferred desire, Abdellatif Kechiche's long-awaited follow up to Palme d'Or winner Blue Is The Warmest Colour is an immersive dive into twenty-something lust for life. On the surface it's a slight, sexy story of summer friendships and romance in the South of France, set in 1994. But Kechiche has developed an almost unique ability to give surfaces depth through his manipulation of dramatic beats and a quality of empathy that seems built into the roving camera eye.
Those troubled by what they took to be the male gaze of Blue will likely be enraged by Mektoub - with good reason
Mektoub is not, however, the startling masterpiece that was Blue Is The Warmest Colour, whose three hours felt almost pared-back. There are drags and repetitions in the film, which is the story of a watcher, Amin (Shaïn Boumédine) who sits on the edge of the pool of intense life that is playing out around him, dipping a toe in the water without jumping in. Rather than reinventing the melodrama, Kechiche contents himself, in Mektoub, with reviving the ghost of Eric Rohmer with several shots of tequila and a blast of 1990s disco music. The first part of what may turn out to be a pair, or possibly a trilogy, Mektoub My Love: Canto Uno should ride into arthouse cinemas and independent chains on the wake of Blue Is The Warmest Colour, but it may not enjoy the same critical consensus or long-tail shelf-life.
There is one other issue that will divide viewers, hopefully not entirely along gender lines. Those troubled by what they took to be the male gaze of Blue will likely be enraged by Mektoub - with good reason. If the camera is in love with all the characters, it seems especially aroused by the women, all of them beautiful, who in the film's frequent party scenes bump, grind, pole dance, and indulge in hot, flirtatious girl-on-girl moves. That's all part of an unashamedly sexy film which is also a gauntlet thrown down to religious bigotry - as almost all of the film's characters are, like the director, from a Tunisian Muslim background. But was it really necessary to predate the arrival of twerking on the European club scene to 1994, just so we could get to see those booties shaking in our faces? Apparently so.
The film starts with a bang, literally, with what looks a lot like genuine sex (hats off to the actors and director if it was faked), filmed in graphic detail. On the bed are voluptuous Ophélie (Ophélie Bau) and her stud of a lover, Tony (Salim Kechiouche). Looking in through a window, true to character, is Tony's dishy, introverted cousin Amin (Shaïn Boumédine), an aspiring scriptwriter and amateur photographer who has just returned from Paris to his home in the South of France fishing port and beach resort of Sète – also the setting for Kechiche's 2007 family-and-food drama The Secret of the Grain, a.k.a. Couscous.
Amin and Ophélie are friends, but it's clear that his feelings for her go deeper. Though she gets sex from Tony, she's engaged to be married to a French marine who has been away for most of the last four years, fighting in various foreign wars. Amin is, he tells anyone who asks, unattached; if if weren't for his apparent passion for Ophélie, we might guess that women weren't really his thing. Certainly, he recoils, gallantly, from the several who will press themselves on him in the course of the film - beginning with pretty, flirtatious Céline (Lou Luttiau), who is on holiday in Sète with her friend Charlotte (Alexia Chardard).
Tony hits on Charlotte, Amin doesn't hit on Céline, and she's claimed by another, smoother operator who hangs out at the restaurant run by families of the two cousins – all of them, without exception, big, generous, souls who embrace life with both hands. There's hardly a glimmer of children-parent conflict, and Amin's aunt Camélia (Hafsia Herzi, launched in Couscous) is such a free-spirited party girl she even gifts us a Basic Instinct no-knicker moment while dancing.
Shot with handheld, close-up intimacy, the characters in Mektoub My Love are in continual motion, still only when sunbathing, and even then only briefly. This Brownian motion of hearts and bodies is exhilarating but also takes an emotional toll: Amin's yearning for Ophélie is palpable, while Charlotte is devastated when the womanising Tony tires of her. In Arabic, mektoub means something like 'fate, predestination', and there is a sense, in Kechiche's sixth feature, of lives carried along on the swell of a spring tide, powerless to resist.
This wider, circle-of-life picture is also present in the film's most surprising sequence, showing almost in real time the birth of two baby lambs on the family farm where sex goddess Ophélie reveals an unexpectedly practical, country-girl side. A soundtrack of 1990s pop and disco is leavened, here and at a few other points, by solemn Baroque instrumental and choral music.
Production companies: Quat'sous Films, Lablebi Films, Good Films
International Sales: Pathé Distribution, muriel.sauzay@pathe.com
Producers: Abdellatif Kechiche, Francesco Melzi D'Eril
Screenplay: Abdellatif Kechiche, Ghalya Lacroix, based on the novel La Blessure de la Vraie by François Bégaudeau
Cinematography: Marco Graziaplena
Editors: Nathanaëlle Gerbeaux, Maria Giménez Cavallo
Main cast: Shaïn Boumédine, Ophélie Bau, Salim Kechiouche, Lou Luttiau, Alexia Chardard, Hafsia HerziI, Delinda Kechiche, Kamel Saadi, Meleinda Elasfour, Estefania Argelish