Dir. Renārs Vimba. Latvia. 2016. 110 mins.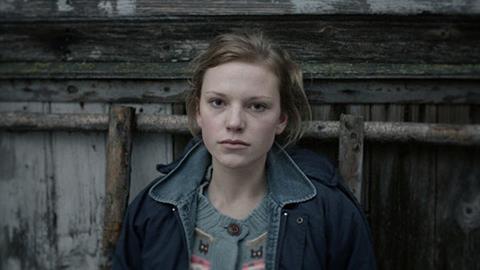 A resourceful teenage girl fights – literally, on occasion – to cling to her modest dreams for the future when the realities of life in rural Latvia threaten to rent apart what's left of her family. Not that there is much of Raya's (Elīna Vaska) immediate clan still around. Following the death of their father, she and her younger brother Robis (Andžejs Jānis Lilientāls) live in a state of low-level warfare with their acidic paternal grandmother, in a cottage surrounded by churned mud. Raya has invested her hopes in her mother, who emigrated to the UK and has lost contact with her children.
The film shares both thematic and stylistic themes with the work of the Dardennes brothers, and could connect with the same arthouse audience
There is a spare beauty to this picture. It is lean, economic storytelling with no wasted scenes, and yet, largely thanks to a bravura performance from impressive newcomer Vaska, there is a real emotional depth here. The film was awarded the Crystal Bear for best picture by the youth jury in Berlin's Generation 14plus section, and this is unlikely to be the last prize it will collect in what should be a healthy festival career. Broader prospects will rely on critical support, but the film shares both thematic and stylistic themes with the work of the Dardennes brothers, and could connect with the same arthouse audience.
Seventeen-year-old Raya finds herself in the role of protector, both of her brother and of the family apple orchard she tends at the expense of her schooling. Her grandmother, who sees in Raya the daughter-in-law she despised rather than the son she loved, is threatening to sell off the property to settle the debts that hang over them like the leaden Latvian winter skies. One day, Raya comes home to find the trees are being bulldozed, which is perhaps more effective as a metaphor than it is as a logical plot point. Raya snaps, hurling a rock at the policeman who comes to restrain her.
Then disaster strikes, and, unexpectedly, things start to improve. The grandmother dies. And rather than turn themselves over to the care of the state orphanage, Raya decides to hide that fact. The film's muted colour palette brightens. Eking out their grandmother's fraudulently claimed pension, Raya and her brother manage to fly under the radar. To do this, both take a new-found interest in school. And when Raya sees a poster advertising an English language competition with the prize of a flight to London, she has a fresh motivation to cultivate her gift for languages.
The competition brings Raya together with her handsome teacher. The unbalance between them is beautifully evoked in one simple but eloquent post-coital scene. He sighs heavily; her smile slips and hardens very slightly. It's a moment that sums up what is most impressive about first-time feature director Vimba's approach: it is understated, but with an unerring eye for the kind of details which speak volumes.
The flow of migrants through Europe's permeable borders has provided plenty of inspiration for the continent's filmmakers. Relatively few, however, have focused so articulately on the people left behind, the human cost of the fresh start in a new country.
Production company: Tasse Film
International sales: Pluto Film patricie@plutofilm.de
Producers: Alise Ģelze, Aija Bērziņa
Screenplay: Renārs Vimba
Cinematography: Arnar Thorisson
Editor: Georgios Mavropsaridis
Production design: AivarsŽukovskis
Main cast: Elīna Vaska, Andžejs Jānis Lilientāls, Edgars Samītis, Zane Jančevska, Ruta Birgere