Dir/scr: Park Heung-sik. South Korea. 2015. 121mins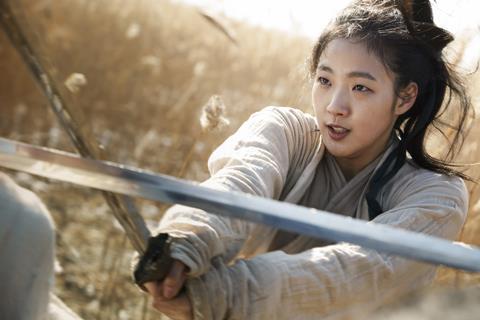 On paper, the period martial arts drama Memories of the Sword sounds like an appealing prospect. It features two award-winning stars: Lee Byung-hun (Masquerade) and Jeon Do-yeon (Secret Sunshine) reuniting for the first time since The Harmonium In My Memory (1999) and it's helmed by Park Heung-sik (My Mother, the Mermaid), a respected local filmmaker. Yet, it doesn't quite come together as it seeks to take elements from various films including famous wuxia classics (Crouching Tiger, Hidden Dragon, House of Flying Daggers) and combine it with a heavy dose of melodrama using an uneven narrative structure.
The amount of ambitious wire work, CGI and frequent use of slow-motion doesn't always seem wise and the film works best when characters are on the ground.
Despite its star pedigree, Memories of the Sword failed to attract large numbers on its opening weekend (Aug. 14-16) in South Korea having generated a meagre $1.7m from 247,119 admissions. But going up against Choi Dong-hoon's Assassination and Ryoo Seung-wan's acclaimed Veteran which have currently grossed $70.8m and $46m, respectively, was certainly a formidable task. To open in sixth place suggests audiences were not keen to see the film in the first place, however, - even after a long wait (it was initially scheduled to hit screens at the end of 2014). Lee Byung-hun may not be the box office draw he once was.
Overseas, its prospects remain uncertain, but Memories Of the Sword might entice some buyers looking for a martial arts epic as evidenced by the North American release through Well Go USA on August 28.
Set in the late Goryeo dynasty (918-1392), the film initially follows an energetic and confident girl named Hong-Yi (Kim Go-eun) who has learned the art of swordsmanship from her blind stepmother Sul-rang (Jeon Do-yeon). It's soon revealed that 18 years earlier, Sul-rang along with two other warriors Poong-chun (Bae Soo-bin) and Yoo-beak (Lee Byung-hun) sought to lead an uprising against a corrupt monarchy, but was betrayed by the politically ambitious Yoo-beak in his quest for power,leading to the death of Hong-Yi's parents.
Sul-rang, who was in a relationship with Yoo-beak before the rebellion, later confesses to Hong-Yi that together with Yoo-beak she was responsible for the death of her parents which ultimately begins a journey of revenge and bloodshed.
In the first hour, the film is so heavily focused on providing the necessary backstory that it lacks sufficient narrative urgency. This changes in the second half, but despite great efforts to develop the three central characters, the confusing early sequences mean it is hard to feel empathy for any of them.
This is Park Heung-sik's first attempt at period film-making and evidently not his last either (his next film Haeuhhwa will be set in 1940s Seoul) but his lack of experience in this genre is generally palpable. While the melodramatic strands of the story better suit his style, and although the film's visuals remain engaging, the amount of ambitious wire work, CGI and frequent use of slow-motion doesn't always seem wise. The film works best when characters are on the ground.
Despite its technical flaws, some of the film's cinematography - when it isn't so reliant on CGI - is impressive and Mowg's (Masquerade, The Last Stand) score again resonates well.
Both Lee Byung-hun and Jeon Do-yeon deliver solid performances but the script fails to give them adequate space to really embrace their roles. Kim Go-eun (Coin Locker Girl) is given more to work with, but comes across as overly theatrical at times, especially in the film's comical opening sequence where she hops over a giant sunflower.
Production Company: TPS Company
International sales: Lotte Entertainment Co. Ltd (http://www.lotteent.com/Main/Main.asp)
Executive producer: Cha Won-chun
Producer: Lee Dae-hee
Screenplay: Choi A-reum, Park Heung-sik
Cinematography: Kim Byung-seo
Production design: Han Ah-rum
Editing: Oh Myoung-jun
Music: Mowg
Main Cast: Lee Byung-hun, Jeon Do-yeon, Kim Go-eun, Lee Jun-ho