Dir: George Gallo. US. 2010. 112mins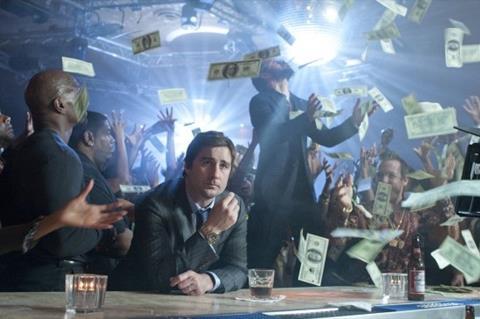 A rangy immorality tale and crime drama inspired by the true story of a mid-1990s company that revolutionized the peddling of pornography online, Middle Men has energy and some sleazy fun around the edges, but critically fails to locate a sincere lasting feeling, be it titillation or trepidation.
Attempts to service the unravelling of Jack's family life come across as lackluster and perfunctory.
An orphaned Paramount Vantage production that its corporate parent clearly either doesn't know how to market or feel comfortable selling, the film is releasing Stateside in limited fashion against two other wide releases that will vacuum up the dollars of young moviegoers who would most spark to this material. Mediocre word-of-mouth and a lack of starpower will quickly relegate this tawdry tale to an ancillary existence.
After young Texas family man Jack Harris (Luke Wilson) heads to Los Angeles for a business opportunity, he's steered by a shady lawyer (James Caan) to Wayne Beering (Giovanni Ribisi) and Buck Dolby (Gabriel Macht), two drugged-up entrepreneurs who've cooked up a scheme to deliver sex content over the internet, but fallen out of favor with their criminal underworld partners. Jack reluctantly comes in to settle the business, hatching the crucial idea of serving as a discreetly-named portal between paying customers and adult content producers, who pay them a percentage to handle the billing.
It's a huge success, and all manner of reward ensues, along with plenty of pitfalls born, variously, of the idiocy, venality and criminality of his associates. Along the way Jack eventually succumbs to the earthly pleasures of excess swirling all around him, in the form of 23-year-old porn starlet Audrey Downs (Laura Ramsey, oozing danger). This dooms his already fragile long-distance relationship with wife Diana (Jacinda Barrett).
In pure narrative checklist fashion, there's plenty of intrigue here — Russian mobsters, pornography, drugs, go-go Internet capitalism, political blackmail, accidental deaths, criminal double-crossing, and even the governmental targeting of foreign terrorists for assassination based on their traceable online masturbatory habits.
But while Gallo and co-writer Andy Weiss certainly populate Middle Men with plenty of colourful wackos, they get the basic story recipe quite wrong, nervously jumping back and forth in time in a strange effort to provide context. Attempts to service the unraveling of Jack's family life come across as lackluster and perfunctory. Most damningly, they also saddle the movie with so much literal-minded narration as to drive one absolutely bonkers.
Visually, the movie is appealing, and its technical credits demonstrate lockstep slickness.
Macht and Ribisi are given wide berth to chew scenery, but it's the latter who most outlandishly connects, working up a bearded character so fueled by drugs and paranoia that he exists in his own demented orbit.
More problematic is Wilson, who utterly lacks either the quiet interior gravitas or wheeler-dealer verve that would give this material more of a punch, either dramatically or comedically.
Production companies: Paramount Pictures, Mallick Media, Oxymoron Entertainment, Blue Star Entertainment
International distribution: Paramount Pictures
Producers: Christopher Mallick, William Sherak, Jason Shuman, Michael J. Weiss
Co-executive producers: Andy Weiss, Daniel Frisch, Shaliza Somani
Screenplay: George Gallo & Andy Weiss
Cinematography: Lukas Ettlin
Editor: Malcolm Campbell
Production designer: Bob Ziembicki
Music: Brian Tyler
Website: www.MiddleMenMovie.com
Main cast: Luke Wilson, Giovanni Ribisi, Gabriel Macht, Laura Ramsey, Rade Sherbedgia, James Caan, Jacinda Barrett, Terry Crews, Kevin Pollak, Kelsey Grammer, Robert Forster, Jason Antoon