Dynamic documentary about the life and career of influential American newsman Mike Wallace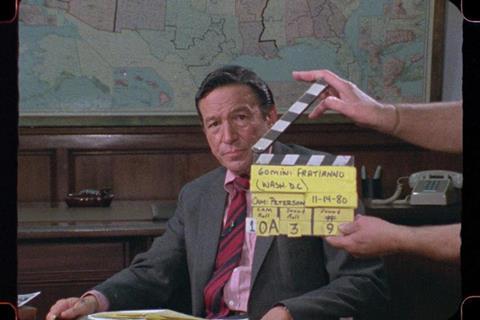 Dir Avi Belkin. USA. 2019. 88mins
As one of the original correspondents of CBS' 60 Minutes, which debuted in 1968, Mike Wallace helped change the face of American television news. His abrasive interview style and hard-hitting investigations broke through a post-War orthodoxy of stodgy civility. Avi Belkin's fascinating, meticulously assembled documentary Mike Wallace Is Here fondly celebrates his life but also questions Wallace's influence on the quality of public discourse in modern media.
Expert editing by Billy McMillin adds real punch to Belkin's wide-ranging story
Like television host Fred Rogers, the subject of recent documentary Won't You Be My Neighbour?, Wallace may be a less familiar figure to non-American audiences, which could potentially limit the film's international impact. The timely insight into press freedoms, wealth of archive footage and dynamic handling of the material should still prove sufficient, however, to ensure it extensive festival invitations and some theatrical life.
In his time, Mike Wallace interviewed everyone who mattered. The film offers dazzling evidence of his standing in the sheer range of his encounters with politicians, painters, mobsters and movie stars. Vladimir Putin, Ayatollah Khomeini, Salvador Dali, Bette Davis, Barbra Streisand, Eleanor Roosevelt and a young Donald Trump are among the stellar parade that passes by.
Wallace, who died in 2012, was interviewed often enough to provide Avi Belkin with sufficient material to construct a film about his life, and Mike Wallace Is Here is exclusively and impressively honed from hundreds of hours of archival footage. Belkin is able to span the arc of a lengthy career from young upstart to most feared reporter in America and last man standing of his generation. There are no new interviews or hindsight commentary, and the film feels fresher and more urgent because of it.
Excerpts from the late 1950's interview show Night Beat and 60 Minutes cover Wallace's professional development, while comments from Wallace himself add elements of perspective and reflection. He is clearly less comfortable being under scrutiny, and is often just as guilty of bluff and evasion as his more slippery subjects.
He reluctantly discusses personal matters including his marriages, the death of a son and his own attempted suicide. It becomes clear that the thing that mattered most to him was work; the thrill of the chase, the hunger to expose the truth or burrow under the skin of a public figure. Everything else was almost a distraction.
Wallace's life contains a history of the changing landscape of the American media. The ratings success of 60 Minutes turned news magazine shows into big business and encouraged news to have an element of high drama or showman's swagger. It may also have fostered a certain timidity in the networks, and the documentary revisits the issues surrounding whistleblower Jeffrey Wigand that became the basis for The Insider in which Wallace was portrayed by Christopher Plummer.
Expert editing by Billy McMillin adds real punch to Belkin's wide-ranging story and almost seems designed to reflect the dynamism and drive that marked Wallace's career. He was no respecter of reputations, asking questions that were tough to the point of rudeness. "Why are you such a prick?, " demands Barbra Streisand, mid-interview.
Wallace, however, might argue that he was a fearless champion of the public's right to know. Late in life, Wallace is seen in conversation with Bill O'Reilly from Fox News and is horrified at that suggestion that he may have fathered a cacophonous modern world of shock jocks and shouting matches between obnoxious commentators straining to outdo each other in extreme views. It is one of the many moments that give pause for thought in an intelligent and compelling work.
Production companies: Delirio Films, Drexler Films, Passion Pictures, Rock Paper Scissors Entertainment
International sales: Dogwoof sales@dogwoof.com
Producers: Rafael Marmor, John Battsek, Peggy Drexler, Avi Belkin, Christopher Leggett
Editing: Billy McMillin
Music: John Piscitello
Features: Mike Wallace