After Armie Hammer's marine steps on a landmine in the desert heat, he has to wait 52 long hours before help arrives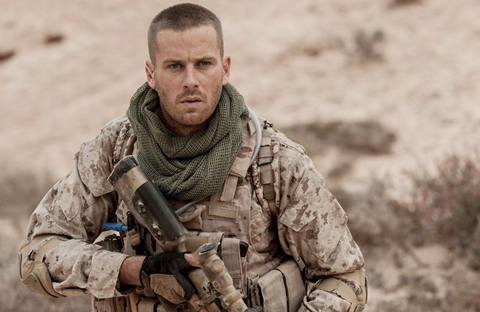 Dirs. Fabio Guaglione, Fabio Resinaro. US/Spain, Italy. 2017. 106 mins
Armie Hammer stars as an American marine who finds himself stranded and immobilised in the desert when he steps on a landmine in this endurance-testing psychological thriller. To move his foot, according to the calculations of the dispassionate voice on the other end of the radio, would leave him with a 93 percent chance of being blown up. It's a premise which owes a debt to Danis Tanovic's Oscar-winning No Man's Land.
The insights we are given into Mike's troubled past don't have the necessary dramatic weight to justify the long, slow build that precedes them
But while Tanovic's film, which featured two soldiers from opposite sides of the Bosnian war and a third turned into a human booby trap, explored the futility of a conflict which turned neighbour against neighbour, this overlong and somewhat unfocused picture is more preoccupied with the battle raging inside the protagonist's head.
The first feature from Italian writing and directing team Fabio Guaglione and Fabio Resinaro, Mine is released in the USA on April 7th by Well Go Entertainment after which it should best connect with audiences via on-demand screening platforms.
The picture, which was largely shot on the Canary Island of Fuerteventura doubling for an unspecified Middle Eastern country, opens with a striking wide shot which positions Mike (Hammer) and his fellow marine and friend Tommy (Downton Abbey actor Tom Cullen) in the middle of nowhere. Their mission, as a sniper team, is to assassinate a target who is due to arrive in range in a black land cruiser. But Mike, a marine with a conscience, has doubts about the legitimacy of the mission, and refuses to take the shot and risk the lives of innocent people. They are discovered nonetheless and pursued by jihadis.
The laboured banter between the two – the dialogue fairly creaks with artificiality at times – is curtailed abruptly when they stray into a minefield. Tommy is mortally injured, however even death is not enough to silence this garrulous character for long. Mike, precariously balanced on the detonator of the kind of ordnance which just killed his buddy, is told that he must survive in the desert for 52 hours before the rescue convoy can reach him.
Lacking the visual flair of 127 Hours or the satisfying resilience of Robert Redford's character in All Is Lost, the film leans heavily on Armie Hammer's performance. And while he is a charismatic leading actor, he is not given enough to work with here to sustain the picture.
A philosophising, fluent English-speaking Berber (Clint Dyer) wanders past occasionally to encourage Mike to 'take the next step' and 'keep moving on'. A pack of desert dogs snarls and snaps during the bitterly cold nights. A sandstorm blasts him, and moves his radio inconveniently out of reach. Tommy reappears to dispense relationship advice. And the parched and sunbaked Mike starts to hallucinate key moments from his life – a violent encounter with his abusive father; a relationship crunch point with his girlfriend Jenny (Annabelle Wallis). Even so, the insights we are given into Mike's troubled past don't have the necessary dramatic weight to justify the long, slow build that precedes them.
An understated score adds an almost imperceptible sense of mounting threat, but this is undermined by on-the-nose dialogue and editing which would had benefitted from a firmer hand.
Production company: The Safran Company, Roxbury, Sun Film, Mine Canarias
International sales: WME, The Safran Company
Producer: Peter Safran
Screenplay: Fabio Guaglione, Fabio Resinaro
Cinematographer: Sergi Vilanova
Editors: Filippo Mauro Boni, Fabio Guaglione, Matteo Santi
Production designer: Mani Martínez
Composer: Luca Balboni, Andrea Bonini
Cast: Armie Hammer, Annabelle Wallis, Tom Cullen, Clint Dyer, Geoff Bell, Juliet Aubrey