The 'Despicable Me' supervillain receives an appropriately silly origin story, joined by his slapstick friends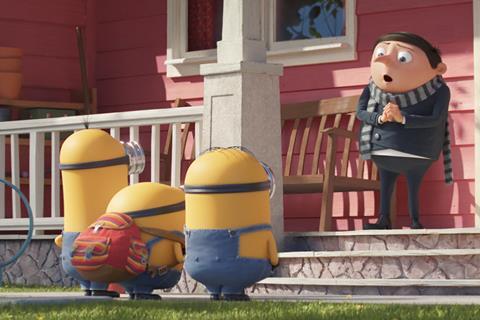 Dirs: Kyle Balda, Brad Ableson, Jonathan Del Val. US. 2022. 87 mins.
The title of the latest film in the enduringly popular Despicable Me series gives some indication of the conflicting forces at work here. The picture is billed as Gru's origin story — an insight into his formative years, his early forays into villainy and an introduction to the man who will become his evil mentor, a long-in-the-tooth West Coast biker known as Wild Knuckles (Alan Arkin). But in fact, the film is dominated by Minion slapstick, and serves predominantly as a showcase for those pessary-shaped agents of chaos to do what they do best: fart, blow raspberries and belt each other over their freakish little yellow heads. There's very little that's new in The Rise Of Gru, unless you count the introduction of Minion sad eyes, which are deployed strategically to emotionally blackmail their victims. But the familiar silliness of the Minions is essential to their appeal.
The appeal of a bunch of oversized lemon Tic Tacs in welding goggles catapulting around the frame endures
It's an appeal which seems likely to be concentrated mainly among younger audiences, although the art direction of the mid-1970s San Francisco setting is unexpectedly handsome and detailed. Older audiences may appreciate the film's profligate use of needle-drops throughout, ranging from The Ramones to Linda Rondstadt's 'You're No Good' to a Minion cover version of The Rolling Stones' 'You Can't Always Get What You Want.' Still, it does feel that with this good-natured but somewhat repetitive outing, the Minions might have finally run out of some of that pinballing energy. Following its premiere at Annecy, the film will be released in most territories globally on July 1, almost exactly two years after its planned pre-Covid release date of July 2020.
The story takes place in 1976, and the swirling colours of the psychedelic era which came before are still swilling around the West Coast of America. Presiding over the eye-melting technicolor streets is a band of supervillains known as The Vicious 6. Belle Bottom (Taraji P. Henson) has a huge afro and boundless evil ambitions, using her medallion chain as a weapon. Then there's lobster-handed Jean-Clawed (Jean-Claude Van Damme); a roller-skating Swede known as Svengeance (Dolph Lundgren); a levitating nun called Nunchuck (Lucy Lawless); and Stronghold (Danny Trejo), who has enormous bludgeoning metal hands. The final — and founding — member of The 6 is Wild Knuckles, but he is ousted early on for being old, uncool and reliant on reading glasses. Ageism is rife, even in the world of professional evil.
Eleven-year-old supercrime fanboy Gru (Steve Carell) is invited to audition for the newly vacant slot in The Vicious 6. The team plans world domination using the newly stolen Zodiac stone, which kicks into action at Chinese New Year — the stone has the power to turn its holders into creatures of the Chinese Zodiac, which is great if you become a dragon or tiger, less so if you are stuck as a rooster. Gru's audition goes horribly wrong but, fortunately, the Minions have separation anxiety and are always nearby when Gru finds himself in over his head.
There are some inventively absurd moments of physical comedy — the Michelle Yeoh-voiced acupuncturist who uses her needles to control her patient's limbs is great fun. But, equally, there are scenes which feel tired and derivative — Yeoh's character's extended Minion kung fu training montage rather overstays its welcome. Ultimately, though, the madcap elements of the Minion repertoire still deliver the playful escapism that the series is known for. The appeal of a bunch of oversized lemon Tic Tacs in welding goggles catapulting around the frame endures, but might not sustain another film.
Production company: Illumination
Worldwide distribution: Universal Pictures
Producer: Chris Meledandri
Screenplay: Matthew Fogel
Editing: Claire Dodgson
Music: Heitor Pereira
Main voice cast: Steve Carell, Taraji P. Henson, Michelle Yeoh, RZA, Jean-Claude Van Damme, Lucy Lawless, Dolph Lundgren, Danny Trejo, Russell Brand, Julie Andrews, Alan Arkin