Dir: Tim Burton. US. 2016. 127mins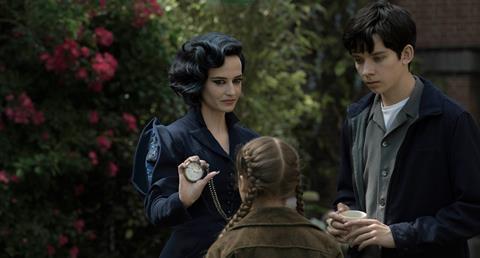 Peculiarity has been a speciality of Tim Burton's films for a while now — but so has an overly gimmicky, cutesy approach to his characters' fantastical worlds. Both tendencies hold true in Miss Peregrine's Home For Peculiar Children, a familiar mixture of adolescent angst, lavish visuals, dark humour and tiresome whimsy. Based on the bestselling 2011 young-adult novel, this tale of an X-Men-like group of misfits with supernatural powers seems tailor-made for Burton's brand of quirkiness — which may explain why the proceedings feel so formulaic.
For a movie that's meant to have some magic in it, Peculiar Children displays little buoyancy
Premiering at Fantastic Fest before hitting major markets on September 30, this Fox release will court viewers on the strength of Burton's commercial track record. Eva Green, Asa Butterfield and Samuel L. Jackson should also be a box-office bonus, but Peculiar Children's greatest asset is that it will be the lone fantasy offering on the schedule for a few weeks, the studio no doubt hoping it's got a four-quadrant Harry Potter-esque film that could pave the way for sequels.
Adapted from the novel by Ransom Riggs, who published a follow-up in 2014, Peculiar Children stars Butterfield as Jake, a Florida teen living in the present day who discovers that his seemingly ordinary existence is far more complicated than he realised. After receiving a cryptic warning from his dying grandfather (Terence Stamp), Jake ventures to a remote Welsh island to find a dilapidated mansion that, in reality, exists in a magical 24-hour loop in which it's always September 3, 1943. Meeting Miss Peregrine (Green), the home's caretaker, Jake is introduced to her wards, all of whom have incredible powers.
At a time when comic book movies clog the release calendar, Peculiar Children's notion of outcasts grappling with superpowers is hardly novel — and that's to say nothing of franchises such as Harry Potter and The Matrix in which an everyday protagonist learns he's destined for great things.
But there's always room for new twists to narrative clichés, which is why it's even more troublesome that Burton oversaw this adaptation. From Beetlejuice to Edward Scissorhands to Dark Shadows to his feature-length Frankenweenie, the filmmaker has cornered the market on sympathetic, slightly spiky portraits of weirdos who aren't comfortable in "traditional" society. However, what was once charming — even subversive — about these portrayals has long since codified into a cookie-cutter oddball shtick that tramples over any potential emotional resonance.
Jane Goldman's script views Jake as a directionless teen who's never felt like he belonged, but the character doesn't evolve so much as he becomes our guide through Peculiar Children's elaborately constructed universe. Far too much of the film — which, as to be expected from Burton, is shot beautifully by cinematographer Bruno Delbonnel and production designed immaculately by Gavin Bocquet — concerns explaining the mechanics behind the 24-hour time loop, the circumstances surrounding the house, and the motives of the frightening villains (including Samuel L. Jackson in a campy cameo).
For a movie that's meant to have some magic in it, Peculiar Children displays little buoyancy, the proceedings weighed down by tedious world-building and perfunctory thematic lip-service about the need for community and the power that comes from finding one's voice.
To be sure, Burton provides us with striking sights: the image of children donning gas masks as Nazi planes hover ominously overheard, or lovely underwater sequences inside a sunken ship. But Peculiar Children is overrun by its visual doodads, the filmmaker showing more consideration for some stop-motion side characters than he does his central love story between Jake and a beautiful young ward (Ella Purnell) who must wear heavy metal shoes so she doesn't float away.
Butterfield is likeable but negligible, although he's a good fit among a supporting cast of peculiar children who all seem lobotomised, raising the possibility that having superpowers brings with it the unfortunate side effect of robbing the characters of their personalities. Green acquits herself as the tart, gothic Miss Peregrine, but even this turns out to be a liability. It's a touch obvious to cast the supremely vampy Green in a Burton movie, and so there's no deliciousness in watching the actress arch her eyebrows or curl a self-mocking smile. In this filmmaker's world, she's just another piece of decoration.
Production companies: TSG Entertainment, Chernin Entertainment
Worldwide distribution: 20th Century Fox, www.foxmovies.com
Producers: Peter Chernin, Jenno Topping
Executive producers: Derek Frey, Katterli Frauenfelder, Nigel Gostelow, Ivana Lombardi
Screenplay: Jane Goldman, based upon the novel written by Ransom Riggs, published by Quirk Books
Cinematography: Bruno Delbonnel
Production design: Gavin Bocquet
Editor: Chris Lebenzon
Music: Mike Higham & Matthew Margeson
Website: www.foxmovies.com/movies/miss-peregrines-home-for-peculiar-children
Main Cast: Eva Green, Asa Butterfield, Chris O'Dowd, Allison Janney, Rupert Everett, Terence Stamp, Ella Purnell, Judi Dench, Samuel L. Jackson