Dir: Catherine Hardwicke, UK-US, 2015, 112 minutes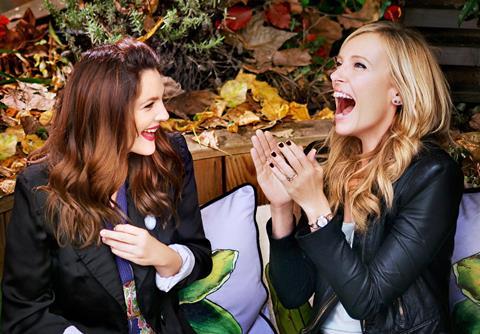 This tender, gently funny depiction of female friendship benefits from nicely committed work from lead actresses Toni Collette and Drew Barrymore plus distinctive locations in London and Yorkshire, but suffers from unconvincing moments and struggles to convert diverse story elements into an especially compelling whole. Juggling breast cancer, fertility treatment, marital discord and the buried resentments of decades-long BFF intimacy, Miss You Already represents the most ambitious screenwriting effort yet from actress Morwenna Banks.
Whether Barrymore supplies a sufficiently strong marketable element to make this film a winning package for audiences remains to be seen
As for director Catherine Hardwicke, struggling to find her groove ever since her early departure from the Twilight franchise in 2008, this comedy drama doesn't point the way very promisingly to a new career direction. And although the story often feels like it's been adapted from a chicklit bestseller, no such source material exists, meaning that distributors including eOne in the UK and Lionsgate in the US will have to pull out all the stops to sock it over to audiences.
Milly (Colette) and Jess (Barrymore) are besties since girlhood, ever since the latter relocated to London from the US with her family. The pair's sustained friendship has evidently rested on mutual acceptance of their roles: adventurous Milly led the way, with generous support from Jess. Milly was the first to experience romance and sex, the first to conceive and marry (enter dishy indie musician turned retail entrepreneur Kit, played by Dominic Cooper), and the one who sadly experiences other firsts, when a series of diagnoses confirm an increasingly bleak prognosis for her breast cancer.
The childhood years are despatched quickly, with the film's main drama taking place over the months it takes Jess and oil-rig worker husband Jago (Paddy Considine) to pursue fertility treatment, conceive and give birth to a child. Audiences are left at sea regarding the characters' ages, since Milly's accidental conception of her first child appears to happen when she's a young adult, but that daughter, Scarlett (Honor Kneafsey), now appears to be around 10 years-old – making Milly and Jess significantly younger than the actresses playing them.
That sounds like a quibble but it's not the only false note struck by the film. Bronte nut Milly runs off from a surprise birthday party, loyal Jess in tow, impulsively taking a London black taxi more than 200 miles to Haworth, West Yorkshire, as nobody ever does, except in movies – although to be fair Milly works for a prominent entertainment publicity company, and may be presumed to have become untethered to the real world. Arriving at a picturesque B&B in the small hours of the morning, she books two suites for the pair of them, bidding adieu to the presumably exhausted cab driver who merrily drives off home.
Then again, this behaviour is hardly as nutty as choosing to visit your doctor, on three separate occasions, without ever taking a friend, relative or spouse for support, to learn, successively, that you face chemotherapy, double masectomy and imminent death. Receiving the news alone each time may be more dramatic, but it's less convincing.
Jess suffers a fall on the Moors, seemingly imperilling her unborn child – although since Miss You Already begins with her in hospital about to give birth, narrative tension arising from this particular instance of jeopardy is in limited supply. Still, this plotline gives the impression of making the story seem a tad more even-handed, which may have been helpful in persuading Barrymore to sign on for the role. Whether she supplies a sufficiently strong marketable element to make this film a winning package for audiences remains to be seen.
Production company: S Films
International sales: Salt, info@salt-co.com
Producer: Christopher Simon
Screenplay: Morwenna Banks
Cinematography: Elliot Davis
Editor: Phillip J Bartell
Production design: Amanda McArthur
Music: Harry Gregson-Williams
Main cast: Drew Barrymore, Toni Collette, Dominic Cooper, Paddy Considine, Jacqueline Bisset, Tyson Ritter, Honor Kneafsey, Frances De La Tour