What happens when Friday night collides with Monday morning for two American expats in Athens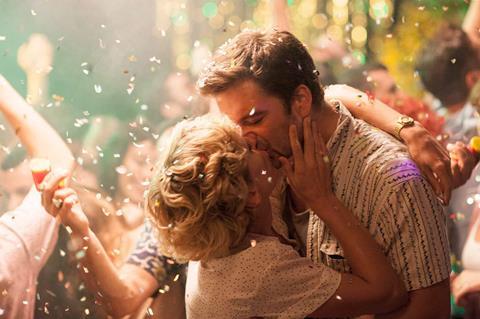 Dir. Argyris Papadimitropoulos. UK, Greece, USA. 2020. 116 mins
Mickey (Sebastian Stan) and Chloe (Denise Gough) have little in common besides both being 30-something American ex-pats in Athens. But when they meet at a party, just days before Chloe is due to move back to the states, the chemistry between them is incendiary. Theirs is a reckless, headfirst plunge of a relationship, the kind that doesn't think about consequences. That they find themselves handcuffed and shamefaced before an exasperated police chief the following morning only adds to the frisson between them. It soon becomes clear that Chloe is going nowhere. But what happens when a romance which has surfed on a wave of Friday night excess finally reaches the realities of Monday? The impressive follow up to Suntan from Argyris Papadimitropoulos crackles with energy and stings with honesty.
An entertainingly subversive spin on the romcom genre
Although the film doesn't hold back from putting its characters through the wringer, it doesn't quite match the excruciating levels of mortification achieved in Suntan (with which it shares an island location for key scenes), a fact which may boost its commercial potential comparatively. Following on from its showcase at TIFF, the film should attract interest both on the festival circuit and from distributors looking for content which could perform either theatrically or through a streaming platform.
There's a scene in this acutely observed relationship drama in which Mickey pours lighter fuel on a sofa in the centre of an impromptu courtyard party and sets fire to it, dancing around it an ecstasy of destruction. And this compelling, at times deeply uncomfortable film does much the same with the conventions of the romcom. When Mickey torches the sofa – the biggest piece of baggage from his new girlfriend's past life – they both see it as a severing of ties with the past, their relationship being reborn from the ashes. The past is not stored in the objects we accrue, though, but rather etched indelibly into the psyche. No relationship, however showily intense, can exist independent of those that came before it. Likewise, the audience brings to this film a set of expectations born from a lifetime of watching romantic fiction. That Monday skewers them so pointedly and thoroughly is what makes it such an entertainingly subversive spin on the genre.
A chapter structure in which all the headings, apart from the last, are 'Friday' gives the film both an increasingly frantic energy and a sense of the mother of all impending comedowns. Whether the couple have any chance of weathering the crash depends on the degree of romantic optimism that the audience brings to the picture.
What's not in question is the chemistry between them. Papadimitropoulos encouraged improvisation in his cast which brings a natural intimacy to the colliding, buffeting dialogue and a persuasive enjoyment in each other's physicality. Even so, he flags the heady early moments with indications that, for all their joyous connection – emphasised by an antsy camera which explores the charged space between them – Chloe and Mickey are worlds apart. "Do you ever think 'What the fuck am I doing?'" says Chloe. Mickey misreads her existential anguish and answers it with an anecdote about forgetting why he opened the fridge.
Long before a climactic drink and drug binge, it becomes clear that Chloe and Mickey are chasing the high of their first encounter to avoid dealing with the responsibilities of a life together. There's no neat conclusion – there rarely is in real life. We are left chewing over the question of whether they will crash and burn or stay together, possibly for all the wrong reasons.
Production Company: Faliro House
International Sales: Protagonist Pictures
Producers: Deanna Barillari, Damian Jones, Brian Kavanaugh-Jones, Christos V. Konstantakopoulos, Argyris Papadimitropoulos
Screenplay: Rob Hayes, Argyris Papadimitropoulos
Editing: Napoleon Stratogiannakis
Cinematography: Hristos Karamanis
Production Design: Aliki Kouvaka
Music: Alexis Grapsas
Main cast: Sebastian Stan, Denise Gough, Yorgos Pirpassopoulos, Dominique Tipper, Andreas Konstantinou, Sofia Kokkali, Elli Tringou