Director: Chen Kaige, China, 123 minutes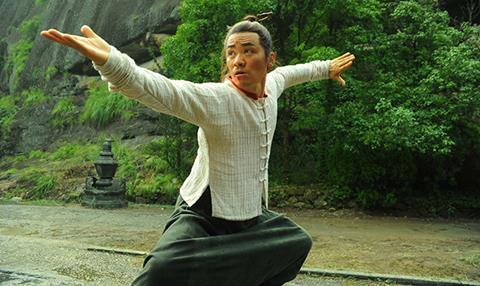 Packed with action and steeped in tradition, Chen Kaige's return to the wuxia genre is an exhilarating drama, as concerned with the philosophy behind martial arts as with their lethal execution. Wang Baoqiang embraces a rare starring role as the titular monk sent on a journey of self-discovery, whose travels see him cross paths with the likes of Aaron Kwok, Chang Chen, Lin Chiling and Yuen Wah.
These episodic adventures run the gamut from intrigue and comedy to full-blown fantasy, but Chen's steady hand ensures the film maintains a consistent tone and brisk pace throughout. Monk Comes Down The Mountain, produced by Columbia Pictures and New Classics Media, has already scored a promising opening weekend in mainland China (US$38M in 4 days) and its big name cast and high action quota should draw plenty of interest further afield.
Xu Haofeng, who directed The Sword Identity (2011) and had a hand in the screenplay for Wong Kar Wai's The Grandmaster, wrote the best-selling novel upon which Palme d'Or winner Chen Kaige's film is based. Adapted by the director and Zhang Ting, Monk Comes Down The Mountain follows the adventures of young priest and skilled martial artist He Anxia, who is ejected from his impoverished monastery and forced to fend for himself in 1930s China.
His wanderings see him seek tutelage from a variety of different masters, including a benevolent street physician (Fan Wei, City Of Life And Death), whose young wife (Taiwanese beauty Lin Chiling, Red Cliff) is having a secret affair with the doctor's flamboyant younger brother (Vanness Wu). He next trains under hotheaded young student Zhao Xinchuan (Danny Chan), Aaron Kwok's zen-like priest Zhou Xiyu, and eventually Boss Zha (Chang Chen), a former army buddy of Zhou's who has become a Peking Opera star.
Under each new master He learns a new style of kung fu, but also a little more about human nature and the outside world. Things get especially dangerous when He discovers that Zhao Xinchuan's teacher, the scheming Peng Qianwu (Yuen Wah), has an ongoing rivalry with Zhou Xiyu, one which will ultimately involve his hot-headed son (Jaycee Chan), and inevitably end in bloodshed. Chan is also central to the film's most overtly comical vignette, when a poisoned stew violently contorts both his face and He's. It proves somewhat inconsequential, though the CG-assisted make up effects are surprisingly convincing.
As He Anxia encounters more proficient martial artists, so the techniques on display evolve from wholly practical acrobatics to wirework and ultimately computer-enhanced wizardry as the kung-fu masters' abilities delve deeper into the magical realm. However, Chen never lets his audience forget that even the most skilled practitioner can be undone by a sharp blade or a bullet. Be it the cause of science, modernity or simply the treachery of human nature, all men are fallible, but character and principle are what make a hero.
Performances throughout are strong, with Wang Baoqiang proving particularly proficient in his first lead role as an action hero. An increasingly regular fixture for the past decade on both sides of the border, Wang has only recently had the opportunity to parade his more than capable skills as a martial artist. In Teddy Chen's shamelessly nostalgic Kung Fu Jungle (which debuted at last year's London Film Festival), Wang's multi-talented serial killer easily outshone that film's ageing hero, Donnie Yen.
Aaron Kwok and Chang Chen, who share top billing with Wang despite having significantly less screen time, both imbue their characters with a stoic nobility that helps sell their characters' abilities to harness the power of the Sun and Moon in combat. One does wonder whether the source novel featured more of their shared history, as the brief flashbacks to their wartime past feel somewhat lacking.
Yuen Wah, veteran martial artist and one-time Little Fortune alongside Sammo Hung and Jackie Chan, stops just short of twirling his moustache as the out-and-out villain of the piece. Yuen enjoys a number of impressive tussles, most notably with his onscreen student Zhao, but his impressive harnessing of chi energy is undercut by his backstabbing tactics. Dany Chan, as Zhao, stands out in his brief appearance, as does Tiger Chen, star of the Keanu Reeves-helmed actioner Man Of Tai Chi (2013).
Technical contributions are excellent across the board from Chen's broadly international crew. Han Zhong's art direction infuses this world with incredible detail and authenticity, while fight choreography from veteran stunt man and regular double for Jet Li, Ku Huen Chiu, is energetic and inventive throughout. Special mention must also be given to the sumptuous cinematography of Australian DP Geoffrey Simpson, who captures sweeping vistas, bustling street scenes and leaf-swept temple settings with equally impressive majesty.
Production Companies: Columbia Pictures, New Media Media Corporation, Beijing 21st Century Shengkai Film
International Sales: Sal Ladestro, Executive VP of International Marketing, Acquisitions and Local Productions, Sony Pictures Releasing International (SPRI) sal_ladestro@spe.sony.com
Producer: Chen Hong
Executive Producers: Cao Huayi, Chen Hong, Dede Nickerson
Screenplay: Chen Kaige, Zhang Ting based on the book by Xu Haofeng
Cinematography: Geoffrey Simpson, A.C.S.
Editor: Wayne Wahrman, A.C.E.
Art Director: Han Zhong
Main Cast: Wang Baoqiang, Aaron Kwok, Chang Chen, Chiling Lin, Fan Wei, Yuen Wah, Wang Xueqi, Vanness Wu, Danny Chan Kwok Kwan, Lam Suet, Li Xuejian, Tian Zhuangzhuang, Tiger Chen Hu