Dir. Luke Scott. US, 2015, 92 mins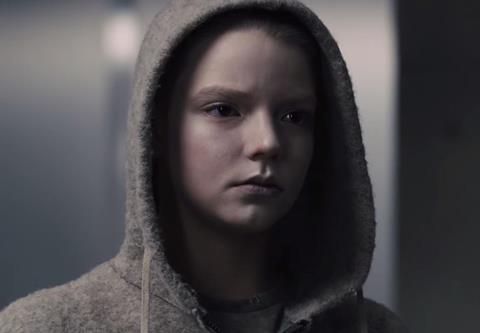 There's a decent script swimming under Morgan, the replicant sci-fi drama that marks the directorial debut of Luke Scott, son of Ridley. And there's a good cast floating around there too, from Kate Mara to Paul Giamatti and Anya Taylor-Joy (The Witch) - even Michelle Yeoh provides a Mandarin-language sequence for the China market. But nobody seems to know quite how to navigate the assembled elements, casting off a disappointingly flat thriller in the final days of summer.
Morgan has the tendency to descend into a gouging, neck-twisting punch-up with family issues.
Morgan, written by Seth Owen, was a much-liked 2014 Black List script, and it's easy to identify why. It centres around a scientific programme which is veering rapidly off the rails - a moody Ex-Machina bio-engineering exercise in the woods to create a humanoid from synthetic DNA. The result, Morgan (Taylor-Joy), is surrounded and enabled by a team of fallible human scientists who have become too close to their experiment and cannot accept that she is becoming a dangerous liability. A bloodless corporate problem-solver (Kate Mara) is dispatched to sort out the mess.
Morgan – along with the film – bears a marked resemblance to her cinematic antecedents. Ex-Machina is a clear comparison, but the colour of Taylor-Joy's skin in particular can't but recall Darryl Hannah as she once appeared in Scott Snr's Blade Runner. Although she is 'natural', Morgan is as dangerous as any machine, though, and Scott tends to opt for the cheap thrill of violence as opposed to probing the issues he has raised. Morgan has the tendency to descend into a gouging, neck-twisting punch-up with family issues.
Morgan is only five years-old, yet she is almost fully grown and has already disfigured her psychiatrist (Jennifer Jason Leigh) when threatened with a curtailment of her liberty. It's clear that this 'L9 project' is highly sentient and angrily aware of the limitations of her high-tech cell. But Morgan's creators have assumed roles akin to protective parents, led by 'dad' Simon Ziegler (Toby Jones), 'mum' Dr Cheng (Yeoh) and the 'older sister' behaviourist Amy (Rose Leslie).
Living in forested seclusion (this was shot in Northern Ireland) in a strange, rambling house, the team behind the experiment is no longer to be trusted, and Lee Weathers (Mara) is sent in by 'head office' with instructions (delivered by Brian Cox via telephone) to fix the problem.
Mara, slight and buttoned-up in a corporate suit, never seems at ease in the role, eventually running around the forest in a pair of stilettoes and wielding a shotgun which is bigger than her. With none of the team ready to admit that their creation is dangerous, a bombastic Paul Giamatti drops in to conduct a psychiatric evaluation on Morgan and crank up the action, but it's another – lengthy – sequence which doesn't really flow with the rest of the film. Most effective is the young Taylor-Joy, confirming the promise shown in The Witch
Max Richter's throbbing score lends a tense energy, while designer Tom McCullagh has crafted a whole world of opposing tensions – the beauty of the woods, the old and rambling house, Morgan's high-tech jail.
As more information is dispensed - much of it in a rush in the final shots – the strength of Owen's screenplay becomes clear but the issues it raises are largely left un-examined. A delayed release hasn't helped either, leaving Morgan sandwiched uncomfortably between Ex-Machina and the upcoming The Girl With All The Gifts, a chilling film which deals with the threat posed by lethal children to far more provocative effect.
Production company: Scott Free
International Sales: 20th Century Fox
Producers: Ridley Scott, Michael Schaefer, Mark Huffam.
Executive producers: Aidan Elliott, George F. Heller, Elishia Holmes.
Screenplay: Seth Owen.
Cinematography: Mark Patten.
Production design: Tom McCullagh
Music: Max Richter
Editor: Laura Jennings.
Main cast: Kate Mara, Anya Taylor-Joy, Rose Leslie, Toby Jones, Michelle Yeoh, Jennifer Jason Leigh, Paul Giamatti, Brian Cox