Testimonies of real life mothers are at the centre of Carolin Schmitz's involving documentary-fiction hybrid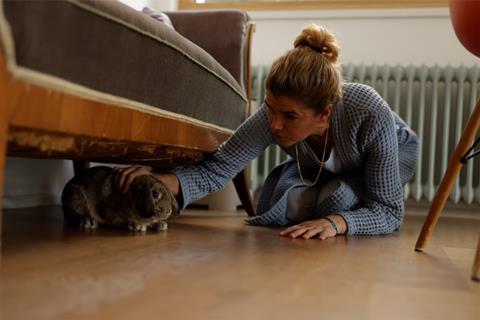 Dir/scr: Carolin Schmitz. Germany. 2022. 85mins
The testimonies of eight women, aged between 30 and 75, form the basis of this intriguing and unconventional blend of documentary and fiction. The words of the women – reflecting on their experiences of motherhood and its seismic and frequently ambivalent impact on their lives – are spoken by an actress, Anke Engelke, as she goes about the quotidian business of what, we assume is her own life or a fictionalised version of it. What soon becomes clear is the fact that, despite the wide range of individual circumstances, there is a striking overlap in the women's experiences of motherhood and relationships. There's not much that is a revelatory discovery, but the film, driven by Engelke's laconic but curiously magnetic delivery, is an involving piece of true life storytelling.
An involving piece of true life storytelling
Mother is the third non-fiction feature from Carolin Schmitz, following Portraits Deutscher Alkoholiker (a Berlin prize winner in 2010) and Beauty (2011). The film's playful approach to factual filmmaking should make it a title of interest for festivals and events seeking to showcase the more adventurous voices in the documentary landscape – while it is not as thematically confrontational, there is a kinship, perhaps, with Ruth Beckermann's Mutzenbacher.
Engelke is best known as a comedienne in Germany, having been billed as the "woman with 250 faces" when she starred in the popular sketch show Ladykracher. (She was also the German voice of Marge Simpson on The Simpsons.) Her performance in Mother represents something of a departure in that it does not overtly utilise her comic skills, nor does it require her to slip into other characters, despite reciting their words. It does, however, allow her to demonstrate a commanding screen presence, whether she is sitting in a bubble bath talking to camera, rehearsing in a theatre or pottering around in her utility room, folding towels with an impressive degree of care and precision.
Themes which are explored include the pressure of balancing childcare with an ongoing career – one woman was a senior teacher, another worked for her father's business – and the experience of falling into the habit of doing the lion's share of both parenting and domestic work while the husband or partner is less engaged. Division of labour is a universal flashpoint, as is the sheer grinding tedium of running a family. One woman describes storming out of Aldi in a rage, then having to sneak back in and redo the shopping that she had abandoned in her fury. Other strands explore the choice between staying with children and a lacklustre marriage versus pursuing a future with "the love of my life". More banal and relatable are the reactions to newborn infants; one woman's recollection was that her child was a freak, with no eyelashes.
The excerpts from the interviews with the women are not delineated in any way; in fact at times it's hard to know where one experience stops and another begins. This is presumably the point of a film which emphasises the fact that motherhood is a levelling and challenging experience for most women. Filmed with a cool, dispassionate lens, the film is content to observe and listen rather than to draw conclusions. But there is a cumulative power to the piece, and sense of camaraderie. Mothers in the audience will no doubt agree that we have all been there, one way or another.
Production companies: Sutor Kolonko
Contact: Sutor Kolonko info@sutorkolonko.de
Producer: Ingmar Trost
Cinematography: Reinhold Vorschneider
Editing: Stefan Oliviera-Pita, Annett Kiener
Main cast: Anke Engelke