A young boy tries to save his parent's marriage in this colourful debut from Kazakhstan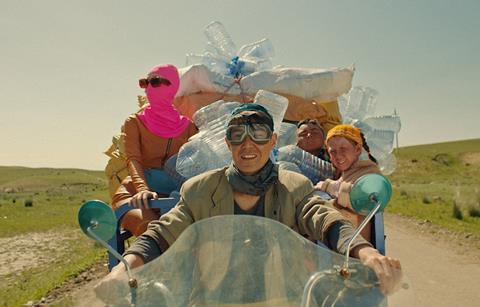 Dir: Eldar Shibanov. Kazakhstan. 2022. 90mins
Eleven-year-old Jabai (Esil Amantai) idolises his father; in his mind, the man is an infallible superhero. So when the youngster discovers that all is not well in his parent's marriage, he takes it upon himself to fix what he believes to be the problem — by embarking on an ill-advised quest for viagra. Part family drama, part road movie adventure, this Kazakhstan comedy may be culturally idiosyncratic, but writer/director Eldar Shibanov's eye for human detail and distinctive visual flair give it a wider appeal.
The whole film is a smorgasbord of gloriously vivid hues, cinematographer Dias Shibanov's painterly framing resulting in arresting compositions which could be hung on a wall.
That may be enough to see Mountain Onion (Gornyi Luk) travel beyond the festival circuit following its Venice Horizons debut and Red Sea competition spot, particularly if carefully handled by a streamer focused on international features. Shibanov's 2018 short Sex, Fear and Hamburgers played Venice Horizons and this, his feature debut, was developed through the festival's Biennale College-Cinema incubator programme. At the very least, it's distinctive enough to mark Shibanov out as a talent to watch.
The film begins in the rolling landscape of Kazakhstan, with the surprising sight of boys engaged in a face-slapping competition, betting cash on who will be able to handle the most pain. Cherub-faced Jabai is the winner, and he and feisty younger sister Sania (Amina Gaziyeva) use the money to buy a birthday cake for their father. It's a striking sequence in more ways than one; the colour palette is immediately eye-popping, from the green hills to the children's ruddy cheeks and bold clothing. Indeed, the whole film is a smorgasbord of gloriously vivid hues, cinematographer Dias Shibanov's painterly framing resulting in arresting compositions which could be hung on a wall.
That opening also neatly sets out the themes which drive this narrative; the love and loyalty Jabai and Sania have for their family, and the idea that strength — specifically, masculine strength — is a trait to be rewarded. The notion that men should be strong, stoic and dry-eyed is an oft-repeated idea; most often by the children's PVC-jumpsuit wearing mother Lasta (Laura Tursunkanova) as she regularly berates her husband Aybeck (Kuantai Abdimadi).
After uprooting the family from city life, Aybeck has yet to provide the rural idyll he promised — the family is living in a tiny yurt, and the kids sell spring onions on the side of the road (hence the film's title). Divorce is on the cards. After witnessing Lasta in a compromising position with cowboy-hat wearing Uncle Vitya (Sanjar Madi), Jabai takes it upon himself to save his parents' marriage by tracking down some viagra for his dad. He's not entirely sure what it does, but he believes its mythical properties will bring his parents together.
This madcap adventure sees the kids smuggle themselves into Vitya's truck and cross the border into China — something of a bizarre wild-goose-chase involving gangsters, pharmacists and a kick-ass female thief who turns Jabai's ideas of gender on their head. Most notable is that, when the kids are in China and away from the security of home, the visuals get considerably more muted and a dense smog descends.
There is never any hint of real peril, however, the film being played squarely for laughs. As seen through its bright technicolour lens, Mountain Onion takes on a surreal, Wes Anderson-esque quality that at times borders on the absurd. Shibanov never takes things too far, however, and the film's bright look and playful tone underscores the fact that it is told very much from its young protagonists' view; this is a world in which hope never dies, love conquers all and happy endings are pretty much guaranteed.
Production company: The Applebox
International sales: Lights On lightson@lightsonfilm.com

Producers: Yuliya Levitskaya, Dias Shibanov
Screenplay: Eldar Shibanov, Yuliya Levitskaya
Cinematography: Dias Shibanov
Production design: Munissa Guliyeva
Editing: Arseniy Abdrakhmanov
Main cast: Esil Amantai, Amina Gaziyeva, Kuantai Abdmadi, Laura Tursunkanova, Sanjar Madi