Dir. Paco Cabezas, US, 2015, 95 minutes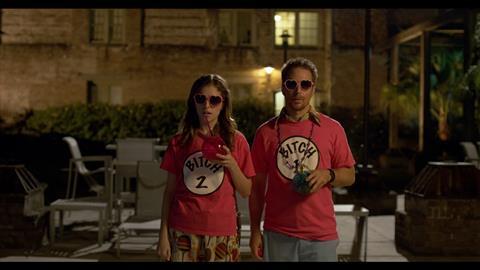 Mr. Right is a slapstick crime farce with a screwball love story at the core of a snarl of killers chasing each other in New Orleans. Ten years after Katrina, it seems determined to increase the body count in that city. The ensemble cast at the core of this kinetic mish-mash of a shoot-em-up (,led by Anna Kendrick, Sam Rockwell and Tim Rock),should bring in the crowds, although the film's humour seems to be aimed at an audience that could be too young to get in (but will boost Mr. Right's VOD numbers). The comedy could have a special appeal in Asia, as its non-Asian cast attempts to cap things off with an improbably choreographed martial arts crescendo. It is a farce, after all.
The film's multiple plots are impressively easy to follow in Max Landis's script and Paco Cabezas's direction. Petite, neurotic squeaky-voiced Martha (Anna Kendrick) prepares a romantic dinner, only to have her boyfriend crash in with a lip-lock on another girl. She rebounds dejectedly with a charming whacky lothario (Sam Rockwell), who turns out to be a serial killer who calls himself Mr. Right when she demands to know his name after they sleep together.
Mr. Right is a veteran hit man, who is pursued by a hapless gang of mobsters, and by law enforcement, and by Hopper, a dubious "FBI agent" played by Tim Roth. Naturally they fight and betray each other, as Martha and Mr. Right punctuate their courtship with machine gun blasts and knife-throwing.
The star among stars here is Rockwell, who as Mr. Right wears a red clown nose when he thinks he's being funny, which should appeal to the kind of uncle who starts conga lines at weddings. The nose gets a lot of use.
If movies had footnotes, the ones for Mr. Right would be longer than the film. Rockwell channels the spaced-out oddness of Bruce Willis in his Moonlighting days while doing his version of television's Dexter as a professional killer who only kills bad people. The editing is right out of the Lock Stock Guy Ritchie rapid-fire school. Close-ups of gang meetings clone the style of US network dramas, and Kendrick's fashion victim wardrobe looks like it came from Cindi Lauper's reject closet circa 1986. (You can still be sure that the fashion press will pay attention to it.)
There's so much wilful quirkiness here from the whole cast – sometimes like nails on a blackboard – that, apart from a few scenes of ambient musical noise, the project doesn't seem to be in photogenic New Orleans for anything but the Louisiana tax rebate. Craziness is indeed the prevailing mood. Characters have all the humanity of graphic novel caricatures – not such a bad approach, since most of them end up dead. Kendrick has some zinger lines as she tries to address Mr. Right's killing profession in the way that a well-meaning girlfriend might treat a lover's dandruff problem. Roth, always game in a comedy, speaks with a southern 'Nawlins' accent that sometimes veers into South Kensington. Anson Mount and James Ransone are laughable as gangsters, with Ransone playing the wimp when Mr. Right gets the upper hand.
DP Daniel Aranyo chases the cast around in a comedy that presents itself as sexy, yet puts the sex more into the dialogue than on the screen – a maneuver to keep the MPAA raters on its side? No surprise. Mr. Right is aiming to be a tent-pole film that just happens to have a lot of dead bodies and just as many dutiful shots of the New Orleans skyline. The gambit may just work.
Production companies: Amasia Entertainment/ Circle of Confusion
International sales: Sierra Affinity, nfo@sierra-affinity.com
Producers: Bradley Gallo, Michael Helfant, Lawrence Mattis, Rick Jacobs
Executive producers: William Gallo, Allen Church, Mark Roberts, Jennifer Dana, Ross Jacobson, Sheldon Rabinowitz, Stephen Emery, Max Landis, Avram Butch Kaplan
Screenplay: Max Landis
Cinematographer: Daniel Aranyo
Editor: Tom Wilson
Production designer: Mara Lepere-Schloop
Music: Aaron Zigman
Main Cast: Sam Rockwell, Anna Kendrick, Tim Roth, James Ransone, Anson Mount, Michael Eklund, RZA