Dir. Guan Hu. China, 2015, 135 mins.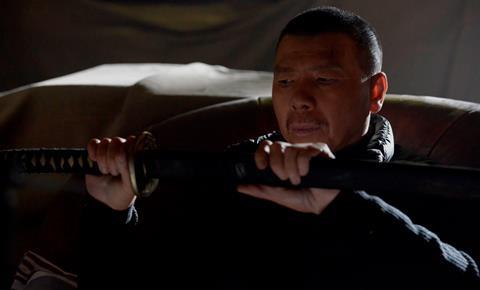 A knockout central performance by director and occasional actor Feng Xiaogang, as a former Beijing street fighter brought reluctantly back into the urban fray in order to save his son, is the dramatic anchor of this engaging mainland genre-bender. Mr Six is set up as an action movie with comic overtones but despite enlisting the services of legendary Hong Kong action choreographer Bruce Law, the film does not in the end deliver a single major fight sequence. There's a good reason for this, one that goes to the heart of the film's message: with its focus on old-school gangster values like loyalty and payback, Mr Six is not about how a hard man wields his sword, but about how he negotiates with his enemies and commands their respect.
There's a clear jibe, in the portraits of these over-privileged, over-funded punks, at the new business and political class that is, in Mr Six's view, trampling on traditional Chinese values
There are longueurs in a film that spends a little too long on a mid-point father and son bonding session, but overall this is a tasty package, one given added value by Luo Pan's intimate photography, much of it off the fixed tripod, and the film's atmospheric interiors and backdrops, which ground much of the action in the traditional hutong neighbourhoods of the old city. China Lion picked this up in June for North America, Australia and New Zealand alongside a couple of other Huayi Brothers titles; the plan is to release day-and-date in December, at the same time as the film's Chinese premiere. Chosen as the closing film of the Venice film festival, Mr Six may reach out a little beyond its obvious Chinese diaspora and fanboy bases internationally, but its core market will still be back at home.
"Grandpa? Who are you calling grandpa?" the shaven-headed, leather-jacketed Mr Six fires back at a couple of hapless kids who've stopped to ask for directions. Once a neighbourhood terror, the ageing hoodlum is, these days, more of a neighbourhood guardian angel, keeping a weather eye on friends like itinerant peddler Lampshade (Liu), who he steps in to protect but also even-handedly admonishes when the police hassle him for not having a licence. He also helps to raise bail money from friends and neighbours for former partner-in-wildness Scrapper (Zhang).
Though he lives alone, Mr Six has two of his own guardian spirits – a caged minah bird, who can only say 'Mr Six', and pretty barmaid Chatterbox (Xu), his on-off lover. Kids these days, he believe, have "no loyalty, no code" – and that includes his own son, Bobby (pop idol turned actor Li Yifeng), who he hasn't seen for six months. When Bobby finally surfaces, he's in the hands of a gang of rich-kid street racers who are keeping him hostage because he dallied with the girlfriend of gang leader Kris (Kris Wu) and scratched his flame-red Ferrari.
There's a clear jibe, in the portraits of these over-privileged, over-funded punks, at the new business and political class that is, in Mr Six's view, trampling on traditional Chinese values; the fact that Kris is the son of a corrupt government official drives this home. But Mr Six doesn't go in for flat clichés: there a real brio and colour in the characters, both the new-generation brats and the oldies who rally around Mr Six when he's between a rock and a hard place – though some like successful businessman Matchstick (Lian) need a little coaxing.
When we see Six and Scrapper cycling to a rendez-vous with the motor-mad rich kids, streetwise graffiti reflecting in the puddles their tyres cut through, it's a rather neat summation of many of this film's themes. Juxtaposing age and youth, the letters Mr Six writes when he needs to summon the old crew with the electronic devices of the new generation, the bicycles of the old guard with the pimped foreign cars of the rich kids, Guan touches some potent, audience-stirring chords. The young no longer having any respect, for example, or the way "little people" get dumped on by the system, or the increasingly sidelined role of the family patriarch.
The wintry setting, complete with snow flurries and an ice-bound lake that features in the striking final sequence, lends a valedictory mood, as does the wistful soundtrack, which occasional slips into Spaghetti Western mode. But it's Feng's committed, ever-watchable performance as the title character, a tough guy who knows that tough isn't just about hitting harder, that really creates texture and saves the film from being a mere nostalgia trip. Staying just on the serious side of funny, Feng's Mr Six is a fine, savoury creation, and one that could easily be transposed to the suburbs of London, the banlieues of Paris or the projects of Chicago.
Production companies: Huayi Brothers Media Corporation
International sales: Huayi Brothers International, IM Global, info@imglobalfilm.com
Producers: Wang Zhonglei
Executive producers: Zhu Wenjiu
Screenplay: Guan Hu, Dong Runnian
Cinematography: Luo Pan
Editor: Zhang Wen
Production designer: Yang Haoyu
Music: Dou Peng
Main cast: Feng Ziaogang, Zhang Hanyu, Xu Qing, Li Yifeng, Kris Wu, Liu Hua, Liang Jing, Lian Yiming