Anarchic French-Japanese sci-fi animation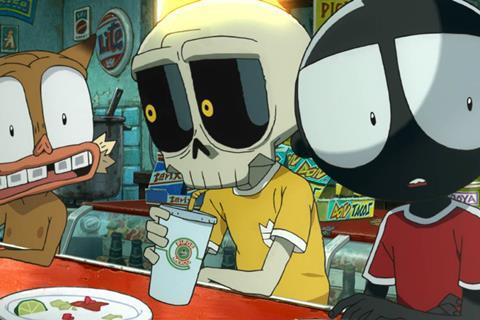 Dirs: Shoujirou Nishimi & Guillaume Renard. Fr-Jap. 2017. 90 mins.
With its anarchic attitude plastered across every delightfully detailed frame, Mutafukaz proves a French-Japanese animation treat: a winking, nodding blend of everything from Men in Black and The Matrix to Sin City and the Grand Theft Auto video games that's never merely the sum of its many parts.
Distinctive 2D animation mixes graffiti-strewn, street-level realism with playful stylisation
Touching upon everything from economic uncertainty to terrorism to multiculturalism to global warming, the sci-fi-loving B-movie mash-up is also an intelligent take on the disarray and existential unease of contemporary urban life — even if it does lean heavily on the teenage male perspective when it comes to its shapely, scantily clad depictions of the opposite sex.
Mutafukaz shouldn't be hemmed in by its obvious target market, however, though they're likely to respond enthusiastically to its approach and hyperactive atmosphere. In a movie that turns its pop culture references into pulpy noir thrills and an inventive outsider quest to belong, there's much for astute adult audiences to enjoy. And plenty of festival-goers will get the chance; after premiering at Annecy in June, the film jumped from CPH PIX to London to Chicago to Tokyo berths and is headed for Singapore next, with a broader release planned for 2018.
Arriving 14 years after the seven-minute, Sundance-screening short of the same name, and deftly translating the popular comic series that followed to film, it's an imaginative and entertaining full-length debut for creator turned filmmaker Guillaume 'Run' Renard. He co-directs with experienced animation veteran Shoujirou Nishimi (an animator on Akira, and a co-helmer of Batman: Gotham Knight).
Set in the fictional, Los Angeles-esque dystopia of Dark Meat City — or "desperate, miserable, crap," as 22-year-old misfit Angelino (voiced by French rapper Orelsan) glumly dubs it — Mutafukaz finds its unlikely hero depressed after losing another job thanks to a scooter accident, and doubtful that things will ever improve. Injury-induced visions of tentacled monsters, and shadowy black-suited men and armed government soldiers following his every move, do little to temper that feeling.
Slowly convinced that he's not just suffering from paranoid hallucinations after his knock on the noggin, Angelino takes to the streets with his flaming skull-headed friend Vinz (Gringe, Orelsan's collaborator in the hip hop duo Casseurs Flowters) and man-like bat Willy (Redouanne Harjane) to work out just what they've stumbled into.
The answer encompasses aliens, conspiracies, violent altercations, secret origin stories, as well as the fight for survival in a crime and cockroach-infested neighbourhood, in an offering as multilayered as it is kinetic. Throwing cheeky questions at the screen at regular intervals— "how does Vinz stay alive with his burning head?" one block of text asks — as well as news reports of riots, flashbacks to a woman trying to keep her baby safe and glimpses of a group of mysterious luchador guardians, Mutafukaz hurtles forward with breakneck speed throughout its 90-minute running time.
Solid voice work gives Angelino, Vinz and company lively personalities, fleshing out their emotional journeys through their chaotic surroundings, but Renard and Nishimi build their grittily vibrant effort from those frenetic visuals. Distinctive 2D animation mixes graffiti-strewn, street-level realism with playful stylisation — a Pacman-style chase scene is a highlight, while setting mid-shootout Shakespeare quotes to a dubstep soundtrack also stands out — for an aesthetically striking, instantly immersive and highly memorable end result.
Production companies: Ankama Animations, Studio 4ºC
International sales: Celluloid Dreams, hengameh@celluloid-dreams.com
Producers: Frédéric Puech, Anthony Roux, Eiko Tanaka
Screenwriter: Guillaume Renard, based on his short film and comic book series
Editor: Ivy Buirette
Composers: The Toxic Avenger x Guillaume Houze
Voice Cast: Orelsan, Gringe, Redouanne Harjane, Féodor Atkine, Julien Kramer, Emmanuel Karsen, Gilbert Levy, Kelly Marot