Dir. Alex de la Iglesia. Spain, 2015, 100 mins.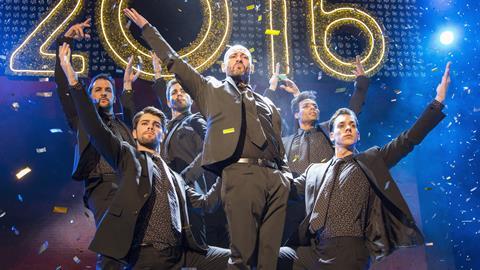 A pre-recorded New Year's Eve TV special forms the background of Alex de la Iglesia's zany comedy, his first straight-up stab at the genre – undiluted by the horror or supernatural tones often associated with the Spanish director – since Ferpect Crime in 2004. Keeping up a madcap pace from beginning to end, in the spirit of the feelgood variety extravaganzas it parodies, My Big Night relies a little too much on its local audience's indulgent embrace of the celebrity culture that is the film's target, with ageing pop idol Raphael among the big-in-Spain names who step in to gamely (but also shrewdly) send themselves up.
My Big Night's ropy plot feels like it was written on the back of a serviette one drunken evening
As a result the film, which was given a rousing reception in San Sebastian after its Toronto premiere, will struggle to find much of an audience outside of Spain and Latin America. Though this, it must be said, has as much to do with Iglesia's scattershot, whatever-works approach to comedy as with the Spanish in-jokes. Pedro Almodovar's camp business-class farce I'm So Excited struck a chord internationally because it had solid stories underpinning the screwball fun; despite its frequent on-target satire, My Big Night's ropy plot feels like it was written on the back of a serviette one drunken evening.
The idea of a New Year special staged in a TV studio in October, featuring a 'live' audience of hired extras sitting at tables pretending to eat plastic food and applauding or erupting into laughter when instructed, is a potent metaphor for the emptiness of today's prime-time television culture and the society it reflects, or has generated. But de la Iglesia wants to have his plastic cake and eat it too: he's clearly fascinated by this world, and right from the opening credit sequence dance number we get plenty of spectacle mixed in with the satire.
When a camera rig collapses on an unfortunate extra during the recording of a fictional Spanish TV network's New Year's Eve variety show, Jose (Nieto) is drafted in by an agency to fill the empty space at one of the tables in front of the stage. An overweight loser bossed around by the two women in his life, his sharp-tongued wife and not-all-there elderly mother (Pavez), Jose has been offered the job because he's "normal".
Days into the shoot, all the other extras are going stir crazy – and an increasingly violent demonstration outside by laid-off network employees means that everyone is now locked in until the show is in the can. In this pressure cooker, hormones are pumping too – as Jose is amazed to discover when a mutual interest in scars lights the flame of his table companion, hot chick Paloma (Suarez), whose reputation for bringing bad luck to any man she takes an interest in supplies one of the film's more bearable running gags.
De la Iglesias does a decent job of conveying the crushing tedium of the TV extra's lot, but also the odd characters attracted by the job – like "The Chinaman", a creepy jackal who wanders into stars' dressing rooms looking for anything he can sell, from bottles of alcohol to scandalous gossip. Meanwhile, on the other side of the permeable divide between extras playing at being real people and celebrities who have forgotten what reality is, several stories play out.
There's the rivalry between husband-and-wife presenters Roberto (Silva) and Cristina (Bang), the latter enraged by the way the script always makes her play the part of the clueless, ditzy blonde; the rivalry between the deliciously cheesy but also ruthlessly competitive old crooner Alphonso (Raphael) and Adanne (hot young film and TV star Casas), a none-too-bright "electro Latin" singer and sex-crazed heartthrob.
The camera tracks down backstage corridors, over sound stages, under tables and into the external editing suite (manned by a chainsmoking lesbian couple) in order to follow the frenetically paced plotlines, which are interleaved so as to leave us little breathing space. But by the time the action culminates in a foam fight as predictable as a silent comedy banana-skin, My Big Night's cork-popping series of caricatures, sketches and in-jokes have run out of fizz.
Production companies: Enrique Cerezo Producciones
International sales: Film Factory, v.canales@filmfactory.es
Producer: Carlos Bernases
Executive producer: Enrique Cerezo
Screenplay: Alex de la Iglesia, Jorge Guerricaechevarria
Cinematography: Angel Martinez Amoros
Editor: Domingo Gonzalez
Production designers: Arturo Garcia-Biafra, Jose Luis Arrizabalaga-Arri
Music: Joan Valent
Main cast: Raphael, Mario Casas, Pepon Nieto, Blanca Suarez, Santiago Segura, Carlos Areces, Enrique Villen, Jaime Ordonez, Terele Pavez, Carolina Bang, Hugo Silva, Carmen Machi