Rachel Weisz and Sam Claflin excel in Roger Michel's Du Maurier adaptation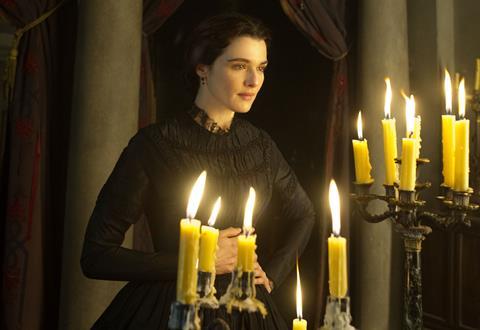 Dir/scr Roger Michell. UK, 2017. 105 mins.
Two stellar performances revive the lesser-known Daphne Du Maurier psychological drama My Cousin Rachel, with writer-director Roger Michell breathing warm air over the formalities of this British period piece. As the mysterious older woman "of very strong impulse and passion", a taut Rachel Weisz guides the callow orphan Phillip, played by Sam Claflin, through a tempest of mistrust and infatuation (parts that were originally played on screen in 1952 by Olivia De Havilland opposite Richard Burton in his first Hollywood role).
The fact it's an unfamiliar work should help this pleasing homage to old-fashioned storytelling and Hollywood heritage gain a commercial foothold
Although set in the mid-1800s, My Cousin Rachel was dismissed by some on publication in 1951 as being inferior to the more modern Rebecca, yet this is unmistakably Du Maurier's territory, from the mists of the Cornish landscape through to the air of unease and suspicion surrounding her protagonists; one worldly, one a naif.
The fact it's an unfamiliar work should help this pleasing homage to old-fashioned storytelling and Hollywood heritage gain a commercial foothold, although period fare has struggled of late, with even the postmodern Love & Friendship straining to make a dent. Distributor Fox Searchlight has experience in the early-June counter-programming waters, dipping in two years ago with costumer Far From The Madding Crowd. Weisz is always a luminous draw, and Claflin has a chance to prove his pulling power as a romantic lead after the surprise $208m worldwide success of the weepie Me Without You.
It's a testing part for Claflin, who is required to behave in an obstinate, pig-headed manner for a great deal of this lengthy film, leading it into pacing issues which Roger Michell's deft adaptation doesn't always resolve. My Cousin Rachel comprises a long, teasing set-up before a long, teasing cat-and-mouse game, abruptly followed by a rushed payoff (although there's a nice new lift in the film's final sequence). There's much twisting, churning, psychological mystery to be enjoyed here, though, helped by Rael Jones' firmly directional score, and the Cornish/Georgian period-settings are a real treat thanks to Suffragette's production designer Alice Normington (producer Kevin Loader is credited with second unit).
Michell (Le Weekend, Hyde Park on Hudson, Notting Hill) pares away any excess to present the audience with a three-parter between Philip, orphaned cousin of Ambrose and sole heir to his estate; his childhood friend Louise Kendall (a brisk Holliday Grainger) and, later, Ambrose's widow, Rachel (Weisz). In the background is Iain Glen as Philip's guardian Nick Kendall and a pert cameo by Simon Russell Beale as the family's lawyer. When the sickly Ambrose leaves the large property on the Cornish coast for Florence, young Philip is lonely yet determined to carry on with the work at hand.
Philip is told pointedly that "your cousin never had much need for women", so it's a surprise to all when news comes that Abrose has married the half-Italian Rachel, and that the couple has no plans to return to Cornwall. This surprise turns to mistrust when Philip starts to receive strange, accusatory letters from Ambrose, and he leaves for Florence only to find his beloved relative dead and Rachel departed.
Philip swears to take revenge on the shadowy older woman Rachel, but when she turns up on his doorstep in Cornwall, penniless, his hatred turns to obsession, and the besotted young man determines to give this shadowy femme fatale access to his entire fortune, despite the warnings of his close friends and family.
Weisz shows her Oscar-winning talents by hitting precisely the right notes throughout My Cousin Rachel: from warmth to guile to chilly practicality. It's her best part since Sorrentino's Youth. She delivers a real sense of a damaged women who, in turn, may be capable of causing harm herself. Claflin, meanwhile, is saddled with a self-sabotaging character who is reliable in refusing any offer of help, a lonely motherless orphan unused to the ways of women – a "glorious puppy". He broods and obsesses in a swamp of emotions entirely of his own making. It's a part which Michell has fleshed out and made equal to Rachel's, despite the character's lack of depth.
The definitive Du Maurier adaptation has always been Hitchcock's Rebecca (with De Havilland's sister and longtime rival Joan Fontaine in the lead role). Michell (Le Weekend, Hyde Park on Hudson, Notting Hill) steps up to the mark with this adaptation, and while its commercial fortunes may prove as fragile as the spray on that beautifully-shot Cornish coast, he's delivered a worthy inheritor of that cinematic tradition.
Production companies: TSG Entertainment, Free Range Film
Worldwide distribution: Fox Searchlight
Producer: Kevin Loader
Screenplay, Roger Michell, based on the novel by Daphne Du Maurier.
Cinematography: Mike Eley
Production design: Alice Normington
Editor: Kristina Hetherington
Costumes: Dinah Collin
Music: Rael Jones
Main cast: Sam Claflin, Rachel Weisz, Holliday Grainger, Iain Glen, Pierfrancesco Favino, Simon Russell Beale