A trans woman defines herself in this standout Spanish feature debut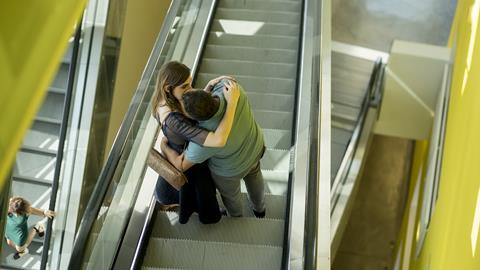 Dir/scr: Adrián Silvestre. Spain. 2022. 98 mins.
Made with a rare sensitivity and compassion, My Emptiness and I is a study, at once muted and lacerating, of the search for validation of a young trans woman in a world which can offer her no ready-made identities to choose from. Built around a superb, challenging central performance by Raphaëlle Perez, the understated Emptiness seems destined to fill LGBTQ+ themed festival slots and sidebars whilst confirming Adrián Silvestre as one of Spain's standout new directorial talents.
Learning to be trans, the film posits, is to learn not to define yourself as the rest of the world wants to define you
Silvestre's first dramatic feature follows his well-received Sediments (2021), bringing that documentary's themes to life via a series of vignettes. French Raphi (Perez) is transgender, lives in Barcelona carrying out an unrewarding job at a call centre. She is a somewhat naïve dreamer who longs for a 'normal romance'. She seems to have a look of permanent longing in her eyes, and as such she oozes vulnerability, taking photos of the apparently happy couples she aspires to from behind and posting them online. Raphi's naivety makes her the perfect subject for displaying in raw form the range of intense sexual and emotional experiences, mostly discriminatory, that her life is subject to.
An early interview with a psychologist provides the proper term for the the emotional and sexual lack of fulfilment Raphi is feeling — gender dysphoria — but also the limits of psychology, as Raphi is asked how she defines herself and how she feels ("I don't know," is her answer), are also evident as she embarks on her long, slow journey towards a vaginoplasty (for anyone interested, the film reveals that there's a three-year waiting list in Spain to get one).
Raphi sends out messages on social media that pop up stylishly on screen, and some of these brief exchanges are very revealing: "the unknown turns me on", one stranger writes, and Raphi tersely retorts "I'm not an alien". A meeting with one guy goes well, until he sees that Raphi is not a 'real girl', so she decides on hormone therapy. She is helped through this process, in a film that doesn't shirk from physical truths, by her gang of fantastically supportive trans friends, one of whom shows Raphi the results of her op. However Raphi's first sexual experience after the hormone therapy is effectively a rape.
The most successful relationship she has is with an apparently tender, caring man who works in pharmaceuticals, but this too ends badly, and for no reason that the once-again broken-hearted Raphi can understand. A theatre director has seen her social media messages and asks her to give him a call, which offers perhaps the best chance yet that she will have of filling the emptiness that, per the title, accompanies her wherever she goes.
Whether swooning over her fabulous outfits or honing in closely on her perpetual, bemused half-smile, the camera absolutely adores Raphi. But however charismatic, mere victims are not enough to maintain our interest. At the start of the film, she seems to lack even the most basic self-analytical skills and apparently has no history at all apart from having supportive parents back in France. Given so little to work with, Perez does good work in building up Raphi, with her perpetual hopefulness for something better and her refusal to become bitter, into someone who is far more than just a vehicle for Silvestre's ideas. These are delivered throughout via conversations that feel part scripted, part improvised, and always documentary-style natural.
These ideas are more subtle and complex than the films eye-candy appearance would suggest— often bland, pastel-coloured apartments with minimalist décor, arranged so as not to distract from the sexual and emotional business at hand, and coolly filmed by Laura Herrero Garvín. Learning to be trans, the film posits, is to learn not to define yourself as the rest of the world wants to define you, which is by your sexuality; as one character puts it, "what we trans people have to change is not ourselves, but how we are perceived". This is the far-from over struggle that My Emptiness and I so coolly displays: the attempt to escape being defined by the wider world as trans, when all you want is just to be another person.
Production company: Testamento, Promarfi Futuro 2010, AlbaSotorra, Adrián Silvestre Films
International sales: Testamento javierperezsantana@testamentopct.com
Producers: Marta Figueras, Javier Perez Santana, Alba Sotorra, Adrian Silvestre
Screenplay: Adrián Silvestre, Carlos Marqués-Marcet, Raphaëlle Perez
Production design: Anna Chwaliszewska
Editing: Adrián Silvestre
Cinematography: Laura Herrero Garvín
Main cast: Raphaëlle Perez, Alberto Díaz, Marc Ribera, Isabel Rocatti, Carlos Fernández Guía, Carmen Moreno, Sergio Reverón