Dir. Jane Gull. UK, 2016, 82 mins.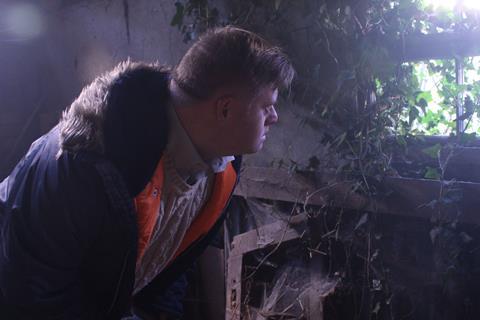 Coolly accomplished in the way it handles the disability issues at its core, My Feral Heart is a small but effective UK indie which has clearly captured the imagination of BIFA voters, drawing three nominations including two for lead actor Steven Brandon, who has Down's Syndrome.
My Feral Heart is one of the few films to confront disability calmly and hold its confidence throughout
Making her directorial debut, Jane Gull guides both Brandon and the film to a sensitive reading of a Duncan Paveling's credible, engaging story. Released in the UK on November 4 through a cinema-on-demand platform after festival outings in Edinburgh and Cinequest, My Feral Heart is one of the few films to confront disability calmly and hold its confidence throughout a brief 82-minute running time. Beyond this niche theatrical slot and potential broadcast life, My Feral Heart has strong value as a learning tool.
In the midst of a traditional story-telling framework, My Feral Heart also flirts with fantasy – a fox-girl played by a contortionist who may or may not be real, and may or may not work as a dramatic device, but gives the film a textural richness which is supplemented by some lovely camerawork by Susanne Salvati and a score by Barrington Pheloung which is occasionally on-the-nose but eventually grows as affecting as the story onscreen.
Brandon is more than able as Luke, a good-natured man of indeterminate age who lives alone with his sickly, occasionally tetchy widowed mother (Eileen Pollock). The tables have long since turned, and he is now her carer, running the house by himself. Through deft sketches including a scene where he tenderly bathes her, Gull describes a loving relationship which ends when the independent-minded Luke discovers she has died in the night. Now he must go to the Blossom House Residential Care Home, and he is not happy about it.
Fortunately, Luke has ended up in a nice home in the country, with loving care workers led by Eve (TV's Shana Swash, from EastEnders, also BIFA nominated) – and not the abusive facilities so often seen in whistleblower documentaries. He's scared by his new room-mates – some of whom are profoundly disabled – and resents his sudden lack of independence. Soon he encounters Pete (Will Rastall, also known from a British TV soap, Hollyoaks), who is working on an offenders' programme in the grounds, and they strike up a friendship.
As the hunt roars through the countryside, Luke encounters a wounded being, and the troubled Pete continues to protest as a saboteur.
My Feral Heart moves towards an ending which is disappointingly fast and abrupt, given how involved the viewer has become in Luke's story, layered in tiny detail by Gull and writer Paveling. Both Swash and Rastal provide consistently strong support to a character who is by turns funny, subversive, loving, and sad, and there's a deft interplay of these emotions on screen in an effective partnership between director, actor and supporting cast. Gull keeps the tone level, with welcome notes of cheerfulness in the midst of difficult situations and complex subject matter.
It would be nice to think that although this is a – very – rare British film to star a disabled actor, we might be able to see Steven Brandon on screen again soon, while Jane Gull ensures with My Feral Heart that she's also a name to watch.
Production company: Rum Jam Films
International sales: Moviehouse Entertainment, mark.vennis@moviehouseent.com
Producer: James Rumsey
Executive producers: Gareth Stanley, Gavin Thain, Kirk Wells, Roger Bassett, Gary Phillips, Mark Vennis, Kirsty Belle
Screenplay: Duncan Paveling
Cinematography: Susanne Salvati
Edtor: Benjamin Gerstein
Production design: Christian Taylor
Music: Barrington Pheloung
Main cast: Steven Brandon, Shana Swash, Will Rastall, Pixie Le Knot, Eileen Pollock