Serbian debut delivers an uncomfortably potent character study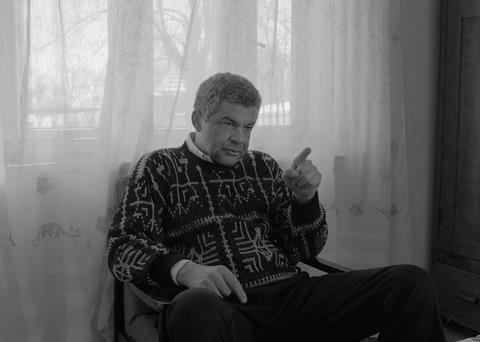 Dir/scr Marko Djordjevic. Serbia. 2019. 94 mins.
It's hard to imagine a character less at ease in his own skin than Dejan (Filip Duric). He slumps, round shouldered, half-in and half-out of the frame. Not quite inert but certainly not animated, Dejan has, for all his 28 years of life, slotted awkwardly into the space between his parents, both of whom lay claim to his time in very different ways. The father, an alcoholic, is immovable and obstructive. But it's his mother, caring to the point of being overbearing, who may be the cause of Dejan's problems – not least the fact that he is still a virgin. This feature debut from Marko Djordjevic requires an investment on the part of the viewer. But the deliberately artless framing and long, sulking takes make for an uncomfortably potent character study.
Scenes play out in long, locked shots in which characters wander in and out of frame
My Morning Laughter screens at Sarajevo following a premiere at FAF Belgrade and a screening at IFFR. With its brooding pacing and glimpses of glum Balkan humour, this feels like a predominantly festival picture which could connect with cineaste audiences but might not be sufficiently dynamic to earn a theatrical release outside of Serbia. Still, in its unassuming way, it does suggest that Djordjevic is a name to watch going forward.
That Dejan is ill-equipped to deal with adult life is suggested by the opening scene. He discovers that the pancakes his mother left for his breakfast have been eaten, then stomps off to accuse his father of their theft. The confrontation leaves a window broken, Dejan snivelling and his mother, summoned home from work, bandaging the hand he sliced by smashing the glass in frustration.
His mother dangles the option of a studio flat where Dejan can live alone: "I don't mind paying 100 euros a month if it stops you having a nervous breakdown." But when Dejan later floats the idea of moving into a flatshare with a female colleague from the school where he teaches, his mother punctures his hopes. "We can see about that…" she says darkly, while hacking emphatically at a fruit salad.
Scenes play out in long, locked shots in which characters wander in and out of frame, conversations fizzle out and the rooms always seem slightly too small to contain all the simmering resentments within. An encounter with a brusque fortune teller/sex councillor (organised by his mother) leaves Dejan folded in on himself, peering through his lank curtain of hair. "You're 28 and you haven't done it yet? Shame on you!" The man then calls in Dejan's mother to tell her that "You're his biggest problem." He's not wrong. And his forthright delivery of brutal truths is mirrored elsewhere in the film, particularly in the unforgiving way that it is photographed. Natural lighting does few favours to the complexions of the cast.
Fortunately for Dejan and for hopeless blokes everywhere, there is usually a woman around to sort things out. The fellow teacher with the apartment has set her sights on him and engineers a sexual encounter. True to the rest of the film, it's possibly the most awkward sex ever to be shot, with the camera positioned near the top of her head, the better to capture his lumpen fumbling urgency. But inelegant as it is, it feels like a turning point. Dejan, belatedly, has come of age.
Production Companies: Altertise, Cinnerent
International Sales: Altertise
Producers: Milos Pusic, Ivica Vidanovic
Cinematography: Stefan Milosavljevic
Editor: Marko Djordjevic
Production Design: Marija Kojic
Music: Dino Merlin
Main cast: Filip Duric, Ivana Vukovic, Jasna Duricic, Nebojsa Glogovac, Bratislav Slavkovic