Dir: Nanni Moretti. Italy-France. 2015. 106 mins.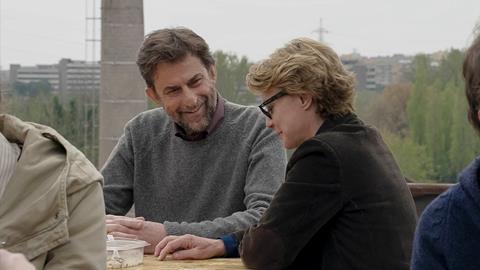 By rights, Nanni Moretti's new film My Mother (Mia Madre) shouldn't add up to much. Two middle-aged siblings watch their mother die, relatively peacefully, over several weeks. One is a brittle, neurotic director struggling to complete a "positive, energy-filled" film about laid-off workers; the other a mild-mannered engineer. The mother duly departs (no spoilers here: it's flagged from the start). The film ends.
This is one of Moretti's least showy films, but also one of those that most successfully rises above his personal tics and mannerisms to achieve a kind of universal pathos – even as it rejects grand universal statements in favour of the muddled everyday.
My Mother has none of the death-of-a-child shock factor and tragic catharsis value of 2001 Palme d'Or winner The Son's Room, and only measured doses of the acerbically comic critique of Italian social and political mores that have endeared Moretti's oeuvre to international audiences in films like Caro diario or Habemus papam. As a result, it may disappoint some of the director's more recent fans – especially in France and other territories with significant Moretti cults. On home ground, those who remember his mid-eighties excursions into state-of-Italy family dramas like La messa è finita will find themselves on more familiar ground: something that perhaps bodes well for the film's pre-Cannes Italian release on 16 April.
But its relatively tranquil surface, its small amusements (many of them revolving around a tasty turn by John Turturro as a histrionically insecure American leading man), its moments of touching, almost Sirkian melodrama, above all its ability to tease resonant themes out of seemingly inconsequential scenes or lines of dialogue, make for a film that is greater than the sum of its parts. Declaredly inspired by Moretti's own mother's death during the editing of Habemus papam, My Mother is one of the Roman director's least showy films, but also one of those that most successfully rises above his personal tics and mannerisms to achieve a kind of universal pathos – even as it rejects grand universal statements in favour of the muddled everyday.
Granted, it takes a while to get there. The film opens on the set of another film that director Margherita (Buy, in a career-best performance) is currently shooting, before switching to the hospital bed where her frail, elderly mother Ada is being cared for (a fine, affecting account by theatre actress Lazzarini). Moretti's film takes a perverse pleasure in ordinariness, dwelling on banal hospital details like the drip, the half-eaten yoghurt, the blood-monitoring finger clip, making people say the kind of reassuring or empty things people in hospitals actually say, and in the film within the film – which centres on, and sympathises with, a group of workers who occupy their factory in a protest against planned lay-offs – holding back from an out-and-out parody of socially-engaged cinema. Margherita's film is unlikely to be terrible – just dull and well-meaning.
For Moretti-philes, there will be a certain pleasure in the deliberate cross-casting of Buy as a feminised version of Moretti, a director with an impressive array of neuroses and people issues, while Moretti himself plays her elder brother Giovanni, a male spinster with a mother complex who is so derailed by Ada's illness that he thinks nothing of quitting his safe, high-profile engineering job; but who at the same time is a calm harbour for the storm of Margherita's growing feelings of inadequacy and self-doubt. Like the latter's daughter, Livia (Mancini), whose struggle with Latin at her top-flight Roman lyceum is perhaps not unrelated to the fact that grandma was a Latin teacher, all three members of Ada's immediate family are unsettled in subtle and unexpected ways by a death which is pre-announced, but no less traumatic for all that.
Perhaps it was the need to counter-balance the downer of a feature-length death that led Moretti and his co-scripters to introduce the film's only purely comic role – Turturro's Barry Huggins. Huggins is the moustachioed, self-obsessed US actor who has been engaged to play the role of the ruthless new cost-cutting boss in Margherita's film within the film, but whose pretentions – incarnated in a story of being courted by Kubrick – are soon punctured. He has enough trouble remembering his lines as it is, but the challenge of delivering them in Italian, a problem enhanced by the helpful asides of an over-zealous interpreter, send him into pompous prima-donna furies.
At times, especially early on, the broad slapstick of these scenes jars in what is otherwise an intimate family drama. But gradually the script reveals common themes. One is inauthenticity, a preoccupation both of the wannabe method-actor Turturro, who insists on actually driving a car that's being towed by a film truck, to hilarious effect; and of his director, whose guilt at not being able to express simple emotions – love, grief, sympathy – racks up her nervous energy to the point where bad dreams begin to invade her waking life.
There's plenty more to dwell on. For example, a wonderful, intimate entwinement between a woman's death and a lament for the easy embrace of culture that she represented (Livia's petulant question "What's the point of Latin?" is, we come to realise, in one important way a cri de coeur against nonna's passing). There's a critique of detachment that feels both universal and confessional (Margherita's repeated instructions to her gobsmacked actors that they should "stand a little bit outside the character" is apparently a common request on Moretti's part too).
There's even a late-period capitulation to sentiment in the elegiac tone of the soundtrack – plenty of haunting Arvo Part, alongside some more eclectic but still emotional indie pop and rock tracks – and the watery light and washed-out colours of the hospital, a floating world perfectly captured by DoP Arnaldo Catinari.
One of Moretti's most minor-key works, My Mother leaves the audience to make connections, and those who are bored by its sometimes drab surface (figured in the anywhere cityscapes of a suburban Rome that is a million miles from the glorious decadence of Sorrentino's The Great Beauty) may be unwilling to make the effort. That's their loss.
Production companies: Sacher Film, Fandango, Le Pacte, Arte France Cinema
International sales: Films Distribution, www.filmsdistribution.com
Producers: Nanni Moretti, Domenico Procacci
Treatment: Gaia Manzini, Nanni Moretti, Valia Santella, Chiara Valerio
Screenplay: Nanni Moretti, Francesco Piccolo, Valia Santella
Cinematography: Arnaldo Catinari
Editor: Clelio Benevento
Production designer: Paola Bizzarri
Main cast: Margherita Buy, John Turturro, Giulia Lazzarini, Nanni Moretti, Beatrice Mancini