Mark Cousins presents an intriguing exploration of Alfred Hitchcock's work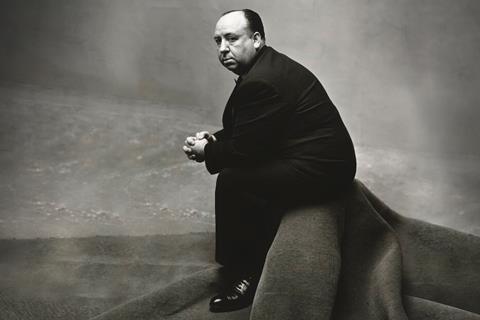 Dir/scr: Mark Cousins. UK. 2022. 120 mins.
Playful and inquisitive, Mark Cousins' examination of Alfred Hitchcock attempts to break new ground by imagining what the influential filmmaker would say if he could speak today. My Name Is Alfred Hitchcock is built around a potentially clever conceit: the Master of Suspense addresses the audience directly in voiceover, discussing his pictures through different prisms and suggesting why they still resonate in modern times. But the effect proves to be distancing; Cousins' reliably formidable insights remain invigorating, but having them delivered by someone essentially doing a Hitch impression undercuts their effectiveness.
Never stops churning with ideas and ambition
My Name premieres at Telluride, just shortly after his other new documentary, The March On Rome, unspools in an Out of Competition slot in Venice. As usual, Cousins' approach will appeal to film fans, especially the many who adore Hitchcock's myriad classics, but the decision to cast actor/impressionist Alistair McGowan to "play" the revered filmmaker may be distracting to some. That said, others could find the strategy impishly inspired — and part of Cousins' sincere attempt to shake up our assumptions about a celebrated auteur.
The opening credits claim that the documentary is "Written and Voiced by Alfred Hitchcock," the ruse apparent immediately once "Hitchcock" acknowledges that he's been dead for decades. Complemented by photos of the filmmaker and images from his pictures — stretching all the way back to his earliest work, including the silents The Pleasure Garden and Downhill — My Name is divided into chapters, each one featuring Hitch offering a curated tour through specific themes, including Escape and Desire.
Those familiar with Cousins from scholarly nonfiction projects like The Story Of Film will recognise the general approach, although the choice to have McGowan speak for Hitchcock deprives Cousins of his own voice; a staple in his pictures. At My Name's end, title cards admit, "Alfred Hitchcock didn't write and voice this film. But many of the things that he says here are true." And, indeed, beyond casting McGowan, the documentary takes a further risk by placing the Hitchcock character in our age — this friendly, droll ghost pondering his oeuvre and occasionally riffing on modern technology such as cellphones.
It's downright charming that Cousins, the film's actual writer, doesn't really pretend to embody Hitchcock's "voice," instead collecting his own tightly woven observations and cinematic connections into a breezy film-studies package. But the more that My Name tries to make Hitch "come to life" — giving the character a conversational, conspiratorial speaking style — the more apparent it becomes that, for all of Cousins' enthusiasm, he hasn't quite figured out how to reimagine a director who's so revered.
The documentary avoids some of the familiar intellectual benchmarks — no time is spent on Hitch's cameos, say, or his obsession with blonde actresses — and Cousins comes up with thoughtful takes, as in the chapter Loneliness which involves Hitchcock musing on his habit of capturing his characters in a solitary state. But as much as My Name wants to humanise the filmmaker by letting him come down from the pedestal we've erected for him, Cousins tends to be far sharper about the work than about the man himself.
Part of the problem is McGowan's loving but heavily mimicking performance. The actor nails Hitch's slow, jowly cadence, the sense that his every pronouncement comes from deep in the diaphragm, a bit of sly deadpan always part of the mix. But because McGowan is mostly asked to narrate Cousins' commentary on various Hitchcock themes, undoubtedly informed by the documentarian's usual careful research, it creates a strange disconnect that works against the picture's adventurous, cheeky nature. We hear an actor playing Hitchcock voicing the cinematic scholarship of the project's overseer: the meta layers don't add much weight or wittiness.
Still, by expanding his appreciation beyond the predictable masterpieces and de rigueur talking points, Cousins draws not just from the auteur's 1920s silents but also his maligned swan-song period. Marnie, Torn Curtain and Family Plot are taken seriously, with Cousins finding parallels between them and Psycho, North By Northwest, Vertigo and others. For all the gambits that end up feeling like gimmicks, My Name Is Alfred Hitchcock never stops churning with ideas and ambition. The film pays Hitch the highest compliment by trying to follow his example and never do the expected thing.
Production company: Hopscotch Films
International sales: Dogwoof, sales@dogwoof.com
Producer: John Archer
Cinematography: Mark Cousins
Editing: Timo Langer
Music: Donna McKevitt