Dir: Karan Johar. India. 2010. 165mins.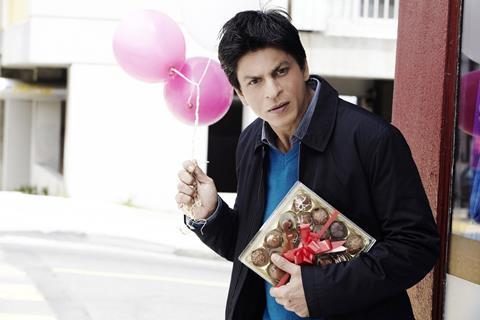 Bollywood's biggest director (Karan Johar) and star (Shah Rukh Khan) take on America's treatment of Muslims post 9/11, turning in a schmaltzy melodrama with shades of Forrest Gump that is by turns infuriating and fascinating. Cliches and simplifications of everything from the scale and nature of the US anti-Muslim backlash to FBI interrogation techniques abound, but this film about an Indian Muslim with Asperger's Syndrome is an emotional steamroller. The story may not be subtle – in fact, it's just the opposite – but it provides emotional payback even in the midst of absurdity.
Relying on the starpower of Shah Rukh Khan and Kajol, this delivers a strong message that Hindus and Muslims should work together against extremism and intolerance
That same absurdity may limit crossover audiences. But the foreignness – to Western eyes – of the part-real, part-imagined America Johan presents onscreen will not trouble Indian audiences at home or abroad, and they should flock to see this blockbuster in droves (it could in fact be argued that its portrayal of the US is at least as realistic as Slumdog Millionaire's version of India).
My Name Is Khan opened on February 12 in India on 2,000 prints through Murdoch's US-Indian set-up FOX Star, whose reported purchase of domestic rights for more than $18m (more than covering the film's production budget) was the biggest such deal in Indian movie history. And reports of political (Muslim-Hindu) controversy over its release are unlikely to dent takings significantly; they may even have the opposite effect.
This is a film which will appeal greatly to the majority of Indians at home and abroad. Relying unapologetically on the starpower of Shah Rukh Khan (or SRK) and the 'event' of his first pairing with Kajol since Kabhi Kushi Kabhie Gham in 2001, it delivers a strong message that Hindus and Muslims should work together against the common enemies of extremism and intolerance. Its hero stubbornly sticks to Hindi, even when he's addressing a black Christian congregation in America's Deep South (who somehow get choked up by his incomprehensible spiel).
But My Name Is Khan is also the first film to exploit, at least on this commercial scale, the resentment ordinary, law-abiding Muslims feel about their lot post-911. Ironically, Shah Rukh Khan himself was detained by immigration officers at Newark airport when flying into the US last year – an event that generated some useful extra publicity for the film.
SRK's performance here as a man with Asperger's has already generated admiring notices from Indian critics, and it's true that the Bollywood megastar does a good job of proving that he can act. His character, Rizvan Khan, moves to San Francisco to be with his brother after their mother's death, and falls in love with pretty hairdresser Mandira (Kajol).
After a number of setbacks – caused not only by his Asperger's but also by the fact that he's a Muslim and she's a Hindu – they marry. But in the changed climate of hatred and mistrust that follows 9/11, tragedy strikes, Rizvan and Mandira are separated, and he sets off across America to tell the president – yes, the current president, played by The Tonight Show Obama impersonator Christopher B Duncan – that "My Name Is Khan, and I am not a terrorist".
On the way, Rizvan and a band of other American desis (diaspora South Asians) save the citizens of a small town in Georgia which has been wrecked by a hurricane and abandoned by the US military (because they're all off fighting in Afghanistan).
If this all sounds simplistic, so it is. My Name Is Khan is pure South Asian wish fulfillment. It plays fast and loose with dates and historical events. And its 'hero's quest' structure is almost a parody of classic Hollywood script structure (script guru Syd Field is thanked in the opening credits).
But technically and emotionally, this doesn't miss a beat: Ravi K Chandran's crystalline widescreen photography and mythologised take on smalltown, rural America is spot on, as is the voluptuously sentimental soundtrack. The film might come across as a racial harmony pop video at times but it's certainly a polished one.
To sign up for Screen's weekly Reviews Newsletter with all the week's new releases, international openings and full festival reviews delivered free to your mailbox every Friday, please click HERE
Production companies
Dharma Productions
Red Chillies Entertainment
India distribution
Fox Star Studios
US distribution
Fox Searchlight
International distribution
20th Century Fox International
Producers
Hiroo Yash Johar
Gauri Khan
Screenplay
Karan Johar
Shibani Bathija
Cinematography
Ravi K Chandran
Production design
Sharmishta Roy
Editor
Deepa Bhatia
Music
Shankar, Ehsaan & Loy
Main cast
Shah Rukh Khan
Kajol
Tanay Chheda
Carl Marino