Director Ida Panahandeh. Iran, 2015, 105mins.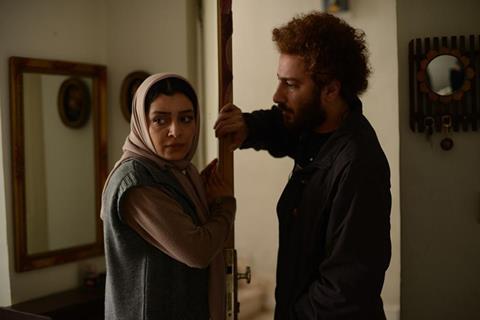 Ida Panahandeh's accomplished debut feature Nahid marks her out as a welcome addition to the ranks of compassionate, social realist filmmakers that stretches from Vittorio De Sica to the Dardenne brothers. Nahid tells the story of a young woman thwarted in all her heart's desires by a society in which everything conspires against her from the patriarchal legal system to the strict codes of acceptable behaviour. Nahid may lack the dramatic intensity and aesthetic rigour of Asghar Farhadi's A Separation (2011) or Gett: The Trial Of Viviane Amsalem (2014) but those titles give an idea of the potential audience for a film that tackles the role of women in Iranian society in a way that is accessible and as emotionally involving as any daily soap opera.
Cinematography is one of the film's great strengths, capturing moments of glittering lights reflected in the river water, bustling markets and musty cafes.
Panahandeh has spent the past decade making short films, TV movies for the Iranian State network and documentaries and that wealth of experience shows in her confident handling of a debut feature that carefully balances all the elements of a complicated story and also sees the good and bad in each of the characters.
Inspired by family memories, the film is co-written by Panahandeh's husband Arsalan Amiri who also serves as editor. Nahid (Sareh Bayat) is a young, debt-ridden divorcee living in a small northern city in Iran. Her ex-husband Ahmad (Navid Mohammad Zadeh) has granted her custody of their increasingly unruly son Amir Reza (Milad Hosseim Pour) who already sees the world as a place where he can do exactly what he likes. The custody exists on the condition that she does not remarry. Nahid has met Masood (Pejman Bazeghi) who is keen for them to be wed and she now faces the seemingly impossible task of trying to keep her son and the man that she loves.
Panahandeh and photographer Morteza Gheidi do a fantastic job of capturing the mood in this bleak, wintry backwater where the muddy sea churns beneath glowering, slate grey skies and everyone seems to know everybody's business. Gheidi's cinematography is one of the film's great strengths, capturing moments of glittering lights reflected in the river water, bustling markets and musty cafes.
The script has some memorable lines. Confronted by an ex-husband seeking a yes to his latest demand, an embittered Nahid replies: " One yes was enough for a lifetime". Panahandeh and Amiri have also created some well-drawn characters. Nihad isn't entirely admirable as she spends money she doesn't have on sending her spectacularly ungrateful son to a private school and buying a blazing red sofa. Ex-husband Nahad initially seems boorish and threatening but also shows his better instincts. It is a film in which everyone earns a little of our understanding even as our sympathies flow inexorably to Nahid and her impossible dilemmas. " Even prisoners get fresh air once a day, " she wearily concludes.
Production companies: Documentary And Experimental Film Center (DEFC)
International sales: Noori Pictures katych.01@gmail.com
Producers: Bijan Emkanian
Screenplay: Ida Panahandeh, Arsalan Amiri
Cinematography: Morteza Gheidi
Editor: Arsalan Amiri
Music: Majid Pousti
Main cast: Sareh Bayat, Pejman Bazeghi, Navid Mohammad Zadeh, Milad Hossein Pour