A gay Hungarian couple attempt to write a musical based on their lives in this charming, hopeful documentary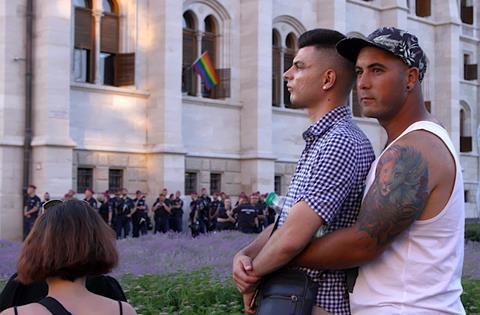 Dir: Kata Olah. Hungary/US. 2023. 83mins
Gergo Gagyi and Lenard Varadi are young and in love. In many countries this wouldn't be anything remarkable, but as Hungarian Romani it means they face both ostracisation by their community and increasing pressure from a right-wing government in a country where same-sex marriage is banned. Kata Olah's fly-on-the-wall documentary follows the pair as they leave their rural home and head for Budapest in search of a new life that will, they hope, include writing a romantic musical based on their lives. Describing it to their writing collaborator Zsofi Kemeny, Gergo says: "Funky music, lots of dancing, with a pinch of racism."
There is a hopeful evolution at play
This sweetly earnest aspiration is more than enough hook for a film that is small in scope but has a heartfelt intimacy which, combined with ongoing global campaigning for LGBTQ+ rights, is likely to travel to wider audiences after its world premiere in Thessaloniki.
Olah became involved in Gergo and Lenard's story after she received an email they were sending around the industry, asking for help to realise their dream. While the Hungarian director, whose previous films include The Bar Mitzvah Boys and My Digital Nomad, hasn't quite got into the musical business, she persuaded the pair to let her document their journey.
As they start to think about the bones of their musical, and Lenard tries to encourage Gergo to record one of the songs he has written, the two begin to get some attention via interviews with various outlets, which allows Olah to offer an insight into their story without having to quiz them directly. Gergo is the older of the two and has had the hardest experience in terms of his family. When he came out, he says: "I simply stopped existing for my parents." His inner conflict between his Christian faith and being gay is also evident. Lenard's mum, meanwhile, has been supportive, something that the film gently celebrates.
Dramatic changes may not happen to these chirpy chaps over the course of this documentary, but there is a hopeful evolution at play. After all, by simply being out and living their lives as they choose, Gergo and Lenard have already proved their resilience and go-getting attitude. Gergo's musical talent is also in evidence as we see him recording catchy pop tune 'Happiness' – which, sadly, is the only video on his YouTube channel to date. His day job may involve building site work, but the way he carefully wrangles the various instrumentalists showcases his creative side.
While taking Gergo's abilities seriously, the unobtrusive camerawork of Olah's cinematographer husband Sandor Csukas (the pair also produce through their own Budapest-based Makabor Studio) also captures more humorous moments, including Gergo's great offence at the suggestion that autotune is used as he records his vocal, and comical exchanges between him and Lenard as they try to shoot the accompanying romantic video. Other moments prove more poignant; not least a conversation Gergo has with a priest in which we watch his mind being blown in real time as he is told being Christian and gay are not incompatible.
Whether Lenard and Gergo will see their musical dream become a reality remains to be seen – although you'd be foolish to bet against it – but Olah shows their lives have already been full of unexpected things, from surprise reconciliations to fashion photoshoots. Her film has a generally upbeat mood, reinforced by bright scoring from Gergely Barcza using traditional instruments.
The open-hearted attitude of Lenard and Gergo only serves to further underline the cruelty of a Hungarian government, who we hear attempting to demonise the gay community in snippets of radio and television coverage. Lenard and Gergo may be, through no fault of their own, on a narrow path to happiness, but they are striding along it with pride.
Production companies: Makabor Studio
International sales: Makabor Studio makaborstudio@gmail.com
Producers: Kata Olah, Borbala Csukas
Cinematography: Sandor Csukas
Editing: Kata Olah
Music: Gergely Barcza