Denes Nagy's debut feature competes at the Berlinale to haunting effect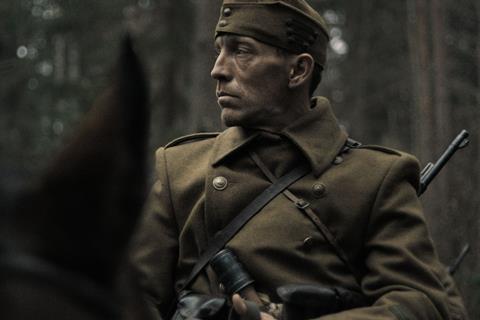 Dir/scr: Denes Nagy. Hungary/France/Latvia/Germany. 2021. 103 mins.
At first, the whole world is brown, like the rough wool uniforms of the World War II Hungarian soldiers – allies of the occupying German forces – who have been sent to a desperately cold, desperately poor region of the former Soviet Union to root out partisans. Soon enough, one face begins to emerge: that of Semetka (Ferenc Szabo), a corporal out of his comfort zone, whose point of view is adopted by Denes Nagy's first fictional feature, and whose moral unease about the awful things he witnesses lies at the core of this remarkable debut.
A slice of pure, bracing arthouse cinema
Natural Light is a tough, slow film that makes demands on its audience – though much of the real horror is as just-off-screen for us as it is for Corporal Semetka. But it's also an absorbing, beautifully crafted, thought-provoking addition to the new Hungarian cinematic wave that started building, arguably, with Kornel Mundruczo's White God in 2014, and continued in films such as Laszlo Nemes' Son Of Saul and Ildiko Enyedi's Of Body and Soul. Documentary director Nagy's first foray into drama shares with those films a fresh new take on the formal possibilities of the medium, some impressive work with actors, and a tendency to recast personal, historical or political traumas as waking dreams and/or nightmares, which many viewers will relate to the strange realities and shifting narratives of today's world, today's Europe, or the Hungary of Viktor Orban. But most importantly, Natural Light is a slice of pure, bracing arthouse cinema that will thrive long after its Berlinale competition debut.
From the moment a Hungarian army detail sequesters an elk captured by two local hunters and begins, with some expertise, to cleave it and carve the meat off the bone, we're thrown into the here-and-now of this 1941-44 campaign, our only context a brief opening caption that supplies the historical facts outlined above. There's no backstory, no clue as to the exact location in the former Soviet Union of the marshy, wooded badlands where most of the film is set and no attempt to cut to army high command or give some local family's view of events.
Making Semetka the camera eye even when he's the camera's subject, Natural Light keeps us guessing just as he is kept guessing. There's little dialogue, and some of that is in the local language or dialect, left un-subtitled as it is not intelligible to Semetka or his colleagues.
Nagy based his film on a novel of the same name by Pal Zavada, but chose to focus on just three days of the 20-year saga recounted in the book. With his expressive, melancholy face, which has something of a silent-era sad comedian about it, Ferenc Szabo looks like an actor we should have seen before. But in fact this is his first ever role. Nagy apparently spent two years casting the film, searching for his actors on cow and pig farms in the Hungarian countryside before selecting 25, Szabo included, to drill in WW2 army tactics and fly to Latvia, where the film was shot. This information is clearly not available viewers, but the naturalness of the soldiers' rapport, and the mix of solidarity and mistrust with which they relate to the people whose village they have invaded (also non-professionals, chosen from this part of Eastern Latvia) feels authentic.
Faces and impassive nature dominate Tamas Dobos' impressive photography. More than once, a view of tall trees and tangled undergrowth resolves into human figures emerging from the indistinct background. It's a powerful, understated metaphor for the difficulty of seeing things straight, but also the way that army discipline, cameraderie and omertà tend to push the individual agency and conscience of a soldier like Semetka into a shadowy netherworld. An eerie soundtrack by Latvian composer Santa Ratniece dips in and out of the edgy, atmospheric sound design, which reinforces both the hostility of the natural world and the idea that things over which Semetka has no control are happening elsewhere.
Semetka is not blameless. He and a companion eat a broth prepared by the mother of a village household while she and the rest of her hungry family look on. When his commanding officer and other soldiers are killed during a partisan ambush in the woods, Semetka, now the reluctant leader of the remaining men, orders that all the villagers should be taken out from their houses and moved to the village's communal barn. His intent, it's clear, is to keep them all in an easily guarded place and shut down possible communication with the rebels. But, when reinforcements finally arrive, Semetka's perfectly logical, strategic decision is shown to have tragic consequences. Was he a writer of the narrative that led to this tragedy? We're not sure; neither is he. But the possibility that he might have been is a haunting one that lasts well beyond the end credits.
Production company: Campfilm
International sales: Luxbox, Fiorella Moretti, fiorella@luxboxfilms.com
Producers: Sara Laszlo, Marcell Gero
Production design: Marton Agh
Editing: Nicolas Rumpl
Cinematography: Tamas Dobos
Music: Santa Ratniece
Main cast: Ferenc Szabo, Tamaas Garbacz, Laszlo Bajko, Gyula Franczia, Erno Stuhl, Gyula Szilagyi, Mareks Lapeskis, Krisztian Kozo, Jozsef Barta, Aivars Kuzmins, Liene Kislicka