Dir: Nicolas Philibert. France. 2010. 70mins.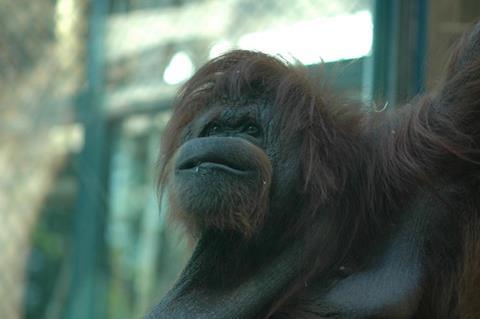 Nenette, the lazy-eyed redhead in Nicolas Philibert's new documentary, is an orang-utan at the menagerie of the Jardin des Plantes in Paris, the world's second-oldest zoo. Philibert's wry look at the caged beast, now in her forties, poses some fascinating questions about confinement and humanity.
Nicolas Philibert has a knack for getting close to his subject without smothering her and for preserving the spontaneity of the thoughts that Nenette conjures up
In 2002, Philibert made a tender portrait of a one-room French schoolhouse in Etre Et Avoir, and its success makes the veteran documentary-maker a known quantity. His thoughtful ode to this orang-utan is a genuine curiosity although it may be challenged to move far beyond French-speaking territories and the festival circuit. A small US art-house release is possible, and Nenette should find its broadest public on television, where its restrained cerebral observation of the large ape offers an alternative to more conventional ecological and animal documentaries.
Nenette takes a pleasingly novel approach. The camera looks into the orang-utan cage at the Jardin des Plantes where Nenette has lived since 1972, when she was three years old. Born in the wild in Borneo, she has been in the Paris zoo longer than any member of the staff, mated with three male orang-utans, and has had four offspring, one of whom lives with her.
We hear visitors in front of the cage, sometimes reflected in the glass partition, speak to her and speculate on what she might be thinking. She climbs and swings from ropes in the white space. Most of the time, Nenette looks out as the camera fixes on her in close-up.
Philibert's experiment works. As Nenette sits motionless and speechless in an enclosure with four other orang-utans, the people observing her reveal themselves. Without reverse angle or cutaways, all we see is Nenette and her fellow orang-utans.
A French duo sings a gypsy song to her. Comedian Pierre Meunier improvises a monologue about her. This banter tends to sound silly, but it's no less inane than the observations of the 18th century naturalist George-Louis Leclerc, the count of Buffon. Off-camera, we hear from Buffon's pompous colonial discourse about orang-utans spiriting away young girls.
Philibert has a knack for getting close to his subject without smothering it and for preserving the spontaneity of the thoughts that Nenette conjures up.
The film is structured in chapters, which keep Philibert's extended gaze from seeming too long. Subtle editing also avoids fly-on-the-wall stasis and modulates the pace of this minimalist work.
A disarming humour, often unintentional, lightens Nenette, which began as an idea for a short film and was extended to its current length. Some visitors discuss her anatomy in the way that they might talk of a forty-ish woman on the street. Comparisons are made to family members. Moral judgments are offered on Nenette's indolence and laziness – never mind that she's been removed from her habitat and left with nothing to do but sit and occasionally breed.
Philibert navigates through those emotional responses to Nenette as deftly as he works with a deliberately limited visual vocabulary. Pity is one reaction to the plight of an animal who has been in this cage for almost all her life. Not so fast, Philibert's film warns us. Nenette has already lived longer than orang-utans do in the wild.
To sign up for Screen's weekly Reviews Newsletter with all the week's new releases, international openings and full festival reviews delivered free to your mailbox every Friday, please click HERE
Production companies
Les Films d'Ici
Forum des Images
International sales
Les Films du Losange
(33) 1 44 43 87 28
Producers
Serge Lalou
Alain Esmery
Cinematography
Katell Djian
Nicolas Philibert
Sound
Jean Umansky
Editor
Nicolas Philibert
with Lea Masson
Music
Philippe Hersant