Dir: Dominik Moll. 2016, France/Belgium, 101 mins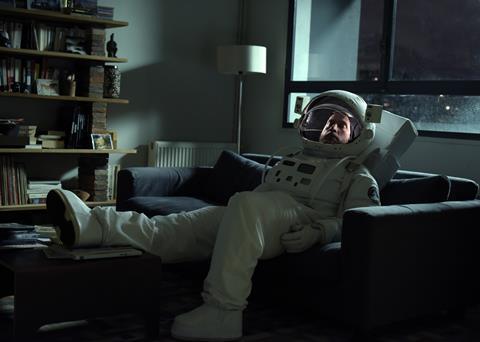 The News From Planet Mars is quite simply that there's not much of interest going on there. That's bad news for admirers of German-born French writer-director Dominik Moll, who made a stir with his darkly comic Harry, He's Here To Help (2000), followed it up with the boldly surreal Lemming (2005) and at the very least emerged honourably from The Monk (2011), a bold and surprisingly faithful adaptation of one of the first Gothic novels. After such idiosyncratic efforts, it's all the more disappointing to see him settle for the merely amusing in this low-octane comedy about a likeable regular guy whose life is spinning farcically out of control.
Also along for the ride are a noisy and very unhygienic chihuahua and a box of frogs. Hilarious consequences do not ensue.
Mars' strongest suit commercially is the presence of Belgian star François Damiens, a Euro box-office regular in films such as 2014's The Belier Family but also esteemed for his work in artier stuff such as Katell Quillvéré's Suzanne and last year's Cowboys by Thomas Bidegain. But it seems as if there's nothing here which is sufficiently distinctive to trouble the export market.
Damiens plays Philippe Mars, a middle-aged, divorced office worker troubled by dreams of space-suited interplanetary travel. He's also visited by the inexplicably shrinking ghosts of his late parents (Michel Aumont and Catherine Samie). In the real world, while his ex-wife Myriam (Léa Drucker) is in Brussels as a TV reporter, careworn but stoically patient Philippe is looking after his children, earnest swot Sarah and distracted Grégoire, played to engaging effect by Jeanne Guittet and Tom Rivoire. And at work, he has a run-in with violently disturbed co-worker Jérôme (Vincent Macaigne), who accidentally slices off part of Philippe's ear – then turns up on his victim's doorstep asking to stay with him.
Things get goofier by the minute: Jérôme invites Chloé (Veerle Baetens), his crush from the mental hospital, to stay too; before long, the whole crew are rushing off to the scene of a planned attack on a chicken-processing plant, in the company of the retired chauffeur (lively veteran Philippe Laudenbach) of former French president Valéry Giscard d'Estaing. Also along for the ride are a noisy and very unhygienic chihuahua and a box of frogs. Hilarious consequences do not ensue.
The general tenor is of an overextended sitcom episode, with occasional shoehorned-in touches of surrealism, such as a vision of a gorilla in a cage (faint echoes of Jaco van Dormael's recent, much wilder Brand New Testament, in which Damiens also appears).
Damiens is solidly likeable, working nicely with Philippe's less endearing aspects, but French indie darling Macaigne pushes his trademark fluster into the zone of mere shtick (and viewers may find film's jokes about mental illness a little retrograde). The repartee is flat, a typically lacklustre running joke involving Myriam's vow to get the word 'cucumber' into a news report. It's a film of banality that doesn't play to Moll's strengths – here's hoping he explores riskier planets soon.
Production companies: Diaphana, Artémis Productions, France 3 Cinema
International sales: Memento Films International, sales@memento-films.com
Producer: Michel Saint-Jean
Screenplay: Dominik Moll, Gilles Marchand
Cinematography: Jean-François Hensgens
Production designer: Emmanuelle Duplay
Editor: Margot Meynier
Music: Adrian Johnston
Main cast: François Damiens, Vincent Macaigne, Veerle Baetens, Jeanne Guittet, Tom Rivoire