Dark comedy from Amit V Masurkar stresses the fragility of the democratic process in India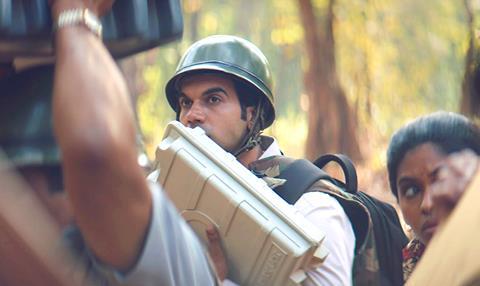 Dir/scr. Amit V Masurkar. India, 2017, 106 mins.
Finding humour in the tenuous nature of democracy might be a hard task on the global stage at present; however, in Newton's darkly comic exploration of one official's attempt to uphold the election process in India, it's simpler than it sounds. The second film from writer/director Amit V Masurkar bows in Berlinale's Forum section with a sense of chaos and absurdity, while remaining aware of the drama of reality. When the feature emphasises either extreme, it proves engaging viewing.
Understanding Newton as a person, not just a symbol of unyielding principles, makes both the amusing and terse altercations all the more effective
Indeed, it's laughs, tension and the interplay between the two that give Newton its momentum; when the film surrenders to the inertia of buoyant, warmly scored montages, which are peppered liberally throughout, it suffers, trying to stay accessible rather than overly pointed. Still, the mostly successful handling of its topical premise — not only focusing on difficulties in the world's biggest democracy, but conjuring broader international parallels at a time when the validity of election processes is being called into doubt — is just one of the reasons Masurkar's follow up to 2014 comedy Sulemani Keeda deserves to travel on the festival circuit.
In the titular Newton (Rajkummar Rao), a rule-enforcing college graduate turned government worker, Masurkar and his co-writer Mayank Tewari have crafted an intriguing figure: rigid in his beliefs, unprepared to cope with anyone who doesn't share his mindset (including society at large), but willing to fight for what's right, proper and just. Within the narrative, he's not the easiest person to take a shine to, as the film frequently makes plain. For the audience, though, he's more than a means to convey a political point. Courtesy of Rao's unblinking yet empathetic performance, Newton's inner struggles slowly come to the fore.
When he's first sighted reading as his family watches a news report about carnage caused by communist guerrillas in the jungles of Chhattisgarh — an incident that opens the feature, contextualising the events that follow — Newton doesn't appear to be troubled by much. Soon seen at a workshop for volunteer polling staff, he's similarly unworried by conflict or turmoil, or about how his dogged mindset might be perceived. After the group is told that they'll repeat the election if insurgents attempt to disrupt the booths, he won't let his superior dismiss his questions about what that really means. By the time he's sent to Chhattisgarh to collect 76 votes from oppressed indigenous inhabitants, he's still quick to reject any suggestion that deviates from regulations.
Unsurprisingly, several battles brew. Military representative Atma Singh (Pankaj Tripathi) imparts a dose of reality — that no one cares about the election, and won't turn out for fear of reprisals — but Newton won't be swayed from his mission. When experienced polling official Loknath (Raghubir Yadav) lightens the tone as the hours pass without a voter in sight, Newton is far from appreciative. Local liaison Malko (Anjali Patil) further tries to impress upon him the culture and customs of the area, her efforts falling upon deaf ears. And while a high-profile visit, including from the media, sheds further light on the farcical situation, Newton toils on regardless.
Masurkar grounds Newton's behaviour in character, not just in ideals; early scenes show his similar approach to the use of his name, which he purposefully changed from Nutan, as well as organising an arranged marriage. It's how these are layered, building a portrait of a man rallying to retain his strict sense of self in the face of an uncertain world, that resonates. Understanding Newton as a person, not just a symbol of unyielding principles, makes both the amusing and terse altercations all the more effective, particularly as the story's path and message become increasingly obvious.
Wiry and unwavering, Rao remains the standout among the cast, but he's ably assisted by Tripathi, Yadav and Patil in bringing the film to life — whether wearied and adversarial, jovial but realistic, or anchored by practicalities rather than enjoying the luxury of making a moral stand. Each also benefits from the fine work of cinematographer Swapnil S Sonawane, who bathes the feature and its characters in telling light and shadow. In his sun-dappled yet naturalistic compositions, the shades of grey that Newton must ultimately confront as he strives to uphold his untainted vision of democracy are splashed across the screen with subtle power and simmering poignancy.
Production company/international sales: Drishyam Films, mmundra@gmail.com
Producers: Manish Mundra, Pramila Mundra
Screenplay: Mayank Tewari, Amit V Masurkar
Cinematographer: Swapnil S Sonawane
Editor: Shweta Venkat
Production design: Angelica Monica Bhowmick
Music: Naren Chandravarkar, Benedict Taylor
Cast: Rajkummar Rao, Anjali Patil, Pankaj Tripathi, Raghubir Yadav