A motorbike accident brings redemption for both driver and victim in Tallinn's Grand Prix winner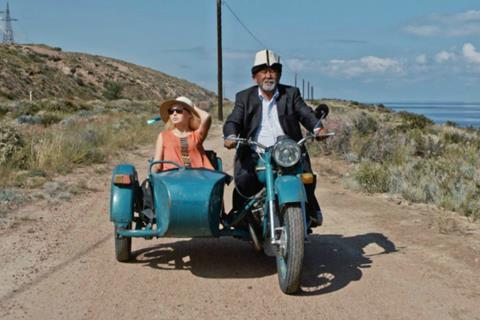 Dir: Temirbek Birnazarov. Kyrgyzstan. 201. 95mins
The pace of the filmmaking of this gentle Kyrgyzstan drama reflects the pace of rural life. This is a film which opens with a five minute discussion of the logistics of digging a latrine in sandy terrain and, like the puttering motorcycle and sidecar driven by the central character Tentike (Akylbek Abdykalykov), it never builds up much of a head of steam. But while Night Accident delivers its rewards gradually, thy are significant. It is a poignant study, laced with dry humour, of the late-life salvation of a man who has lost his self-esteem along with his family.
Director Birnazarov's gift to the story, and by extension the audience, is the space he creates around it
While this intimate picture, which is based on the short story The Old Man And The Angel by Talip Ibraimov, might not have the mythic qualities of fellow Kyrgyzstan production Centaur, which showed in Berlin's Panorama section, it could go on to achieve a similarly healthy festival run. The top prize from the Tallinn Black Nights Film Festival should help to boost the profile of a film that could appeal to the audience which responded to equally languid slow cinema titles like Pablo Giorgelli's Las Acacias.
Tentike is a man of indeterminate age. As weathered as the arid mountains which form the striking backdrop to the story, he could be in his fifties or his seventies. What ages him most, however, is solitude. This is not a film which crowds its narrative with backstory. But one key encounter early on with a man who seemingly stole his wife and family provides the trigger for the events which follow. Tentike's long-simmering anger is stoked by the man's disdainful treatment. The fact that Tentike is stood at the bottom of a toilet pit during their altercation only serves to heap humiliation upon humiliation.
Tentike snaps, and sets off on his rattling motorcycle with the intention of killing his rival. In his fury, he collides with a young woman. Her injuries jolt him from his quest; he takes her back to his home on the shore of a lake and nurses her back to health. And that's more or less it. The girl – we never know her name – is sulkily mysterious. She seldom speaks, barely even acknowledges Tentike's presence at first. But, in some small way, they realise that they are each other's saviours.
Director Birnazarov's gift to the story, and by extension the audience, is the space he creates around it. In the absence of a score, the sound design comes to the fore; cicadas chatter, nervously filling the silence between the two characters. It's a silence which is at first respectful, and then increasingly companionable.
Long, leisurely takes keep a cautious distance from the two characters; the calm efficiency with which Tentike tends to her injuries tells us more about him as a character than pages of expository dialogue could ever do. His status is bolstered by the fact that someone, at least needs him; status both in his own mind and in those of the men who have rejected him as one of life's terminal failures. The connection between Tentike and the girl is as fleeting as the hand that she briefly lays on his knee, in acknowledgement of his kindness. But it has changed and opened them both.
Production company: Kyrgyzfilm
International Sales: Kyrgyzfilm
Producer: Gulmira Kerimova
Screenplay: Nurifa Umuralieva, Temirbek Birnazarov
Cinematographer: Kabyljan Khamidov
Editor: Ziregul Kubandyk Kyzy, Kulchoro Sydykov.
Music: Asylbek Ozubekov
Starring: Dina Jakob, Akylbek Abdykalykov