Dirs/scr: Chris and Ben Blaine, UK, 2015. 97 mins.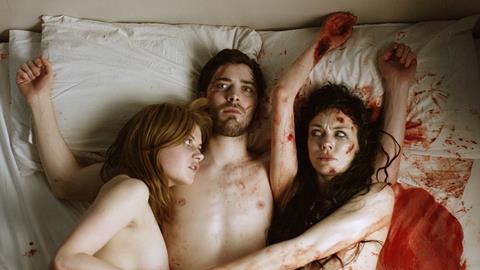 A young couple is haunted by a very physical ghost in Nina Forever, a strikingly original British horror film which mixes sex and grue in an unusual manner. The writer-director team of Ben and Chris Blaine, making their first feature after a run of short films, delivers a deep black comedy about the lingering effects of violent death and a three-way relationship in which one participant is dead.
The actresses might be in line for acting award nominations which don't usually come from taking gigs in horror films.
Trainee paramedic Holly (Abigail Hardingham) is attracted to Rob (Cian Barry), who works part-time with her in a supermarket. At least part of his appeal is because she's heard he attempted to kill himself after his girlfriend Nina (Fiona O'Shaughnessy) died in a car wreck. Rob dutifully has regular dinners with Nina's jovial-but-numbed parents, Sally (Elizabeth Elvin) and Dan (David Troughton), and still has 'Nina Forever' tattooed on his back. Holly draws the reluctant Rob out of his shell, but when they have sex Nina appears in the room – naked, bleeding from her fatal injuries and plainly unwilling to let go, even to the extent of challenging his description of her as his ex-girlfriend because his tattoo promises even death shouldn't end their relationship.
A more conventional ghost story might revolve around the living woman challenging the ghost to save the bewitched, haunted man … but Holly is as strange as Nina, drawn to blood and death, and willing at first to include Nina in the relationship.
The plot plays out like a British social realist drama with a Clive Barker twist, as Holly and Rob clean a lot of bloody sheets, put up with Nina's often-startling sudden appearances, and have an an excruciating Mike Leigh-style visit with Nina's parents which shows how little Holly has really discovered about the situation (veteran character actor Troughton gets one standout ranting scene). The horrific aspects (involving gruesome makeup effects by Dan Martin) recur throughout, but the film develops in unexpected ways. After the relationship gets near breaking point, Holly seems determined to exorcise Nina, moving in to her old flat and painting everything white … but at times the living woman almost tries to win the ghost away from Rob to have for herself. The ending is haunting and affecting.
Barry does subtly good work in the unusually passive male role, but the film belongs to the big-eyed O'Shaughnessy (the mystery woman from the TV series Utopia) and the ostensibly demure Hardinhgam, who both show great screen potential and explore extremes of sexuality unusual in British cinema. Like Essie Davis in last year's The Babadook, the actresses might be in line for acting award nominations which don't usually come from taking gigs in horror films. With its rainy, glum, provincial feel, this joins a recent trend for wedding down-at-heel British socialism with explicit horror, but Nina Forever is distinctive enough to find its own identity.
Horror aficionados seeking something stranger than the Insidious-Annabelle-Sinister variety of chills will be drawn to Nina Forever, but its unusual aspects – and maybe the personality of O'Shaughnessy, a cult player in the making – might well pull in audiences who have gone for the recent, edge-of-genre films of Ben Wheatley and Peter Strickland.
Production company: Charlie Productions, Jeva Films
International sales: Epic Pictures, sales@epic-pictures.com
Producer: Cassandra Sigsgaard
Cinematography: Oliver Russell
Production designer: Damien Creagh
Original music: Daniel Teper
Main cast: Abigail Hardingham, Cian Barry, Fiona O'Shaughnessy, Elizabeth Elvin, Seam Michael Verey, David Troughton