A standout debut from Edson Oda competes in Sundance's US Dramatic section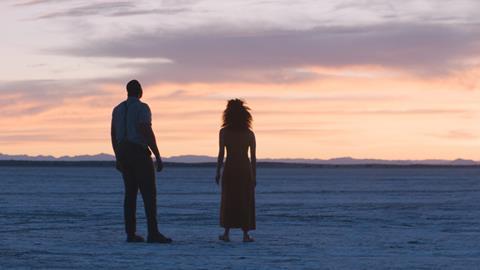 Dir/scr: Edson Oda. US. 2019. 120 min.
A gentle-looking black man with suspenders and round glasses sits in front of a wall of vintage televisions, intensely watching scenes unfold from people's lives—in particular, a female violinist—and recording them on VHS tapes. Living alone in a little yellow house in the middle of a deserted landscape, you have to wonder: What is he doing there? And who is the violinist? How are they related? Such is the intriguing introduction of Edson Oda's original, thought-provoking and ambitious debut feature, which concerns no less profound questions as what makes a life worth living and who deserves to live a life.
Oda's script is so careful in the way it offers up exposition and moves its storylines forward that it's easy to get hooked.
We soon find out that the man, named Will (Black Panther's Winston Duke), is observing humans that he has previously selected to be born. When one of his selected souls, the violinist, dies unexpectedly, Will is tasked with finding a new person to fill the position. Before long, five prospective candidates arrive successively at Will's door; though all adults, these proto-humans come across as a bit naïve, and it's Will's job to choose which one of them he believes should proceed to being born. And he's got nine days to do it.
Not quite sci-fi, Nine Days recalls the metaphysical humanist drama of Hirokazu Kore-eda's 1999 film After Life, in which the recently deceased stage a memory from their past life to take with them into eternity. Like that film, Oda's work—you could call it Before Life—has the uniqueness and conviction to set it apart as something distinct and special in the art-house marketplace. And with the success of a TV show like The Good Place, moral philosophy may be going mainstream.
As the story unfolds, two main storylines emerge. There is the central plot in which Will interrogates his five contenders and puts them through various tests, most of which involve asking questions about what they would do under different stressful scenarios. The conceit is cleverly compelling in the same way a Reality TV show like Survivor operates, but here, the victor wins their right to exist.
Then there's Will's own evolution as a character. Not merely a judge, he is also forced to come to grips with his own past life. He becomes increasingly obsessed with his dead violinist as a symptom of his own failure. And through the urgings of one of the new applicants, the especially inquisitive Emma (Zazie Beetz), he is confronted with his own fears about living again. Not all is so downbeat, however, as, playing Will's assistant, Benedict Wong (Doctor Strange) offers some comic relief and a terrific Tarzan roar.
Deliberately paced at just two hours, Nine Days surprisingly never feels slow. Oda's script is so careful in the way it offers up exposition and moves its storylines forward that it's easy to get hooked. There's also some especially poignant moments; particularly resonant are a couple of scenes in which Will restages beautiful moments from existence—such as a walk on the beach for the first time—for those he has chosen not to select. Unfortunately, the film's final scene, while perhaps necessary from a dramatic standpoint, doesn't have quite the same power, tilting the final takeaway from profundity to preciousness.
But all in all, Nine Days is a stellar feature debut, with strong filmmaking, from its assured compositions to its superb dimly lit frames, where shafts of outside light or wall lamps illuminate slivers of the sets. And Winston Duke, who appears in just about every scene in the film, offers a complex portrait of a wounded man. Far from Black Panther's M'Baku, Duke remarkably transforms his large stature into a figure of vulnerability and self-doubt.
Production company: Juniper Productions, Mandalay Pictures, Nowhere, Macro Media, The Space Program
Contact: Mandalay Pictures, jasonmb@mandalay.com
Producers: Jason Michael Berman, Mette-Marie Kongsved, Matthew Lindner, Laura Tunstall, Datari Turner
Production Design: Dan Hermansen
Editing: Michael Taylor, Jeff Betancourt
Cinematography: Wyatt Garfield
Music: Antonio Pinto
Main cast: Winston Duke, Zazie Beetz, Benedict Wong, Bill Skarsgård, Tony Hale, David Rysdahl