Norway's Yngvild Sve Flikke delivers an amusing and thoughtful story about a surprise pregnancy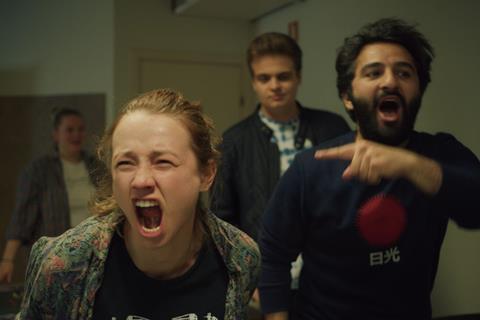 Dir. Yngvild Sve Flikke. Norway. 2021. 103 mins.
A shock pregnancy inspires twenty-something uncertainty in Ninjababy, a winsome Norwegian comedy that balances irreverent humour with frank insights. Adapted from Inga Sætre's graphic novel Fallteknikk and focusing on an aspiring comic book artist, this second feature from director Yngvild Sve Flikke works its illustrated background into its premise, with the unexpectedly expecting Rakel (Kristine Kujath Thorp) in dialogue with an animated version of her unborn child. Rather than being a gimmick, or an easy way to enliven a quarter-life crisis, the concept seesaws between amusing and clever. Little new ground is covered thematically, but the film sports a distinctive personality and, after premiering in Berlin and then screening at SXSW, should continue to find festival berths.
A perceptive film that takes life's messiness in its stride
Ninjababy's inclusion in Berlinale's Generation14plus program is curious, though. While rarely pushing as many boundaries as Wetlands, which it sometimes recalls tonally, it more often plays like a zestier, no-holds-barred Norwegian cousin to Knocked Up than a stylised teen pregnancy comedy such as Juno. While it does dive into arrested development as Rakel is made to think about something other than partying, drinking, drugs and one-night stands, the view of her adult life is far from adolescent.
Despite a new craving for fruit juice, some barely-noticeable weight gain and daily toilet troubles, Rakel is dismissive when her best friend Ingrid (Tora Dietrichson) suggests that she could be pregnant. Once a home test confirms those suspicions, she is surprised but sees a straightforward solution, swiftly booking an appointment for a termination. But a bigger shock arrives during her ultrasound: Rakel is six-and-a-half months along, rather than eight weeks. She still does not want to become a mother, but deciding the best course of action becomes trickier when the foetus, which she nicknames Ninjababy after its stealthy gestation, starts walking out of her doodles and talking to her about its potential existence.
Although Ninjababy begins with Rakel narrating her own tale, her chats with the eponymous embryo prove helpful from a storytelling viewpoint. She shares unfettered thoughts that might have felt forced or awkward otherwise, and the mask-wearing tot delivers its own bundle of commentary in response; there is much to remark upon. Before discovering her pregnancy, Rakel had started to reconnect with aikido instructor Mos (Nader Khademi), the man she initially believes is Ninjababy's father. When the lengthier timeframe comes into play, she then has to deal with the lanky occasional lover she has dubbed 'Dick Jesus' (Arthur Berning), whose idea of maturity is plastering a 'blaze the lord' poster above his kitchen sink.
After also tackling pregnancy in her 2015 debut Women in Oversized Men's Shirts, Flikke demonstrates a good command of mood here, and rarely lets Ninjababy rest for more than a few moments. The film moves at a pace through Rakel's efforts to find a home for the baby once it is born, which includes approaching her clucky elder half-sister, and secreting her way into pre-adoption classes to interrogate wannabe parents about their views and privileges. Thanks to naturalistic lensing from DoP Marianne Bakke, that bustling rhythm has a candid rather than a cartoonish feel.
It helps that Thorp slides easily from sardonic to earnest, and from frenzied to calm. Rakel's whirlwind tour of imminent parenthood is hectic, but Ninjababy's versatile lead has a knack for making constant chaos seem commonplace. The variety of animation styles, ranging from inky sketches layered over everyday walls to a claymation-style snapshot of life in utero, also have the same effect. Funny, forthright and eclectic, this repeatedly perceptive film takes life's messiness in its stride.
Production company: Motlys
International sales: TrustNordisk, info@trustnordisk.com
Producer: Yngve Sæther
Screenplay: Johan Fasting, Inga Sætre
Editing: Karen Gravås
Cinematography: Marianne Bakke
Production design: Tuva Hølmebakk
Music: Kåre Chr. Vestrheim
Main cast: Kristine Kujath Thorp, Arthur Berning, Nader Khademi, Tora Dietrichson, Silya Nymoen, Herman Tømmeraas