Dir Roberto Berliner. Brazil. 2015. 109 mins.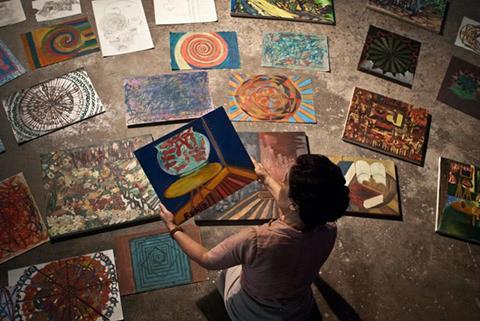 A feisty, stubborn female doctor assigned to a Rio de Janeiro mental hospital in the 1940s proves that listening is better than lobotomy in Roberto Berliner's conventional but well-crafted take on the true story of campaigning Brazilian psychiatrist Nise da Silveira.
This is a classic against-all-odds emotional journey - though that scriptwriting cliché is sometimes pushed to an excess.
Carried by a script that sheds all excess biographical baggage to focus on Nise's occupational therapy work at the Engenho de Dentro institution, and anchored by local telenovelas star Gloria Pires' solid, unshowy performance in the title role, this is a classic against-all-odds emotional journey - though that scriptwriting cliché is sometimes pushed to an excess of light and shade in the film's depiction of the good Jungian female doctor versus the bad, chauvinist male psychiatrists with their sadistic surgical methods.
Playing in competition at the Tokyo International Film Festival after winning the audience prize following its Rio festival debut, Nise's story is a little too local-interest to attract much attention outside of Brazil, though its best feature - a sensitive, unexploitative depiction of Nise's damaged patients - could win it a sympathy ticket to other festivals.
The opening medium long shot speaks reams about Nise da Silveira (Pires) before we've even met her: seen from behind, dressed in a businesslike suit, she stands outside the forbidding metal gate of the Engenho de Dentro state asylum, knocking first quietly, then a little louder; it's not until she's hammering on the door with a closed fist that a lazy guard comes to open. It's a neat metaphor for what will follow, as Nise is a woman seeking entry to a closed male world, one nailed by another no-frills preparatory scene in which her colleagues in the institution illustrate the virtues of electro-shock therapy through a live trial on a kicking and screaming patient, and praise the transformative powers of lobotomy - which at that time was carried out via the icepick procedure pioneered by US doctor Walter Freeman.
Disgusted by this violence, Nise opts to be assigned to the occupational therapy unit - a chronically underfunded part of the hospital. With the help of docile female nurse Ivone, and much to the disgust of male orderly Lima (Madeira), she begins to clean the place up, and accepts the offer of artistically inclined male nurse Almir (Rocha) to set up an art studio in the unit, allowing patients - who Nise insists on referring to as 'clients' - to work through their traumas using paint and clay.
In this environment, free from the coercion and neglect that reigns in the rest of the institution, inmates like Lucio (Villela), who is considered a dangerously violent case, doll-hugging Adelina (Mazzer) and fussy schizophrenic Carlos (Adriao) blossom and begin to produce work that Jungian therapist Nise - with the support of a leading Brazilian art critic - sees as the direct outpourings of the unconscious mind, unmediated by art-school sophistication.
Thankfully, the whackier end of Jung's philosophy is kept at bay, and Nise da Silveira's lifelong communism is only touched on lightly in one of the film's regulation stand-offs with her male colleagues - the idea presumably being that too much ideology would impact on the heroine's sympathy ratings. Crisply shot in a way that brings out the contrast between the faded, down-at-heel hospital setting and the vividness of the inmates' creative outpourings, this is a neat package sealed, at the end, by some delightful interview footage of the real Nise da Silveira, shot a few years before her death in 1999, at the age of 94.
Production companies: TvZero
International sales: contact TvZero, rodrigo.letier@tvzero.com
Producer: Rodrigo Letier
Executive producer: Lorena Bondarovsky
Screenplay: Patricia Andrade, Leonardo Rocha, Roberto Berliner
Cinematography: Andre Horta
Editor: Pedro Bronz, Leonardo Domingues
Production designer: Daniel Flaksman
Music: Jaques Morlenbaum
Main cast: Gloria Pires, Fabricio Boliveira, Augusto Madeira, Felipe Rocha, Simone Mazzer, Julio Adriao, Roney Villela, Claudio Jaborandy, Roberta Rodrigues