The stage is set for theatrical intrigue in Alex van Warmerdam's confounding 10th feature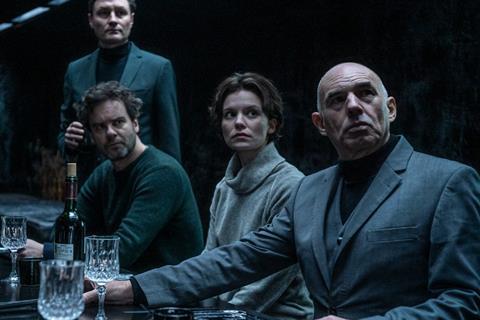 Dir/scr: Alex van Warmerdam. Netherlands, Belgium. 2021. 100mins
What starts as an account of the bickering and chafing between a group of theatre actors rehearsing their new play veers off into a thoroughly unexpected direction by the third act of this enigmatic and somewhat confounding fantasy drama from writer and director Alex van Warmerdam (Borgman, The Last Days Of Emma Blank). The story's focus narrows onto Gunter (Tom Dewispelaere), the play's lead actor who is embroiled in a covert relationship with fellow actor Isabel (Anniek Pheifer), who happens to be married to the director. But the affair soon falls to the wayside, leaving the question of Gunter's parentage – he was found as a child in a forest in Germany – and of the identity of the people who seem to be following him.
The unexpectedly out-there quality of the third act reveal is a surprise which will work best on an unprepared audience
The aptly titled tenth film from van Warmerdam, No. 10 screens in Tallinn's Black Nights Film Festival following a premiere at Fantastic Fest. It shares with the director's previous work – notably the Cannes Competition title Borgman – a tone which blends the quotidian with the offbeat, and a refusal to offer much in the way of clarification to the open-ended storytelling. The tonal shift, from slightly soapy intrigue to sub-Twilight Zone mystery, is perhaps too disorientating to generate much in the way of audience word of mouth, making this a tough ask for the arthouse. The picture could, however, make a provocative addition to further festival programs.
The unexpectedly out-there quality of the third act reveal is a surprise which will work best on an unprepared audience – with that in mind, it's perhaps best to leave this aspect of the plot undisclosed. It is, however, fair to question whether the film has fully earned its swerve into uncharted territory, given the uneven and disjointed storytelling which precedes it.
Much of the film's early drama is driven by tensions between Gunther and Marius (Pierre Bokna), an actor in one of the play's supporting roles whose fragile ego means that he is unable to separate performance from reality. When Marius starts to suspect the infidelity between his castmates, he sees an opportunity to score a point against Gunther by planting a seed of doubt in the mind of the director, Karl (Hans Kesting). Karl responds by giving Marius the lead role and humiliating Gunther; Gunther retaliates with violence. It's at this point that the story starts to unravel.
Gunther is being watched – by his daughter, Lizzy (Frieda Barnhard) who is secretly filming him for a birthday surprise, and by a man who lurks in a parked vehicle and occasionally intervenes in aspects of his life. And scrutinising from afar is a cabal of Catholic priests, who fret over news coverage of Gunther's mysterious origin story and seem to be implicated in both his past and his future. Gauzy glimpses of a mother and child playing together hint at existence of a missing piece in the puzzle of Gunther's past, as does some rather on-the-nose ominous music on the score. But there's nothing to prepare the audience for a plot twist and a giant question mark which leaves both the story – and several cast members – floating in mid air.
Production company: Graniet Film BV
International sales: Nine Film info@ninefilm.com
Producer: Marc van Warmerdam
Cinematographer: Tom Erisman
Editing: Job ter Burg
Production design: Geert Paradis
Music: Alex van Warmerdam
Main cast: Tom Dewispelaere, Frieda Barnhard, Hans Kesting, Anniek Pheifer, Dirk Böhling, Pierre Bokma