Irrfan Khan takes the lead in this nuanced film from Bangladesh about a husband's infidelity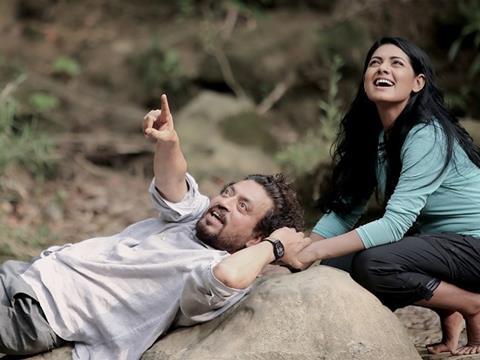 Dir/scr: Mostofa Sawar Farooki. India/Bangladesh. 2017. 85mins
An India/Bangladesh co-production, the latest work from Mostofa Sawar Farooki No Bed Of Roses (Doob) is an intimate family drama which eschews the usual melodramatic trappings of such fare to explore the quietly devastating impact of a husband's infidelity on those closest to him.
While the story is salacious, Farooki's nuanced screenplay avoids cliche
Boasting an excellent central performance from acclaimed Indian actor Irrfan Khan, and with its nuanced cultural approach to a familiar subject, Doob should enjoy further festival attention following its June premiere in Shanghai and subsequent play in Moscow. While the film is struggling to find a release in its native Bangladesh due to controversy surrounding its alleged similarities to the life of the country's late filmmaker Humayun Ahmed, the presence of Khan and strong word of mouth should help it find traction with international fans of cinema from the subcontinent.
In his first collaboration with award-winning Bangladeshi writer/director Farooki (Television, Piprabidya), Khan is characteristically magnetic and surprisingly empathetic as Javed Hasan, a famous movie director who causes consternation both private and public when he divorces his wife in order to marry his far younger lead actress, Nitu (Parno Mittra). It's a situation further complicated by the fact that Nitu is a former classmate of Javed's daughter Saberi (Nusrat Imrose Tisha); as established in an early flashback, the pair were hugely competitive in school and this theme of one-upmanship carries neatly through to a battle for Javed's attention and loyalty.
While the story is salacious, Farooki's nuanced screenplay avoids cliche — sex scenes are notably absent — to instead focus on the very real pain of the situation. While Javed is undeniably a self-serving scoundrel he has also been, it is made clear, a solid husband and father, and his behaviour deeply wounds both Saberi and his shell-shocked wife Maya (Rokeya Prachy). It's this sudden loss of trust and stability, as much as the emotional treachery and the shame it bestows on the family, that informs the narrative.
Alongside Khan, who will be familiar to Western audiences, the cast is universally strong. The longstanding relationship between Nitu and Saberi brings added depth to their characters and interactions, ensuring that they don't become mere ciphers for the consequences of a masculine mid-life crisis. And as Saberi runs the gamut of emotion from anger to desperation, she stands in contrast to Maya, who remains stoic and dignified in the face of her husband's appalling behaviour and her daughter's wild accusations that the family split is somehow all her fault.
Indeed, the evolving relationship between mother and daughter in the wake of Javed's seismic betrayal provides the emotional heart of the narrative, along with Saberi's feelings towards her father, and it's refreshing to see this age-old story told from the equal perspective of the women involved. Farooki handles the piece with grace and sensitivity; an approach augmented by Pavel Arin's evocative score, which mixes the traditional and the contemporary, and debut cinematographer Sheikh Rajibul Islam's arresting, contemplative visuals.
Production companies: Jazz Multimedia, Eskay Movies
International sales: Chabial, privilegedkid@gmail.com
Producers: Abdul Aziz, Ashok Dhanuka, Himanshu Dhanuka
Cinematography: Sheikh Rajibul Islam
Editor: Momin Biswas
Production design: Masood Parvez
Music: Pavel Arin
Main cast: Irrfan Khan, Nusrat Imrose Tisha, Parno Mittra, Rokeya Prachy, Rahad Hossain