Dir. John Eric Dowdle. US, 2015, 109 mins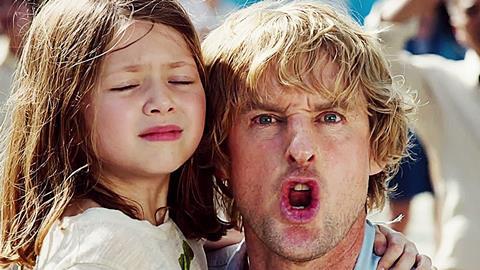 Though it revisits the terrain of 1980s political dramas like The Year of Living Dangerously, Salvador or Under Fire, in which Americans are caught up in revolutionary upheavals in Third World countries, John Erick Dowdle's efficiently-made, exciting-if-disposable No Escape is more of a straight-ahead action film, with an innocent family on the run through an unnamed Southeast Asian city, pursued by an implacable mob of killers.
This is a Taken-style no-holds-barred family survival action film, with an inevitable side order of xenophobia undimmed by the indictment of faceless corporate chicanery
Engineer Jack Dwyer (Owen Wilson), whose small business has gone bankrupt, takes a job with an American corporation active in Asia and relocates to the Far East with his reluctant wife Annie (Lake Bell) and hyperactive daughters Beeze (Calire Geare) and Lucy (Sterling Jerins). The family arrive just after a mass movement of red-scarved insurrectionists has assassinated the Prime Minister and is intent on swarming into the business district to murder foreigners.
With machete-wielding masked killers going floor-to-floor in their hotel, the Dwyers have to pull together to survive. Fortunately, the cute kids catch the eye of grizzled British Black Ops type Hammond (Pierce Brosnan, doing a fair Timothy Spall impersonation), who gives sage advice about survival amid chaos. Hammond also admits that Jack's corporate employers hired him to do dirty deeds so they could take over the country's water supply, which is the immediate cause of the uprising.
Editorialising aside, the business of No Escape – filmed as The Coup and not to be confused with the 1994 Ray Liotta science fiction film – is a Taken-style no-holds-barred family survival action film, with an inevitable side order of xenophobia undimmed by the indictment of faceless corporate chicanery. There are faint traces of Graham Greene's political thrillers (eg: the twice-filmed Quiet American) but this represents its insurgents – loosely based on Thailand's Red Shirts – as unindividuated descendants of the zombie-like street gang of Assault on Precinct 13. Though shot in Thailand, the film carefully establishes that it isn't set there (a crucial plot point hinges on the river border with Vietnam which Thailand doesn't share).
Director Dowdle, who also co-wrote with his brother Drew, has a track record in mid-list found-footage horror movies (Quarantine, As Above So Below) and here concentrates on talking-point perils such as requiring a father to throw his daughters off the roof of a high building (a highlight, cannily teased on the trailer).
Owen Wilson, returning to straight drama for the first time since Behind Enemy Lines, is cannily cast in that Liam Neeson-ish ruthless skills don't come easily to such an affable, laid-back fellow. It would be a deeper film if its hero were even slightly complicit in the crimes of his unseen bosses, but Dwyer is a just clueless boob who ambles out to get a newspaper and finds himself in the middle of a clash between brutal authorities (who then disappear from the film) and the marching mob.
Lake Bell, replacing originally-cast Michelle Monaghan, is stuck with the whiny, imperilled token wife role, upstaged by child actors Jerins (World War Z) and Geare (Inception) who ramp up the suspense by acting like little kids at the worst possible moment. Brosnan has another role (after The Tailor of Panama, The Matador and Survivor) that finds him as a seedy, down-at-heel ghost of his 007 persona; he gives the film a little grit and character while serving as a plot-explainer and adding some seamy comic relief.
No Escape is a modest step up for the Dowdle brothers and gets Wilson some points as an action star, but some audiences will find the special pleading on behalf of American innocents assailed by fiendish foreigners hard to take.
Production companies: Bold Folms, Brothers Dowdle Productions, Living Films
Producer: Drew Dowdle, David Lancaster, Michael Litvak
International sales: Sierra/Affinity
Screenplay: John Erick Dowdle, Drew Dowdle
Cinematography: Leo Hinstan
Editor: Elliot Greenberg
Production design: Arvinder Grewal
Main cast: Owen Wilson, Lake Bell, Pierce Brosnan, Sterling Jerins, Beeze, Calire Geare, Byron Gibson