Two old friends find their relationship tested in Andrei Gruzsniczki's sensitive fourth feature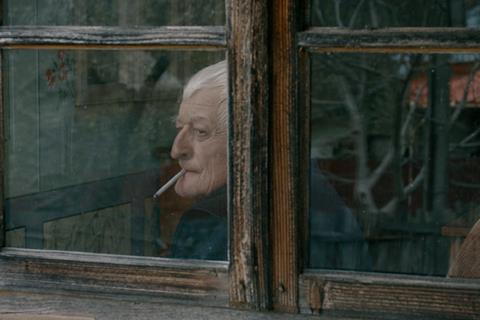 Dir/Scr: Andrei Gruzsniczki. Romania. 2021. 99mins
Faith is a source of comfort and bitter conflict in No Rest For The Old Lady (Dupa 40 De Zile). Andrei Gruzsniczki's fourth feature sensitively captures a friendship between two elderly men, marked by their relationship to one woman and set in a rural hamlet held in the grip of religious observance and age-old superstition. The affection of the central bond creates an engaging tale that could gently charm its way to further festival exposure.
Setting his film in a Romanian backwater lends visual appeal and dramatic conviction to Gruzsniczki's tale
No rest begins as Emil (Mircea Andreescu) prepares for the memorial marking 40 days since the death of his wife Smaranda. It is clear that this is not an event he takes entirely seriously. He forgets to hire a mourner, place a spindle in her coffin or provide the koliva ( a traditional wheat berry dish). " You'll pay for your lack of faith one day," he is warned.
Emil is a beacon of self-sufficiency. We witness him tootling through the countryside on his trusty motorbike and sidecar. He takes care of himself and fills every moment of his day. He shops, shaves and heads to the stove, crushing garlic and cracking walnuts to rustle up another culinary delight. He also cares for his wheelchair-bound neighbour Titi (Valer Dellakeza). He takes him soup and provides him with company and conversation. Emil's belief that there is no God is challenged by Titi's unshakeable faith. Emil's selfless devotion to his friend may be his only path to salvation. When Titi appears to have lost his appetite for life, Emil does everything he can to shake him from his apathy.
Smaranda is only ever seen in photographs but Gruzsniczki subtly conveys the large part she played in both their lives. They talk of her all the time and honour her by maintaining the traditions that she established, including stopping for a coffee with sherbert every day at 5pm.
It seems that there is nothing that could possibly come between these two old souls, until Titi feels obliged to confess that Smaranda is now in his house; indeed she is sitting in the armchair opposite him. " Only I can see her because I was born on a Saturday," he explains. Heated arguments over Smaranda's status as a revenant and Titi's seemingly failing health are like the first fine cracks in a friendship that threatens to shatter.
Setting his film in a Romanian backwater lends visual appeal and dramatic conviction to Gruzsniczki's tale. This is a bleak landscape punctuated by a rickety old bridge and a slow-moving river. The cemetery is filled to capacity. Cash machines are considered a newfangled mystery and not to be trusted when you could safely keep your money at home. It is easy to believe this is a modern community with one foot in the past. Local residents provide a Greek chorus of superstition, suggesting that it might be wise to burn Smaranda's heart and warning Emil of the misfortunes that will surely follow when he dares to move a stork's nest from his property.
Drily amusing in places, No Rest For The Old Lady is at its most serious as we learn more about the depth of feeling that has been invested in the friendship between Emil and Titi. Sharp, sympathetic performances from Andreescu and Dellakeza make that relationship convincing and the possibility of its loss quietly touching.
Production companies: Avva Mmix Studio, Hai Hui Entertainment, Tangaj Productions
International sales: Avva Mmix Studio andreea@avvastudio.ro
Producers: Andreea Dumitrescu
Cinematography: Laurentlu Raducanu
Editing: Ioachim Stroe
Prod des: Andreea Popa, Anastasia Ioenscu, Bogdan Bostanaru
Music: Crishan Lolea
Main cast: Mircea Andreescu, Valer Dellakeza, Gabriel Spahiu, Stefan Mirea