Crowdpleasing doc about the Ed Wood of Afghanistan is educational, touching and hilarious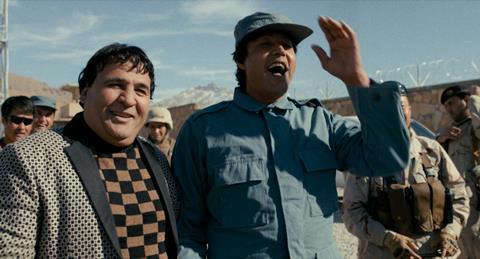 Dir/scr. Sonia Kronlund. Fr-Germany. 2017. 85mins
Warm, flamboyant characters that any screenwriter would be proud to have invented are the fascinating raw material of Nothingwood, Sonia Kronlund's delightfully entertaining documentary about Salim Shaheen and his merry band of filmmaking associates.
We know the filmmaker survived the experience and yet it's not hard to share her trepidation in dicey settings.
Chubby force of nature Shaheen has managed to make and self-distribute no fewer than 110 movies in war-torn Afghanistan. He can't read or write but he acts and directs by the seat of his pants and gets mobbed in the streets wherever he goes thanks to his little-guy centered tales modelled in part on Bollywood fare complete with singing and dancing. This is a crowd-pleasing winner that's educational, touching and hilarious. An infectious live-for-today energy permeates every frame.
First-time filmmaker Kronlund works for French radio and has been visiting and reporting from Afghanistan for over 15 years. In her sparingly dosed voice-over she admits that since the stories she brought back to France tended to be about horrific topics such as women disfigured by acid attacks she wondered if perhaps she was missing something more jovial. The resulting doc grips from the outset with its outsized, bottomlessly confident protagonist who it's tempting to call the Ed Wood of Afghanistan.
Bitten by the movie bug as a kid, Shaheen, born in the mid-1960s, snuck into movie theaters to watch films from India — and got a beating from his family when he started filming on the sly. The history of filmmaking is full of bold individuals who won't take no for an answer, it's just that this guy, like his countrymen-and-women, has been subjected to the Soviets, the Taliban and other violent affronts to sovereignty, traditions and joie de vivre. (Shaheen asserts that watching movies taught him a trick that saved his life — he was the only member of his army unit who survived when he played dead among genuine corpses in 1982.)
The doc covers roughly a week during which Shaheen and company flew from Kabul to Bamiyan — the now relatively stable ancient outpost whose majestic Buddhas were blasted away by the Taliban — to shoot scenes for his latest production.
Shaheen asks Sonia if it will pose a problem for her film if he sacrifices a live chicken to get its blood to smear on actors instead of using make-up. ("The chicken died a martyr for our film.") Real blood and real guns with live ammunition are some of the startling elements used in an utterly matter-of-fact way by the intrepid cast and crew.
Shaheen may be illiterate but his primarily visual education has served him well. The guy knows how to create human connections in record time: "Give yourselves a round of applause!" is one of his favorite sayings when a crowd gathers.
He's not handsome and is far from svelte but his charisma is endlessly photogenic and snippets of his performances in his own films over the years pop up to illustrate instances of life imitating what most would hesitate to call "art" but definitely qualifies as entertainment for the masses.
Making movies is a way to get away from the reality of on-going war. As for Sonia, once she's incorporated into the adventure, the normal precautions a foreigner takes in Afghanistan fly out the window. We know the filmmaker survived the experience and yet it's not hard to share her trepidation in dicey settings.
Of special interest is Qurban Ali, a boisterously effeminate and talented performer who delights in cross-dressing and actually plays Shaheen's mother in the film Shaheen is making of his own early life. Any urban Western brain will be thinking "No way is this guy heterosexual." And yet….
Manly Shaheen hasn't produced quite as many offspring as he has movies but his three-story house holds two wives and eight sons and six daughters. Except that we don't get to see the wives or daughters as that would be unseemly.
The press notes say that Shaheen's films are projected in the four functioning cinemas in Kabul for a few weeks and then make their way to DVDs and are shown on one of Afghanistan's 175 TV channels. Kronlund includes an unsettling interview with a disguised Taliban who admits that Shaheen's films were a coveted item in his unit.
Production companies: Gloria Films, Made In Germany
International sales: Pyramide International avalentin@pyramidefilms.com
Producers: Laurent Lavolé, Melanie Andernach
Screenplay: Sonia Kronlund
Cinematography: Alexander Nanau, Eric Guichard
Editors: Sophie Brunet, George Cragg
Featuring: Salim Shaheen, Qurban Ali