Dir: Jon M. Chu. US. 2016. 129mins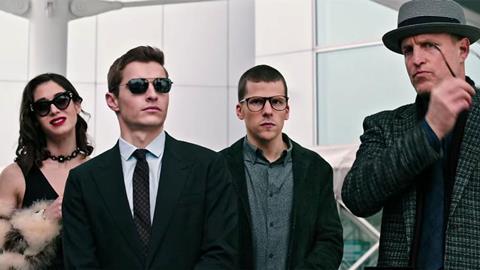 A good magician never reveals his secrets, but what about a shameless one? Doubling down on the giddily ridiculous tone of its predecessor, Now You See Me 2 is diverting, but the film's rampant, cheeky cleverness — its 'can you guess what's going on?" coyness — ultimately proves tiresome. Once again chronicling the exploits of a team of smartass illusionists, this sequel is obsessed with deceiving viewers into believing one reality and then pulling the rabbit out of the hat to delight and startle us, always at the ready to explain how it achieved the feat.
More often than not, Now You See Me 2 devolves into mildly wry quips and vaguely self-aware jabs at its own clichés.
In limited doses, the slick, self-satisfied preposterousness of Now You See Me 2 can be fun, but eventually the trick becomes stale. Opening in several territories by June 10, it will hope to duplicate the surprise success of the 2013 original, which grossed $352 million worldwide. The franchise's Ocean's Eleven-with-magicians premise remains potent, and the rising commercial visibility of co-stars Jesse Eisenberg and Mark Ruffalo will no doubt help, the cast boosted this time around by the likes of Lizzy Caplan and Daniel Radcliffe.
Taking place about a year after the first film, Now You See Me 2 reunites Atlas (Eisenberg), McKinney (Woody Harrelson) and Wilder (Dave Franco), a group of world-famous magicians known as the Horsemen who stage high-profile illusions to expose corrupt magnates and millionaires. With Isla Fisher's Henley no longer part of the team, they are joined by Lula (Caplan), who alongside the Horsemen's secret FBI liaison Dylan Rhodes (Ruffalo) must work together to retrieve a powerful computer chip stolen from a wealthy, eccentric inventor (Radcliffe) that can access any laptop or mainframe on the planet.
Replacing Louis Leterrier, who directed the first instalment, Jon M. Chu brings some of the high-energy irreverence that distinguished his work on Step Up 2: The Streets and Step Up 3D. To be sure, Now You See Me 2 requires an almost musical-like choreography, considering that the action set pieces often revolve around deception and verbal trickery, and Chu invests the proceedings with a film-ish artificiality that enjoys its own absurdity. The more outrageous the illusion being orchestrated, the more relish Now You See Me 2 demonstrates, excited to show us just how it happened.
There can be significant pleasures in surrendering to the movie's endless rounds of how-did-they-do-it? misdirection, especially since actors like Eisenberg and Ruffalo exude just the right balance of smarts and sarcasm. (And old pros such as Michael Caine and Morgan Freeman provide casual, reliable gravitas as shadowy side characters.) At its best, Now You See Me 2 acknowledges its own superficiality while delivering its big illusions with just barely enough authenticity to keep us engaged.
Yet the chronic trickiness inevitably succumbs to diminishing returns. Eventually, we learn not to believe anything anyone says, and so our suspicions are raised, making the film's later surprises easy to predict. Consequently, the characters never resonate very deeply, any attempts at pathos undermined by the fact that the viewer is constantly on high alert, wary of being duped again.
Working from a script by Ed Solomon, who co-wrote the first movie, Chu and his ensemble try to turn Now You See Me 2 into a breezy, rollicking action-comedy during a summer-movie season usually populated with humourless, lumbering epics. The impudence is never more apparent than during the reveal of McKinney's loopy twin brother Chase — whom Harrelson plays with utter goofiness — or the impishness of casting Radcliffe (somewhat fun as a villain) in a movie about magic, letting viewers make the obvious connection to his most famous role as a very different kind of wizard.
But more often than not, Now You See Me 2 devolves into mildly wry quips and vaguely self-aware jabs at its own clichés. During the film's extended excursion to China — no doubt to cater to that booming theatrical market — the characters' unfamiliarity with local customs and language becomes a wan running joke.
Production companies: Summit Entertainment, TIK Films, K/O Paper Products
US distribution: Summit Entertainment, www.lionsgate.com
Producers: Alex Kurtzman, Roberto Orci, Bobby Cohen
Executive producers: Kevin De La Noy, Louis Leterrier, Ed Solomon, Qiuyun Long
Screenplay: Ed Solomon, story by Ed Solomon & Peter Chiarelli, based on characters created by Boaz Yakin & Edward Ricourt
Cinematography: Peter Deming
Production design: Sharon Seymour
Editor: Stan Salfas
Music: Brian Tyler
Website: www.nowyouseememovie.com
Main Cast: Jesse Eisenberg, Mark Ruffalo, Woody Harrelson, Dave Franco, Daniel Radcliffe, Lizzy Caplan, Jay Chou, Sanaa Lathan, Michael Caine, Morgan Freeman