Dir: Louis Leterrier. US. 2013. 115mins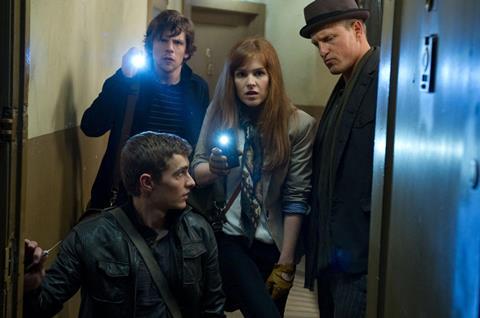 Four separate magic performers come together, Avengers-style ("Magicians assemble!"), in Now You See Me, a jaunty heist thriller with comedic overtones. Smart casting, agreeable performances and a fresh narrative backdrop power this facile, twisty treat, helmed by Louis Leterrier. If the Robin Hood-esque redistribution-of-wealth undertaking which its protagonists undertake remains a bit undersketched and opportunistic, it barely dents the momentum of this rolling, pleasure-delivering puzzlebox.
There's a special thrill of adversarial directness in cat-and-mouse genre pieces of this ilk and Now You See me plugs into this rich vein.
Magic-themed comedy The Incredible Burt Wonderstone fizzled out at the box office earlier this year, but if there's any justice Now You See Me should have enough savvy counterpunch power to hang around and find a home in the theatrical top 10 amidst brawnier summer fare. Positive word-of-mouth will boost ancillary value once the title hits home video platforms and, handled correctly, there's even franchise potential here.
After discrete introductions, cocky illusionist Daniel Atlas (Jesse Eisenberg), his ex-assistant-turned-independent-act Henley Reeves (Isla Fisher), hustler magician Jack Wilder (Dave Franco) and mentalist Merritt McKinney (Woody Harrelson) each receive cards summoning them to a mysterious location.
Cut to a year later, when the quartet, fronted by millionaire benefactor Arthur Tressler (Michael Caine), has gathered to perform under the moniker the Four Horsemen. After a daring in-the-round show in Las Vegas in which they shower stolen cash from a Parisian bank on their gobsmacked audience, the group heads to New Orleans and repeats the feat with a similarly baffling public heist.
On their trail is FBI Agent Dylan Rhodes (Mark Ruffalo), paired with Interpol Agent Alma Dray (Melanie Laurent). While authorities are intent on solving the crimes for which they feel they know the Four Horsemen are responsible, professional magic debunker Thaddeus Bradley (Morgan Freeman) is interested for different reasons, figuring he can make even more money by deflating the burgeoning celebrity of the Four Horsemen.
Stepping away from more action-oriented fare for the first time, director Leterrier (The Transporter, The Incredible Hulk) injects Now You See Me with a breezy confidence of a piece with Steven Soderbergh's Ocean's films and the card-counting ensemble drama 21. Brian Tyler's energetic music puts a spring in the movie's step, matching up with a solid technical package.
Various characters drop out of (and back into) the story as it progresses, and even at just under two hours the script, from Ed Solomon, Boaz Yakin and Edward Ricourt, doesn't quite have time to satisfyingly flesh out all its motivations. The movie's character-based plotting is always more satisfying than some of the action theatrics it foists upon the story later on. Even though it goes to lengths to integrate and explain these chase sequences, they seem like a sop to some presumed adrenaline quotient, a narrative quick-fix.
Now You See Me also suffers a bit from never fully resolving the issue of having the Four Horsemen essentially cede the story to others. As configured here, they're not always the stars of their own wild tale. There's a great pivot point at the end of the first act which deepens the movie's natural intrigue, but the third act becomes a bit manic.
Still, all the head games and various feints lend themselves to some enjoyably charged scenes of confrontation — particularly interrogations between Rhodes and the suspects. There's a special thrill of adversarial directness in cat-and-mouse genre pieces of this ilk (i.e., criminals know cops are coming for them, and welcome it) and Now You See me plugs into this rich vein, while also smartly setting up enough MacGuffins and potentially shifty allegiances to keep audiences guessing.
Echoing the arrogance, loquaciousness and obstinateness of his character from The Social Network, Eisenberg sketches a smarmy character who viewers aren't quite sure if they want to see succeed or get pinched. Harrelson displays an abundance of rakish charm, while Ruffalo trades in an engaging frustration that complements his adversaries' blithe disregard.
"Magic is deception done to delight, entertain and inspire," says one of the film's characters. If it doesn't quite tip the scales of the latter, Now You See Me still proves that two out of three certainly isn't bad.
Production companies: K/O Paper Products
Domestic distribution: Summit Entertainment
Producers: Alex Kurtzman, Roberto Orci, Bobby Cohen
Executive producers: Boaz Yakin, Michael Schaefer, Stan Wlodkowski
Screenplay: Ed Solomon and Boaz Yakin & Edward Ricourt, based on a story by Boaz Yakin & Edward Ricourt
Cinematography: Mitchell Amundsen, Larry Fong
Editors: Robert Leighton, Vincent Tabaillon
Production designer: Peter Wenham
Music: Brian Tyler
Website: www.NowYouSeeMeMovie.com
Main cast: Jesse Eisenberg, Woody Harrelson, Isla Fisher, Mark Ruffalo, Dave Franco, Morgan Freeman, Michael Caine, Melanie Laurent, Michael Kelly, Common