Dir. Zaradasht Ahmed. Norway/Sweden/Iraq, 2016, 83 mins.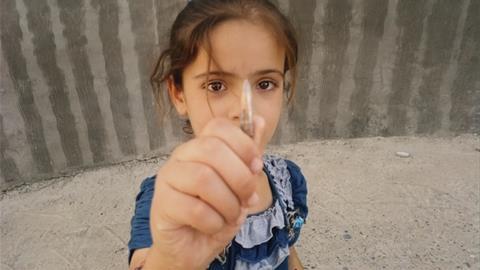 Those who can't understand the tangled battle zones or tragic recent history of Iraq may take some comfort from Nowhere To Hide's revelation that ordinary citizens of that country don't understand any of it either – even as the bombs hail down to kill and maim, towns and hospitals are destroyed, and good men lose their homes and livelihoods to become desperate refugees. By winning the top prize at IDFA, this rough-and-ready documentary shot by an Iraqi nurse has a better-than-average chance of winning some attention overseas, even though the sense of it all remains as horrifyingly elusive as ever.
This is a sad place, in which children – "armies of orphans" – are forced to scavenge for rubbish at the dump
Nori Sharif is that good man, working as a paramedic in the Eastern Iraqi town of Jalawa in Diyala Province for 13 years when he is given a camera by director Zaradasht Ahmed (Road to Diyarbakir) on the withdrawal of American troops from Iraq in December 2011. Diyala, though, is already in a precarious position, sucked into the vacuum left following the overthrow of Saddam Hussein and his Sunni elite with Kurds resurgent in the province. Soon the threat of ISIS begins to make itself felt.
One thing is bruisingly clear throughout Nowhere To Hide: war turns lives on a sixpence and the poor, as ever, are the first to lose what little they have. 36 year-old Sharif, his camera, and his four young children are suddenly caught on the frontline and today's paramedic becomes tomorrow's desperate refugee. Within its short three-year timespan, Nowhere To Hide sees Sharif go from documenting other victims of war to turning the camera on himself.
While sound and picture quality are – understandably - highly variable throughout this 83-minute documentary and the plaintive Kurdish oud can be used like an emotional bludgeon, Nowhere To Hide should be required viewing for anyone with an opinion about the refugee crisis. The going will be hard commercially, but Iraq-born director Zaradasht Ahmed has the benefit of a strong story on his side as the film inevitably travels the festival circuit.
A desperate prologue set in the Diyala desert and a familiarity with recent events in Iraq will lead the viewer to feel concern for Nori from the get-go. We then flash back to his receiving the camera from Ahmed in December 2011, as radio news bulletins talk of celebrations over Iraqi independence and the withdrawal of US troops. Nori takes his second job as a cameraman seriously, showing the viewer around his sparkling clean ambulance, Jalawa hospital, and introducing his wife and four charming young children.
We also meet some of his patients and colleagues. Abu Fallah, who has lost a leg in a car bomb in which his son was left brain-damaged. Farmar Qathan and his family, whose children froze to death in the desert. And Dr Mudhafar and Dr Hans Husum, from Norway, who work in the war zones. Yet in a country with a tough recent past, things are about to get much worse. A total of 1,840 Iraqis will be killed in 2012, even before Isis enters the frame and captures Jalawa, forcing the evacuation of the hospital and town and Nori to take to the road in his car looking for shelter from ruined village to village.
This is a sad place, in which children – "armies of orphans" – are forced to scavenge for rubbish at the dump. One day Nori is saving peoples' lives, the next his family is in a car and they're fleeing for their own future. Makeshift coffins are jammed together hurriedly with sticky tape as Nori's ground-level camera makes it abundantly clear how, in a place like this, nobody knows where to turn – the Iraqi police indulge in torture, suicide bombings are rampant, there are night snipers, and residents are trapped between the Kurdish peshmerga and ISIS.
Nowhere To Hide is the most recent film to document the tragedy of the Middle East in such specific terms that the viewer is also given little escape.
Production company: Ten Thousand Images
International sales: mette@tenthousandimages.no/ Diana Holtzberg, diana@eastvillageentertainment.com
Producer: Mette Cheng Munthe-Kaas
Camera: Nori Sharif, Zaradasht Ahmed
Editor: Eva Hillström
Music: Ciwan Haco