Love triangle set in a Serbian institution for young people with learning disabilities is bracingly authentic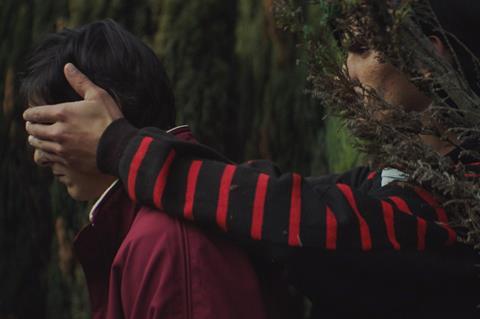 Dir/scr: Ivan Ikic. Serbia/Slovenia/Netherlands/France/Bosnia and Herzegovina. 2020. 120mins
Set in a real-life Serbian institution for young people with learning difficulties, and acted by many of its residents, writer/director Ivan Ikic's second feature rings with bracing authenticity. Focusing on the three members of an intense love triangle which threatens to destabilise the facility, Oasis is a stark exploration of the emotional lives of members of society who are often hidden away, forbidden from demonstrating even the most basic wants and needs.
While the script is sparse, the filmmaking fills in the gaps
That Oasis deals with real world issues in a sensitive way, and gives powerful autonomy to its protagonists and stars — who are playing fictional versions of themselves — should garner it plaudits when it bows in Venice Days. Ikic's 2014 debut Barbarians played a host of festivals, winning an East Of West Award Special Mention at Karlovy Vary, and his follow-up could follow the same trajectory. A specialist arthouse streaming platform seems a possible final destination.
Opening with an uncomfortabe archive Serbian (or Yugoslavian, as the country was at the time) informational video about the 1969 opening of a home near Belgrade for young people with mental health issues — who would otherwise face "social dehumanisation" — Oasis is not the upbeat, hopeful narrative one might expect from its title. Instead, Ikac concerns himself with the dour realities of life in such a place; the limited possibilities and lack of personal agency that drives some to drastic behaviours.
The story is based on a genuine situation that Ikic encountered while filming a documentary in such an institution, the screenplay forged from the firsthand accounts of those involved. It follows unhappy newcomer Maria (Marijana Novakov) whose newfound friendship with Dragana (Tijana Markovic) is derailed by their shared feelings for the taciturn Robert (Valentino Zenuni). Playing out across three chapters, devoted to each of the three in turn, this love rivalry manifests itself in increasingly extreme ways, fuelled not only by jealousy, but also by a desperate desire for freedom.
Guiding his non-professional trio through a series of workshops to fine dramatic performances (supported by professional actors Goran Boddan and Marusa Majer as the facility's lead doctors), Ikic repays the trust they have put in him by telling their story without melodrama or mawkish cliche. Maria, Dragana and Robert are three-dimensional individuals with the capacity to make their own decisions — albeit in ways that may differ from accepted 'norms' — and their frustration that they are not given the freedom to exercise this fundamental right is keenly felt. In this oppressive environment, Maria's violent rocking and Robert's refusal to speak could be seen to be as much protest behaviours as character traits.
While the script is sparse, the filmmaking fills in the gaps. Expressive cinematography from Milos Jacimovic tightly frames the trio through doorways and windows, lingers long on mundane moments; socked feet padding across a floor, the washing of hands (a repeated motif). And with virtually no music, the ambient sounds — the ominous rumble of a washing machine, the warning squeak of Robert's cleaning cart, Maria's rhythmic deep breathing — take on a heightened percussive sensibility. It all serves to underscore the claustrophobic restrictions and limited prospects of this insular world, and amplifies Maria, Dragana and Robert's quiet moments of defiance into screams of rage.
Production company: SENSE Productions
International sales: Heretic Outreach, Ioanna Stais ioanna@heretic.gr
Producers: Milan Stojanovic, Marija Stojanovic
Editing: Dragan Von Petrovic
Cinematography: Milos Jacimovic
Main cast: Marijana Novakov, Tijana Markovic, Valentino Zenuni, Goran Boddan, Marusa Majer