This enigmatic film by Zhang Lu takes a centre-stage gala at Busan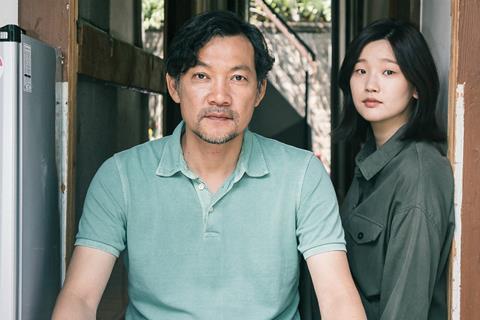 Dir. Zhang Lu. South Korea. 2018. 121 mins
A man and a woman take a spontaneous trip together to the South Korean city of Gunsan, but when they check into a Japanese-style guest house it becomes clear that they are on different tracks when it comes their as yet unofficial and unconsummated relationship. She is drawn to the guesthouse owner, an amateur photographer who spends hours teasing out lost images in his darkroom; he is fascinated by the owner's autistic daughter. Writer / director Zhang Lu deliberately disorientates his audience with a maze of narrative dead ends and deja vu, before rewinding to an earlier point in the story and deftly offering a fresh angle. It's a beguiling, if sometimes bewildering, enigma of a movie.
Rewinding the film in its third act makes the story much more intriguing
Zhang is a regular at Busan: his previous film, A Quiet Dream, opened the 2016 festival; previous features Dooman River and Grain In Ear won prizes at the festival. Now Ode To The Goose screens in a Gala slot, in advance of a Korean theatrical opening in November. Non-local audiences may miss out on some of the finer nuances, particularly in the dynamics between the Korean characters and those of Korean-Chinese descent. But savvy viewers and festival programmers will likely be intrigued by a formal playfulness and an agility of storytelling which evokes the work of Hong Sang Soo.
Yun-young (Park Haeil) is an aspiring, as yet unpublished poet; Song-hyun (Moon Sori) is the older woman who seems to be doing most of the chasing in their relationship. For a man who works with words, Yun-young is remarkably tongue-tied. He doesn't mention to his travelling companion, for example, the fact that former fishing port Gunsan is the town of his late mother's birth, nor does he acknowledge the baggage that her memory brings with it.
A beautifully composed shot in a noodle shop captures both the awkwardness of the couple and the self-possessed proprietress (a memorable turn from veteran Korean actress Suk Mun), who is out of shot but framed in a mirror. Named Lily (in a nod to a flighty character in the 1975 drama The Road To Sampo), the proprietress dispenses homemade rice wine and wisdom: "What home town?" she responds to Yun-young's polite inquiry. "Home is where we settle". Certainly, the film is populated with characters who have roots elsewhere – Japan in the case of the guest house owner, China in the case of several other characters including Yun-young, who lived there as a child and whose drunken recital of a classic Chinese poem gives the film its title. Along with Korean, Chinese and Japanese are spoken at key moments, meaning that characters are often left in the dark about each other's secrets.
The end of the mid section of the film is a puzzling tangle of unresolved story threads. It's intentional, but something of a thrown gauntlet to audiences who will need to dig deep into their reserves of concentration in order to unearth some clarity by the end of a third act section, which rewinds to reveal the events in the run up to the Gunsan trip. It's a device which pays off – the story is much more intriguing delivered in this way than it would have been as a straight, linear journey.
Production Company: Lufilm
International Sales: Parallax films info@parallaxchina.com
Producer: Zhang Lu
Screenplay: Zhang Lu
Editing: Zhang Lu, Lee Hak Min
Production Design: Kim Chohea
Cinematography: Cho Youngjik
Main cast: Park Haeil, Moon Sori, Jung Jinyoung, Park Sodam