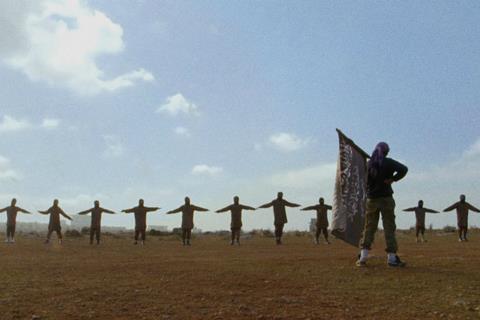 Dir/Scr: Talal Derki. Germany-Syria-Lebanon. 2017. 98mins
Talal Derki's first feature since his Sundance prize-winning documentary Return To Homs (2013) takes him back to a homeland that bears no resemblance to the one that he once knew. Now living in exile in Berlin, Derki has spent two years sharing the daily life of a radical Islamist family and the resulting film offers a portrait of family life in Syria that is as chilling as it is illuminating.
The light touch that Derki brings to the material stays consistent as the events themselves turn dark
The bond of trust Derki has established with the family he follows, and his ability to venture where others fear to tread, gives Of Fathers And Sons a distinctive edge. His intimate observational style also lends a lyrical tone to a film that reveals the often harsh realities of everyday existence in a community dedicated to an Islamic caliphate. Wide festival exposure and some theatrical sales should follow the world premiere at IDFA.
Abu Osama in an Al-Nusra fighter in a small village in northern Syria, and a loving, devoted father to his eight children. Derki goes out of his way to capture a paternal bond that is universal; Abu Osama plays with his boys, hugs and kisses them and they clearly idolise him. The difference is that his bedtime stories are about liberating Syria, the glory of martyrdom and his work clearing mines. He doesn't worry whether they have finished their homework, but wants them to learn to recite the Qu'ran.
Thirteen year-old Osama (the spitting image of a young Sean Penn) is the most boisterous of the children, in contrast to his younger brother Ayman. A landscape of bombed out homes, mountains of rubble and abandoned tanks is like a vast adventure playground for all of the boys. It is telling, however, that any time we see the children at play events very quickly and consistently turn to violence; stones are thrown, rivals are wrestled to the ground and one of their more elaborate games is to construct a home-made explosive device. Yet the light touch that Derki brings to the material stays consistent as the events themselves turn increasingly dark, especially when Osama and Ayman are sent away to begin their military training and sharia studies.
Nimbly edited by Anne Fabini, Derki's collaborator on Return To Homs, Of Fathers And Sons is a film riven with contrasts and contradictions; you can engage with the family on a human level but fear the single-minded hatred passed like a baton between generations. Derki has an insider's eye for the landscapes and an empathy for all his subjects, and his film feels personal and unfiltered. There is a minimum amount of voice-over narration and Derki doesn't rush to judge, he merely offers the chance to witness first hand lives that we would rarely see featured in television news reports
Of Fathers And Sons succeeds in transporting us behind " enemy" lines for a rare glimpse of a world that seems exotic and threatening. You cannot help but share Derki's parting thoughts that this is a homeland " horribly changed" by a global conflict.
Production company: BASIS Berlin Filmproducktion, Ventana Film, C Group Production.
Contact: BASIS Berlin Filmproducktion film@basisberlin.de.
Producers: Ansgar Frerich, Eva Kemme, Tobias N. Siebert, Hans Robert Eisenhauer
Exec prods: Dan Cogan, Jenny Raskin, Geralyn White Dreyfous
Cinematography: Kahtan Hasson
Editor: Anne Fabini
Music: K.S. Elias
Featuring: Abu Osama